Token RJ02 history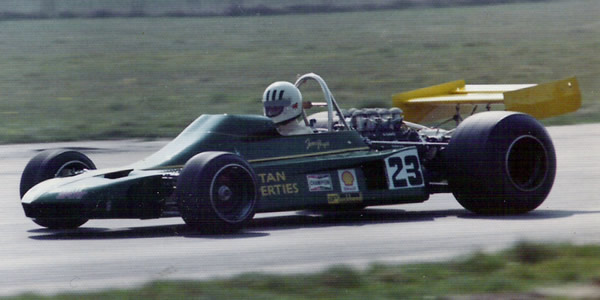 The Token RJ02 had been planned as Rondel's 1974 F1 car, but was taken over when Rondel ran out of money. The car ran in a few races in 1974 but did not have the finance to make any impact.
The Token team was formed in February 1974, when Rondel Racing ran into money problems and its directors Tony Vlassopulo and Ken Grob took over the operation. The Rondel F1 car, which was then just a month or so from completion, was renamed as the Token RJ02. Designer Ray Jessop stayed with the team, as did technical director Neil Trundle, but Rondel boss Ron Dennis left to run a team of Surtees Formula 2 cars. Rondel's highly rated F2 novice driver Tom Pryce also stayed on to drive the car when it debuted at the International Trophy in April 1974, and his backer Chris Meek was involved as sponsor through his company Titan Properties.
Jessop had designed a low, flat monocoque, with conventional wishbone suspension and outboard springs, and a front-mounted main radiator. Although distinctive in appearance due to its unusual nose, the car was highly orthodox. Shell provided some much needed last-minute finance but with no title sponsor the car was finished in a version of British Racing Green. Pryce managed just four laps in practice as the International Trophy at Silverstone was used as an initial testing session, but drove with great gusto in the race before retiring. The team made its GP debut at the Belgian GP, where Pryce was 20th of 34 runners throughout practice, an impressive debut performance, but the team had never found time to test with full tanks, and the car bottomed at the start of the race, damaging the nose. The team's entry for Monaco was rejected, but that had a silver lining for Pryce as he won the F3 support race in Vlassopulo's car, and it was not long before Token lost their driver to Shadow. With FOCA acting to make F1 a closed shop, the Token team was largely frozen out, and the next time the car was seen was at the British GP, where Jessop had arranged for it to be hired for three races by Bob Harper. David Purley, who had raced in F1 with March in 1973, was nominated to drive, and the car was to be run by Harper's team manager Mike Earle out of their Bognor Regis workshops. Purley tested it at Goodwood in early July, but a puncture and other problems caused him to miss out on the British GP grid by just 0.3s. Purley was then dropped, and F5000 driver Ian Ashley was brought in for the next two races, bringing sponsorship from The Chequered Flag and Richard Oaten, and started the German GP unofficially as first reserve, ending up 14th and last, with the unofficial nature of the start being forgotten. Ashley qualified properly in Austria, 24th of 25 starters and ahead of six non-qualifiers, and was still running at the end but too far back to be classified. Ashley's backers then bought a Brabham BT42 instead, and the Token F1 adventure was over.
Car
Total
Race
Starts
Grand
Prix
Starts
Grand
Prix
Wins
First Race
Present Location
29
3
International Trophy
(7 Apr 1974)
United Arab Emirates 2021
In 1975, the assets of the Token team were acquired by Safir Engineering, and the renamed RJ02 did the two non-championship races with Tony Trimmer driving. It was then sold to John Ravenscroft for sprinting and became the 'King of Curborough' over the next two years. Ray Jessop sadly died at the beginning of 1976 from a stroke, aged just 45.
These histories last updated on .