Brabham BT40 car-by-car histories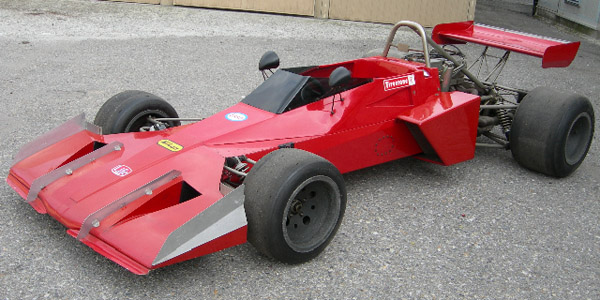 The Brabham BT40 was MRD's model for Formula 2 and Formula B in 1973. Wilson Fittipaldi won the F2 race at Misano in July, and in FB it was highly successful, with Allan Lader winning four races in the Canadian FB series, Bertil Roos winning two late-season races, and Ken Duclos winning the SCCA Runoffs.
Geoff Ferris designed three similar models for 1973, the Formula 2 BT40, Formula B BT40B and Formula 3 BT41, although the BT40s and BT40Bs were numbered together, so are covered here as a single subject. The monocoque was a development of Ferris's BT38 design, but incorporating aerodynamic ideas from the Formula 1 BT37. The tub had flat sides and sloped markedly from front to back which, with the very angular full-width nose, gave the car a dramatic wedge profile. It was constructed in 16-gauge NS4 aluminium sheet throughout, and retained Brabham's well-established and highly conventional suspension geometry with outboard springs all round. The rear brakes were inboard, and the engine was mounted in a tubular subframe; again all completely orthodox. The main radiators were faired in at rear of the monocoque, as on the BT38, but the fairings were "upside down", compared with the older car. A range of engine bays was available to cater for F2, FB and F3, including the option of the F1 style FG400 gearbox instead of the usual FT200 used in F2 and FB, and the first car to be shown to the press had a Chevrolet Vega engine installed.
The first production BT40 went to the US so that Mike Hall could drive it in the SCCA Road Race of Champions at the end of November 1972. As MRD was numbering its 1973 cars starting at 11, as it had done in 1972 with the BT38-series cars, this would logically have been chassis BT40-11, but the known history of that car suggests otherwise. Sales in F2 were slow, and MRD ran a works car for Wilson Fittipaldi, and later a second FINA-backed car for Andrea de Adamich, but they could offer little resistance to the dominant March 732s. The Formula B version sold in much larger numbers thanks to the efforts of Brabham agent Fred Opert, and BT40s finished 1-2 in the first round of the Canadian FB series, Allan Lader winning from Craig Hill. Six BT40s took part in the end-of-season support race for the US GP, which Bertil Roos won in one of Fred Opert's BT40s, and Ken Duclos then won the National amateur title at the SCCA Runoffs in his BT40 four weeks later. However, this proved to be Brabham's swansong in the category, as MRD pulled out of customer car production at the end of the year, and Fred Opert transferred his allegiance to Chevron.
If you can add to our understanding of these cars, please email Allen at allen@oldracingcars.com.
Chassis
History
Current owner
Brabham BT40s in 1973
Known BT40 chassis numbers range from BT40/11 to BT40/39, implying 29 were built. Mike Lawrence's book (Brabham+Ralt+Honda: The Ron Tauranac Story, Motor Racing Publications Ltd, 1999) gave the number as 28, with nine built for F2 and 19 for Formula B. First owners are known for only eight Formula 2 cars: BT40/12 (John Watson/Wilson Fittipaldi), BT40/14 (John Wingfield), BT40/19 (Vittorio Venturi), BT40/20 (Hans Wittwer), and BT40/36 (Andrea de Adamich/Gabriele Serblin) plus the unraced car bought by Ed Reeves, and the two cars bought for the CSAI drivers school in Italy. Two BT40s later appeared with Japan Racing Development in Japan, but whether they went there new in 1973 is unclear. Of the Formula B cars, we know the identities of nine cars that went straight to Formula B: BT40/11 (Fred Opert/Bertil Roos), BT40/13 (Brian Robertson), BT40/16 (Doc Hartley), BT40/17 (Ken Duclos), BT40/18 (Chuck Dietrich), BT40/22 (Ron Southern), BT40/24 (Bill Eagles), BT40/30 (Bill Mairs), BT40/37 (Al Lader); and another three that raced in other countries: BT40/21 (Graham Eden/Cyd Williams) and BT40/33 (Ted Titmas) both in England, and BT40/35 (John MacDonald) in Southeast Asia. That leaves eight FB cars still to account for. Two of the FB cars were BT40/25 and BT40/26, but their first owners are not known.
Unidentified Formula B Brabham BT40s in 1973
The six cars that raced in 1973 for which identities are not yet known are the FB cars of Mike Hall, Craig Hill, Allan Lader (his short-lived first car), Gilles Léger and Dan Carmichael; plus the Asian car of Albert Poon. Fred Opert may also have had one more car, as Jean-Pierre Jaussaud and Héctor Rebaque both drove for his team in FB in 1973. There is still one, possibly two, BT40s that cannot be accounted for in 1973.
We know from their later histories that BT40/25, BT40/26 and BT40/27 were in the US so are very likely to be three of these unidentified Formula B cars. Based on geography, there is a good chance that BT40/25, first seen with Dale Wise (Colombus, OH) in 1980, was the car owned by Dan Carmichael (Columbus, OH); that BT40/26, first seen with Jerry Lieberg in Connecticut in the late 1970s, could well be 'the Gilles Léger car' last seen when entered by Fred Opert Racing for Chris Gleason in 1974; and that BT40/27, first seen with Norm Martin (Denver, CO) in the late 1980s, may well have been 'the Mike Hall car' last seen in Illinois in 1976.
Chassis numbers do not appear to have been any guide to the order in which cars appeared, as Hans Wittwer's BT40/20 was invoiced in December, but John MacDonald's BT40/35 raced as early as April. However, one emerging possibility is that BT40/20 was the Ed Reeves car, rebuilt at the factory after the accident as new, and then sold to Wittwer.
Chassis
History
Current owner
Brabham BT40s in 1974
In April 1974, Dennis Falconer's body design company Falconer Design produced a body conversion kit for the Brabham BT40 and BT41, incorporating a front radiator, full-width nose and "banana" wing.
Formula 2 cars
Of the F2 cars, the works car driven by John Watson and Wilson Fittipaldi (BT40/12) went to Eugenio Baturone; John Wingfield's BT40/14 went to Ray Mallock; Vittorio Venturi's BT40/19 went to Romano Martini ("Shangri-Là"); Hans Wittwer retained BT40/20; and the FINA-backed second works car (BT40/36) went to Tom O'Leary. Both CSAI school cars appear to have remained in Italy. One BT40 also raced in Japan in late 1974. The unraced car bought by Ed Reeves remains a mystery.
Formula B cars
Of the Formula B cars raced in 1973: the car raced by Bertil Roos (BT40/11?) in 1973 went to Bob Kime for FC in 1974; Brian Robertson's repaired BT40/13 was retained as a hire car for the Opert team; Chuck Dietrich's BT40/18 goes temporarily missing before reappearing with David Ralston in 1975; Al Lader's BT40/37 went to Ron Householder; Allan Lader short-lived first car is assumed a write-off; and Gilles Léger's car went to Chris Gleason. The other nine BT40 drivers all retained their cars: Doc Hartley (BT40/16), Ken Duclos (BT40/17), Ron Southern (BT40/22), Bill Eagles (BT40/24), Bill Mairs (BT40/30), Ted Titmas (whose BT40/33 which was still in England), and the unidentified cars of Mike Hall, Craig Hill and Dan Carmichael. Over in England, Graham Eden also retained his Formula Atlantic car (BT40/21) for Cyd Williams to drive.
The only mystery BT40 to appear in North America in 1974 was Norman Johnson's car in Texas. As he only appears to have had the car in 1974 and very early in 1975, it is possible that this was the ex-Chuck Dietrich BT40/18 before it went to David Ralston, but we must remember that there were one or two BT40s are still unaccounted for from 1973, and at least one of these may have been in the depths of SCCA regional racing in 1973 before being acquired by Johnson.
Brabham BT40s in Asia
Albert Poon and John MacDonald (BT40/35) both retained their cars, and were both at Macau at the beginning of December, so the car that Hiroshi Fushida raced at Suzuka in November must be a different car.
Chassis
History
Current owner
Norman W. Johnson (Simonton, TX) raced a Brabham BT40 in Southwest Division Formula B in 1974, replacing a Brabham BT29 he had raced for the previous three seasons. As his car was typically reported simply as a Brabham, we cannot yet be sure when he moved from the BT29 to the BT40 but the SCCA points table for 1974 gave his car as a BT40, so it is assumed here that he had it from the start of the 1974 SCCA season. It is even possible that he had it late in 1973, but the grid list for the SCCA Runoffs shows his car as the BT29. After scoring 17 points in 1974, he retained the car for 1975, scoring nine points for a class win in Houston Region's Armadillo Sprints SCCA National in March . He then retired from the Stuttgart National the following month and was not seen again in FB. Subsequent history unknown.
Driven by: Norman Johnson. First race: Stuttgart Airport, 21 Apr 1974. Total of 3 recorded races.
Unknown
Maurizio Flammini raced one of the CSAI Brabham BT40s at Mugello in July 1974, as the team's two March 742s were both in England. The car was red and fitted with a 1800cc Novamotor engine. It is not yet known which of the two cars he used.
Driven by: Maurizio Flammini. First race: Mugello (R6), 14 Jul 1974. Only one recorded race.
Unknown
Brabham BT40s in 1975
From this point onwards, it makes more sense to track the cars according to where they were last seen, rather than their original formula.
Brabham BT40s in Europe
The ex-works BT40/12 was still in Spain in 1975; John Wingfield's BT40/14 was still running in British Formula Atlantic; the ex-Vittorio Venturi BT40/19 was on its way to "King"; Hans Wittwer was still running BT40/20; Graham Eden still had BT40/21 in Formula Atlantic; and Tom O'Leary was still racing the ex-works BT40/36 in Irish Formula Atlantic. There is nothing to suggest either of the CSAI school cars had left Italy. The unraced car bought by Ed Reeves is just as big a mystery as it ever was. As all these cars appear to have stayed in much the same place, the second BT40 that appeared in Japanese Formula 2 in 1975 is something of a puzzle. The most likely solution is that both BT40s had been in Japan all along, but only one of the two cars had been raced in 1974. If that is correct, then the nine F2 cars said by MRD to have been built would be: the five F2 cars that have raced regularly in Europe, plus the two CSAI F2 cars, plus two F2 cars in Japan. That would imply that the Ed Reeves F2 car had been repaired after its accident and sold on.
Brabham BT40s in North America
Of the 19 cars originally built for Formula B, 16 were in North America by 1975 with the other three being Graham Eden's BT40/21 in England and Albert Poon's car and John MacDonald's BT40/35 in Asia. Of these 16 North American cars, 13 can be tracked into 1975: the Bertil Roos car (BT40/11?) was with Gary Wallace; Brian Robertson's repaired BT40/13 was with Mike Rand; Doc Hartley retained BT40/16; Ken Duclos retained BT40/17; Chuck Dietrich's BT40/18 was with David Ralston; Ron Southern retained BT40/22; Bill Eagles' BT40/24 was in Barbados; Al Lader's BT40/37 was with Ron Householder; Bill Mairs's BT40/30 went to Mark Munroe; Ted Titmas' BT40/33 was on its way to the US from England; Dan Carmichael retained his unidentified car; Mike Hall's unidentified car was with John Elder in Minnesota; and Craig Hill's unidentified car was unknown in 1975 but popped up again with Howard Kelly in 1976. Norman Johnson retained his mystery BT40 for at least two races early in 1975, then it also disappeared.
Of the North American BT40s to race in 1974, the only one that cannot be tracked into 1975 was the unidentified ex-Gilles Léger/Chris Gleason car last seen when owned by Fred Opert Racing. Al Lader's first car had been written off and the final car was not traced in 1973 so is still a mystery. Paul S Chandler (Walnut Creek, CA) advertised a BT40 in August 1975, and Fred Opert advertised a BT40 in November 1975 which was said to be "8 races from New", so could well have been the Léger/Gleason car still with him.
Late in the 1975 season, Peter Robinson of Madison, Wisconsin, appeared with a Brabham at IRP in September. If this was the same Brabham he raced in 1976, it was a BT40, but it is unclear how this fits in. It is possible it was 'the Mike Hall car', which was in Minnesota in 1975, and was advertised by Prather Racing (Wheeling, IL) in November 1976. Wheeling is about 135 miles from Madison.
Brabham BT40s in Asia
Albert Poon acquired a new Chevron B29 for 1975, but his Brabham BT40 was retained and raced by Kevin Bartlett at Macau in November. John MacDonald drove his car at Penang in September, both cars still having Ford twin cam engines. In Japan, there were now two BT40s, both entered by Japan Racing Development: one with a BMW engine and one with a BDA.
Chassis
History
Current owner
Peter Robinson (Madison, Wisc) raced a Brabham in Formula B at the Indianapolis Raceway Park SCCA National in September 1975. In 1976, Robinson raced a Brabham BT40 at Brainerd in September 1976, and it seems likely this was the same car. He made further appearances in a FB Brabham in 1976 and 1977, before acquiring a newer Chevron B39 for 1978. Nothing more known.
Driven by: Peter Robinson. First race: Indianapolis Raceway Park, 21 Sep 1975. Total of 12 recorded races.
Unknown
Brabham BT40s in 1976
Brabham BT40s in Europe
Of the F2 cars, the ex-works BT40/12 was still in Spain in 1976; John Wingfield's BT40/14 was last seen in August 1975; the ex-Vittorio Venturi BT40/19 with "King" in Sicily; Hans Wittwer was still running BT40/20; the Falconer-bodied ex-Graham Eden BT40/21 Formula Atlantic car was with David Winstanley, and Tom O'Leary was still racing the ex-works BT40/36 in Irish Formula Atlantic. There is nothing to suggest either of the CSAI school cars left Italy. So the only European BT40 missing at this time was John Wingfield's BT40/14.
Brabham BT40s in North America
In 1976, BT40/11 was still with Gary Wallace; BT40/13 was still with Mike Rand; BT40/16 was still with Doc Hartley; BT40/17 moved to Peter Gates; Ned Clark is believed to have had BT40/18; Ron Southern advertised his BT40/22 in January 1976; BT40/24 was in the Caribbean; BT40/30 was with Mark Munroe; BT40/33 was with Ted Titmas; and BT40/37 was with Ron Householder. Of the unidentified cars, John Elder's ex-Mike Hall car goes missing; and Howard Kelly had the ex-Craig Hill car at the start of the season; but the ex-Gilles Léger car had gone missing a year earlier and the ex-Dan Carmichael went missing after 1975.
Brabham BT40s in Asia
Albert Poon still had his BT40, but John MacDonald had acquired a Ralt, and his BT40 had not been seen since late 1975. The two Japanese BT40s, as noted above, were not seen after 1975.
Brabham BT40s from 1977 onwards
Brabham BT40s in Europe
Of the F2 cars, the ex-works BT40/12 was still with Eugenio Baturone in Spain in 1976; the ex-Vittorio Venturi BT40/19 had gone to "King" in Sicily and apparently stayed there; the ex-Hans Wittwer BT40/20 was now with Siegfried Grabher in Austria; and the ex-Tom O'Leary BT40/36 was with Gerry Kinnane for Irish Formula Atlantic. We can be confident that the CSAI school cars were still in Italy. So that leaves two BT40s last seen in England: John Wingfield's BT40/14 last seen in August 1975, and David Winstanley's Falconer-bodied BT40/21 last seen at the end of 1976.
Brabham BT40s in North America
In 1977, BT40/11 was still with Gary Wallace; BT40/13 was still with Mike Rand; BT40/16 was still with Doc Hartley; BT40/17 moved to Jon Sley; Ned Clark is believed to have had BT40/18; BT40/22 was on its way from Ron Southern to George Nolte; BT40/24 was in the Caribbean; BT40/30 was with Mark Munroe; BT40/33 was with John Angus; and BT40/37 was with Ron Householder. However, all four of the unidentified FB cars were missing by this time.
Brabham BT40s in Asia
All the BT40s in Asia had faded from sight by this time.
Chassis
History
Current owner
Bought from George Dixon (Norton Disney, near Lincoln) by Paul Hutson (Lincoln), and raced in libre racing from 1977 to 1979. When Hutson acquired it, it came with two noses, one wide, and one narrow. He used two engines in it, a 1600cc Lotus twin cam and a 1800cc Ford BDA. The car was sold to Channel Islander Mick Cataroche, who raced it with a 1800cc Brabham BT40 in hillclimbs at Le Val des Terres between 1980 and 1986. It was initially all white, and sponsored by Whistlers, but was later blue and sponsored by Sheppards & Chase. It was later bought by Chuck McCarty and exported to Italy some time in the 1980s. When advertised from Italy in 2009, it had a Hewand FT200 gearbox and fuel-injected Cosworth BDA engine. It still had stickers on it from the Pace Petroleum RAC National Hillclimb Championship of the early 1980s, and sponsorship from "Sheppards and Chase Members of the Stock Exchange". The main section of the bodywork had been cut back, implying it once had a very different nose, and had acquired a badly altered chassis plate reading "BT40-9". It does not have an AM (Arch Motors) number on the rear of the frame.
Driven by: Paul Hutson and Mick Cataroche. First race: Mallory Park, 18 Sep 1977. Total of 11 recorded races.
Unknown owner (Italy) 2009
Barrie Dutnall (Gillingham, Kent) had a new car built for him by Ken Harrison around a Brabham BT40 monocoque over the 1980-81 winter. The car was fitted with the Buick V8 engine and suspension from Dutnall's previous BT30X, and was fitted with Falconer bodywork. He raced this car in libre and hillclimbs in 1981, but very few results are known. Some sources say that this was the car raced previously by John Hart, although this may be speculation, as both cars had Falconer bodywork. It is also said to be BT40/12, but this may also be speculative. The Dutnall car is then said to have gone to Simon Law, who hillclimbed it in 1982 and kept it until the engine blew up. Law was killed at the Brighton Speed Trials in 1993, after which the Brabham was stored until 2000. It then went to Steve Worrad (Whitchurch, Shropshire) as a restoration project but was not started, and in 2002 the whole project was sold to Peter Boel (Brisbane, Australia). In 2004, the car was in the process of restoration. Still owned by Boel in New Zealand in August 2020.
Driven by: Barrie Dutnall and Simon Law. First race: Gurston Down, 21 Jun 1981. Total of 2 recorded races.
Peter Boel (New Zealand) 2020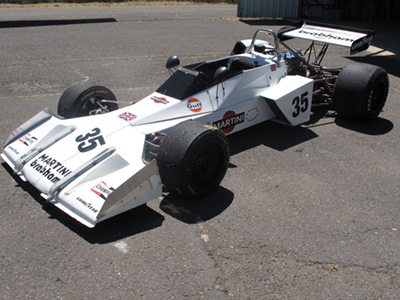 A BT40 first known when it was bought from Giuseppi Lucchini (owner of BMS Scuderia Italia) by Giorgio Schon (Milan, Italy) in 1989. It is believed to be the second BT40 bought by Eugenio Dragoni for the CSAI drivers school. Schon sold it to Dave Rugh (Portland, OR) in September 1999, and from him it went to Gale Schour (Indianapolis, IN), then from Schour to Doug Mockett at auction in 2006. Mockett sold it to Jonathan Burke (Berkeley, CA) in March 2007, who raced it at the Monterey Motorsports Reunion in 2012 and in 2014, and in the CSRG "Charity Challenge at "Sonoma Raceway" in October 2016. Burke calls the car "BT40-15".
Jonathan Burke (USA) 2016
In addition to the above, unknown Brabham BT40s were driven by Jean-Pierre Jaussaud, Héctor Rebaque, Jon Milledge, Kiyoshi Misaki, Narcisco de la Merced, Alfred Irving, Gene Shimko, William Ray Frantz, Colin Richardson and Rodney Olson.
Sources
The story of Eugenio Dragoni arranging the acquisition of two Brabham BT40s for the CSAI school is covered in Autosprint No 73/39 page 6 (dated 24 September - 1 October 1973) and also in Autosprint No 73/44 page 12 (dated 29 October - 5 November 1973)
Acknowledgements
The first draft of these car histories was put together by Chris Townsend in 2004, and since then there has been valuable input from Bryan Miller, David McKinney, Steve Wilkinson, Dan Rear, Philippe Demeyer, Ted Walker, Steve Bay, Jeremy Jackson, Jeremy Hall, Simon Hadfield, Alan Brown, Tony Nicholson, Pete Brennan, Richard Young, Eli Solomon, Andrew Fellowes, Steve Griswold, Gary Jarlson, Douglas Brenner, Jonathan Burke, Richard Knox, RJ Nelkin, Mike Rand, Marc Bahner, Phil Franzone, Mike Spagnola, Collin Jackson, Marcus Pye, Paul Hutson, Peter Boel, John Streeter, Cameron MacArthur and John Hafkenschiel.
These histories last updated on .