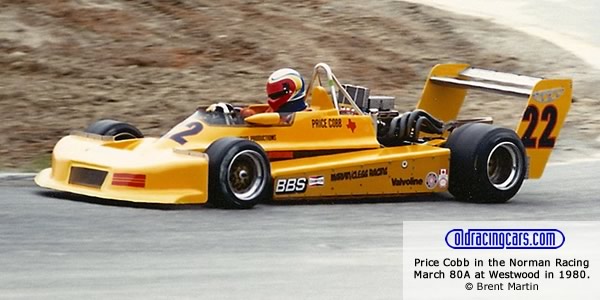 North American Formula Atlantic 1980
Jacques Villeneuve only secured his deal with March importer Doug Shierson Racing to run Formula Atlantic a month before the season started but with the most professional team behind him, plenty of sponsorship and a car already sorted by former champion Howdy Holmes, he was expected to go well. His main competition would come from 1979 champion Tom Gloy, who was distracted by taking his team into CART and by running a second car for Rogelio Rodriguez. Gloy only once finished lower than second and had he not missed three races driving in CART, he could have beaten the French-Canadian to the title. With four race wins, including 1-2s over Gloy in the last two races, Villeneuve was a deserved champion.
Although still sanctioned by CASC, the series now looked more American than Canadian, with only three of the ten races north of the border. Brian Turner and Chris Pook's SCI brought in a new sponsor for the series, Mamiya Cameras.
The Ralt RT1 was still, in Gordon Kirby's view, "the mainstay of Formula Atlantic", but only really because the March 80A proved difficult to set up and the new Ralt RT4 lacked straight line speed. Veteran engineer Charlie Agapiou got Jeff Wood's RT4 going well and Wood won at Bridgehampton, giving Ralt an important boost for the 1981 season.
The races
29 Mar 1980 > Long Beach
25 May 1980 > Sears Point
01 Jun 1980 > Westwood
15 Jun 1980 > Brainerd
05 Jul 1980 > Lime Rock
19 Jul 1980 > Road America
24 Aug 1980 > Grand Prix de Trois-Rivières
14 Sep 1980 > Bridgehampton
27 Sep 1980 > Montréal
26 Oct 1980 > Mexico City
1980 Mamiya Michelob North American Formula Atlantic Championship table
1
Jacques Villeneuve Sr
March 80A - Ford BDD
178 pts
4 wins
2
Tom Gloy
Ralt RT1 - Ford BDD
168 pts
2 wins
3
Steve "Gas" Saleen
Ralt RT1 - Ford BDD
140 pts
1 win
4
Price Cobb
March 80A - Ford BDD
121 pts
1 win
5
Jeff Wood
March 80A - Ford BDD
Ralt RT4 - Ford BDD
114 pts
1 win
6
Rogelio Rodriguez
Ralt RT1 - Ford BDD
110 pts
See also Gordon Kirby's seasonal survey in Autosport 1 Jan 1981 pp36-39.
Of 229 recorded starts in the 1980 series, 115 were in March cars and 102 in Ralts with only token representation from Chevron, Brabham, Lola and Bobsy.