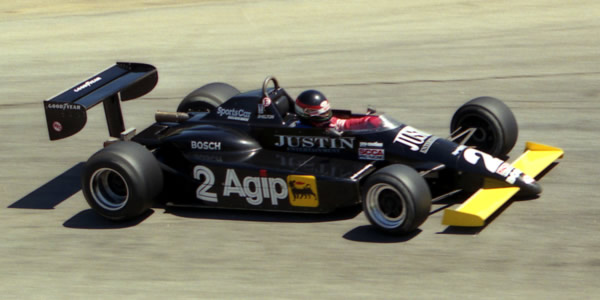 ECAR Formula Atlantic 1988
Compared with the drama in the west, Formula Atlantic's eastern division ran smoothly, with sponsorship continuing from HFC, and 1987 runner up Steve Shelton proving his ability with seven pole positions from the ten races, together with three wins, two seconds and a third in his Stuart Moore Racing Swift DB4. Scott Harrington and Eric Lang were Ralt's leading drivers, and Harrington gave the RT4/88 its only HFC series victory at Montreal. However, both swapped to Swifts before the end of the year. After six seasons in which the Ralt dominated North American Formula Atlantic, the RT4-series cars were finally defeated in 1988. The US-built Swift DB4 took the top three places in each championship, took pole position at every race, led nearly 95% of the laps and won 18 of the 20 races.
There was now a stark difference between the strength of the two divisions: in the west 60% the entries were in 1987 or 1988 cars, but in the west that figure was just 33%. In the west, more than half the grid was made up of cars over five years old, compared with 21% in the east. The new Group B which ECAR announced for 1989 to replace their old "flat-bottomed" category, would allow Ralts up to 1984, so most the other division's entries!
The races
11 Apr 1988 > Road Atlanta
15 May 1988 > Milwaukee Mile
11 Jun 1988 > Montréal
19 Jun 1988 > Mosport Park
17 Jul 1988 > Road America
06 Aug 1988 > Lime Rock
04 Sep 1988 > Mid-Ohio
25 Sep 1988 > Mid-Ohio
23 Oct 1988 > St Petersburg
30 Oct 1988 > Sebring International Raceway
1988 ECAR HFC Formula Atlantic Challenge table
1
Steve Shelton
Swift DB4 - Ford BDD Jennings
110 pts
3 wins
2
Colin Trueman
Swift DB4 - Ford BDD Jennings
89 pts
2 wins
3
J O 'Jocko' Cunningham
Swift DB4 - Ford BDD Jennings
81 pts
2 wins
4
John Thompson
Swift DB4 - Ford BDD Jennings
78 pts
5
Scott Harrington
Ralt RT4/88 - Ford BDD Jennings
Swift DB4 - Ford BDD Jennings
74 pts
2 wins
6
Eric Lang
Ralt RT4/88 - Ford BDD Mong
Swift DB4 - Ford BDD MWE
72 pts
7
John Lloyd
Ralt RT4/87 - Ford BDD Jennings
Ralt RT4/88 - Ford BDD Jennings
Swift DB4 - Ford BDD Jennings
51 pts
8
Freddy Rhemrev
Swift DB4 - Ford BDD Quicksilver
50 pts
1 win
9
Robbie Buhl
Ralt RT4/88 - Ford BDD Jennings
42 pts
10
Joe Teresi
Ralt RT4/86 - Ford BDD Robertson
39 pts