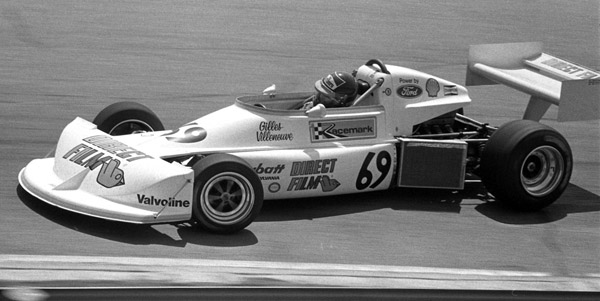 Canadian Formula Atlantic 1977
At the start of the 1976 season, Players had told CASC that season would be their last year of sponsorship of the Canadian series, giving the Canadian governing body the whole year to arrange a replacement. CASC bungled this and by December they had little choice but to accept an ingenious arrangement offered by Kris Harrison of Ecurie Canada. Harrison suggested that Ecurie Canada Engines were made sole supplier of the only eligible engine, the Ford Cosworth BDN, with its price increased to $10,000 to allow enough profit to fund prize money for the series. Harrison then secured sponsorship from Labatts who, as sponsors of the Canadian GP, had been right under CASC's nose all along.
To keep an eye on Harrison, a Formula Atlantic Entrants Association was formed consisting of Harrison's own Ecurie Canada, Doug Shierson Racing, Fred Opert, Ralt importer Brian Robertson, Pierre Philips Racing and Bill Brack. As the circuits could bring no money to the table, they had little say in the matter. TV had an interest, but they expected to be paid to provide coverage.
The season hardly needed Harrison's promotional ability. After defending champion Gilles Villeneuve was punted off by F2 ace Keke Rosberg at Mosport, the young Canadian charged back to finish second and thereafter was unbeatable: three wins and two retirements from the five races he entered. He missed one race while making his GP debut at Silverstone and also found time to race in Can-Am. Bill Brack, Bobby Rahal and Rosberg won when Villeneuve wasn't at the finish and 22-year-old Price Cobb won the Mosport race and the high profile non-championship race at Trois-Rivières.
The races
22 May 1977 > Mosport Park
26 Jun 1977 > Gimli
03 Jul 1977 > Edmonton
17 Jul 1977 > Westwood
07 Aug 1977 > Halifax
14 Aug 1977 > St-Félicien
04 Sep 1977 > Grand Prix de Trois-Rivières
25 Sep 1977 > Québec City
Formula Atlantic Labatts Championship events shown in bold
1977 Formula Atlantic Labatts Championship table
1
Gilles Villeneuve
March 77B - Ford BDN Morris
114 pts
3 wins
2
Bobby Rahal
March 76B - Ford BDN Morris
Ralt RT1 - Ford BDN Willis
92 pts
1 win
3
Bill Brack
March 77B - Ford BDN Nicholson
87 pts
1 win
4
Keke Rosberg
Chevron B39 - Ford BDN Titan
82 pts
1 win
5
Price Cobb
March 77B - Ford BDN Nicholson
82 pts
1 win
6
Tom Gloy
March 76B - Ford BDN Morris
68 pts
7
Chip Mead
Ralt RT1 - Ford BDN Willis
60 pts
8
Kevin Cogan
Ralt RT1 - Ford BDN Willis
59 pts
9
Richard Spenard
March 77B - Ford BDN Morris
48 pts
10
Howdy Holmes
March 77B - Ford BDN Race Shop
46 pts
Points table from a CASC bulletin dated 13 Oct 1977 (provided by Dominic St-Jean of Quebecois motor racing website autocourse.ca).
There was also a race in Mexico in early November, the Novedades Cup, but the Mexican authorities failed to get approval for the race from the FIA, so James Hunt, who arrived to drive a Chevron, was unable to take part. Tom Bagley won from Kevin Cogan and Chip Mead, but complete results have proved elusive.
In 1977, Ecurie Canada disintegrated and engine man Dave Morris took over the job of running cars for Gilles Villeneuve and Richard Spenard, with Andy Roe as chief mechanic. Morris's family company Weldangrind in Edmonton spawned Engine Rebuilders Ltd to maintain Cosworth BDNs for Morris's customers.