March 74B car-by-car histories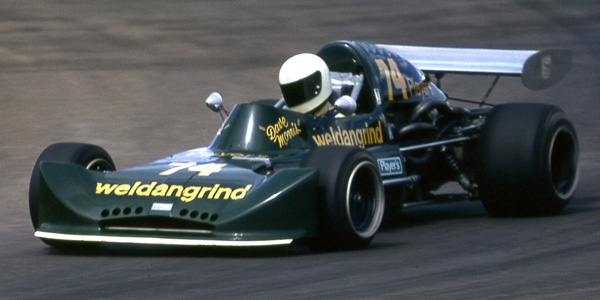 The 1974 March 74B sold in significantly lower numbers than its predecessor, as March faced greater competition in Formula Atlantic from Chevron and Lola. Bobby Brown was the only 74B driver to win a championship round on either side of the Atlantic.
After the relative success of the March 73B in Formula B/Atlantic, and the outstanding success of the BMW-powered March 732 in Formula 2, there were no major changes to the new Formula Atlantic March 74B for 1974. A huge number of detail changes were listed, including Koni adjustable dampers, Aeroquip brake and clutch lines, Willans seat belts and a Varley green top battery, but in bodywork terms, the changes were subtle, with a reprofiled nose including a deeper splitter, faired roll-hoop and what was described as a low-drag engine cover. The changes to the cockpit surround were hard to spot. Under the skin, the monocoque appears to have been identical. The oil tank had been moved from directly behind the gearbox on the 73B to the side of the gearbox on the 74B, a move dictated by a change to FIA regulations for F2. One big change was that the Canadian series had moved from Formula B rules to Formula Atlantic rules, allowing the Ford BDA engine, and bringing it in line with the British championship, leaving the amateur SCCA Formula B category as the last redoubt of the Ford twin cam.
The first 74B was shown in November 1973 and went to Ted Wentz, an American competing in the British championship with wholehearted support from Wella International Hair Cosmetics. No other 74B was sold for the British series, and most went to Canada for the booming Players championship, where the Chevron B27 proved a marginally superior option.
Even before the March 74Bs started to race, the March works Formula 2 team appeared with radically modified 742s, the cars having side radiators, a longer nose based on the Formula 1 car, and the F1 car's front end including brakes. This configuration was quickly seized upon by the Formula Atlantic runners, with Tom Greatorex's hire car for Syd Demovsky being one of the first to be converted to the new nose and radiator positions, the new F2 rear wing mounting frame following later. At the third race, Gilles Villeneuve had a new car to the latest specification, and two further cars that appeared for guest drivers at Trois-Rivières at the end of the season went further by adding the F2 cars' deformable structure sidepods. In July, March US agent Joe Grimaldi flew out Ray Wardell, who managed March's works F2 team, to help develop the 74Bs.
If you can add to our understanding of these cars, or have photographs that we can use, please email Allen at allen@oldracingcars.com.
Chassis
History
Current owner
Unidentified March 74Bs in 1974
The first owners of a number of these cars can be identified from March records. The customer for 74B/1 was said to be "Planer", 74B/5 went to "Coarasa", 74B/7 to "Cramer", and 74B/9 to "Brown". 74B/8 went to "Canada", and as it was the only green 74B, we can be confident this means Dave Morris. Also, 74B/6 has a continuous history to its current owner and still has its chassis plate, so we know that was Bruce Jensen's car. The other seven went to Joe Grimaldi, but we can be confident that the two yellow ones, 74B/3 and 74B/13, were the Schweppes-sponsored Ecurie Canada cars.
That leaves five cars that remain a puzzle: 74B/2, 74B/4, 74B/10, 74B/11 and 74B/12. It is likely that the red 74B/2 is the car that Jackie Cooper raced in the opening Regional race of the Midwest Division season and at four more races that season. There is strong circumstantial evidence that 74B/10 was the car raced by Québécois Gilles Léger from Mosport Park in July 1974 onwards. Two of the others will be the white car that went to Californian Don Breidenbach and the blue/white car run by Tom Greatorex of Montréal for Syd Demovsky. That leaves one unaccounted for. Two other mystery cars appeared in 1974 that were described as 74Bs, even though it is possible they were something else: the cars of Patrick Depailler, and the British Multiglide team. Depailler guest-drove a car at Trois-Rivières in September which could well have been a 74B, but it is distinctly possible that it was built for Depailler using a 742 chassis or even a 732, in which case it would probably not appear in the 74B production numbers. Multiglide had several cars during 1974, one of which was described as a 74B, but it looks likely it was an older car updated, a 722 or even a 712M. So, as things stand, we cannot account for one of the 74Bs. If colours are a good guide, it is one of the two midnight-blue cars, 74B/4 and 74B/12, that is missing.
Chassis
History
Current owner
Unidentified March 74Bs in 1975
Of the ten March 74Bs delivered to North America, seven can be traced into 1975. Of the identified cars: Joe Grimaldi's yellow hire car 74B/3 went to Tom Pumpelly; Bruce Jensen's 74B/6 went to Jean Beaulieu; Dave Morris's 74B/8 was being rebuilt after a major accident; and Bobby Brown's 74B/9 was for sale with Fred Opert in June 1975. Of the mystery cars, which must include 74B/2, 74B/4, 74B/10, 74B/11 and 74B/12, Jackie Cooper's was retained; Don Breidenbach's car went to Bob Gledhill and then to Jeff Alkana; Gilles Léger's car went to Reg Scullion; and Patrick Depailler's car went to Tom Sauerbrei.
This leaves two that cannot be tracked into 1975: the car that Tom Greatorex on Montréal ran for Chicago dentist Syd Demovsky; and the yellow Schweppes/Ecurie Canada/Villeneuve 74B/13, both of which were converted to "F2" specification during 1974. Grimaldi recalls selling the latter car to a farmer in the Mid-West.
Three unidentified 74Bs ran in 1975: the cars of Canadian veteran Peter Broeker, New Yorker car-sharers John Mortensen and Rick Wellner, and Cal Club Regional Executive Oz Pohl. Pohl's car can probably be discounted, as there is reason to believe that it was Richard Paul's 73B-based car. Broeker's car had the later 742-style nose and used a Greatorex engine, which would be consistent with it being either the ex-Demovsky car or the Ecurie Canada 74B/13. The Mortensen/Wellner car was blue, and it was entered by them as a 742B, implying a 74B updated to 742 (side-radiator/long nose) specification. It is possible that they had the blue 74B/4 after it was used in minor events in 1974 so has not yet been spotted. However, it remains possible that they had the Bobby Brown car, then in stock at Fred Opert's.
There are other possibilities, as Ecurie Canada may have kept their old 74B as a spare car for Bertil Roos in 1975.
Chassis
History
Current owner
Peter Broeker (Pointe-Claire, Montréal, Quebec, Canada) raced a black-and-white #21 March 74B at several rounds of the Players Canadian Formula Atlantic series in 1975. Photographs show that the car had a 742 nose, so side radiators. He also made a couple of entries in 1976 in a car described only as a Stebro, which could well have been the same March. Subsequent history unknown.
Driven by: Peter W. Broeker. First race: Mont-Tremblant (R4), 6 Jul 1975. Total of 2 recorded races.
Unknown
John Mortensen (New York, NY) and Rick Wellner (New York, NY) shared a blue March 74B in SCCA Nationals and Regionals in 1975. The car was entered by Karaba Racing Enterprises as a March 742B, indicating a 74B that had been updated to 742 specification. This was previously thought to have been the ex-Bobby Brown 74B, but a Fred Opert stock list in November 1975 said that the ex-Brown car had not been raced since June 1974. This car may have been traded to Opert when Mortensen bought a new March 76B for 1976.
Driven by: Rick Wellner and John Mortensen. First race: Bryar Motorsport Park, 25 May 1975. Total of 4 recorded races.
Unknown
Eric "Ozzie" Pohl (Santa Ana, CA) drove a March 74B or March 742 in several SCCA Regionals at Willow Springs and Riverside in late 1975, starting with the Labor Day Regional where he failed to start. Pohl appeared again at Riverside in February 1976. Tom Sauerbrei also raced in the Willow Springs race, so Pohl cannot have been in his car. The other car in that area that was regularly described as a 742, Richard Paul's 722- or 73B-based car, is a possibility, and Paul recalls that it may have been Pohl that bought his car. Nothing more known. Oz Pohl, who was at the time the newly elected and highly effective Regional Executive for Cal Club Region, died suddenly in May 1976.
Driven by: Ozzie Pohl. First race: Willow Springs, 5 Oct 1975. Total of 3 recorded races.
Unknown
Unidentified March 74Bs from 1976 onwards
Only four of the ten North American 74Bs can be tracked past the end of the 1975 season: of the identified cars Tom Pumpelly's 74B/3 went to Peter Dodge and the ex-Bruce Jensen 74B/6 was with Ron Rogers; and of the unidentified cars, Jackie Cooper raced through 1976, and Tom Sauerbrei rebuilt his ex-Patrick Depailler car to 75B specification and leased it to Johnnie Crean.
The others had all faded from sight by the start of the main SCCA season: Tom Greatorex's ex-Syd Demovsky mystery car and the Ecurie Canada/Gilles Villeneuve 74B/13 had both disappeared after 1974; Dave Morris's 74B/8 had disappeared, but was probably now called a 75B; and the ex-Bobby Brown 74B/9 had recently been in stock with Opert. Of the unidentified cars, Jeff Alkana raced his ex-Don Breidenbach car very early in the 1976 Californian season after which it disappeared; and Reg Scullion's ex-Gilles Léger car vanished at the end of 1975. None of the 1975 mysteries, Peter Broeker's, John Mortensen's and Ozzie Pohl's, were seen again after that season (or very early 1976 in Pohl's case). So that's a daunting six 74Bs untraced in North America in 1976, plus Morris's now in 75B guise.
At least one further mystery 74B appeared in 1976: Bob Tracy in Oregon appears to have acquired the ex-Breidenbach car. John Bernadine's "742" in Oklahoma cannot after all have been the ex-James King March 73B, so that is a mystery, and on the subject of Oklahoma, Fred Lee's March in Tulsa is also a mystery in 1976. Also, Richard Ralls in Chicago Region had a car towards the end of the 1976 season that is thought to have been a 74B.
Chassis
History
Current owner
In addition to the above, an unknown March 74B was driven by Dave Lowe.
Acknowledgements
My thanks to Chris Townsend for his diligent work researching these cars, to Richard Paul, Simon Hadfield, Kevan McLurg and Philippe Demeyer for clarifying in detail the differences between the 73B, 74B and 75B Marches, to former Bob Cavanaugh Racing chief mechanic Gary Bell for information on 74B/3, and to Bryan Miller, David McKinney, Dan Rear, Steve Wilkinson, Seann Burgess and David Clubine for information about individual cars. Kevan McLurg also interviewed Joe Grimaldi in April 2020, with appropriate guidance from Chris Townsend, and also contacted previous owner Ed Capullo in May 2020, and my gratitude to all four of them for the information uncovered. Also to former 74B owners and racers Miguel Coarasa, Jeff Alkana, Bob Roy, Ron Rogers and Johnnie Crean for their assistance. Finally, I am most grateful to the staff of the International Motor Racing Research Centre (IMRRC) at Watkins Glen, who provided information from the SCCA's archive of driver registrations.
If you can add to our understanding of these cars, or have photographs that we can use, please email Allen at allen@oldracingcars.com.
These histories last updated on .