March 75B car-by-car histories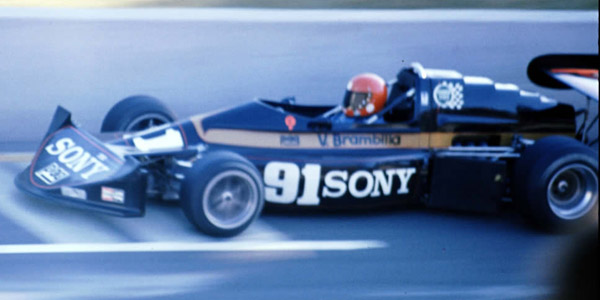 March produced an updated version of their Formula Atlantic design, the March 75B, for 1975. Twelve of the fourteen built were sold to North America, where Bertil Roos and Gilles Villeneuve both won races.
The March 74B had been developed significantly during 1974 with the addition of the side radiators, nose and other features from the works Formula 2 cars, and the new March 75B was a tidy up of that design, using a very similar monocoque. March had designed a completely new and wider monocoque for Formula 2, but the 75B and its sister car, the Formula 3 753, which shared the narrow monocoque that had evolved out of the 1971 design, were given the same nose, cockpit surround, square-topped roll hoop casing and engine cover as the new F2 design. Almost immediately, drivers complained about buffeting, an issue that was cured by cutting down the roll hoop casing so that the top of the hoop was exposed. Joe Grimaldi had been March's importer since the very beginning, but in early 1975 his Race Shop operation was absorbed into Doug Shierson's company in Adrian, Michigan. Shierson had previously run Chevrons: sponsoring the Formula 5000 Chevron B24 of Peter Gethin in 1973, and then running a two-car Formula Atlantic of Chevron B27s for James King and Chip Mead in 1974. He now not only took over the March agency but also ran six March 75B drivers in the Players Canadian series in 1975. Customer 75Bs were also sold to Ecurie Canada, who already had a direct relationship with the March factory, and to three independents: the very promising Canadian Gilles Villeneuve, Californian club racer Don Breidenbach, and the young and slightly out of his depth Jon Batchelor.
Ecurie Canada driver Bertil Roos and young Villeneuve proved to be the quickest of the March 75B drivers, but the 1975 season was a remarkably even battle between Chevron, Lola and March, and their respective importers, Fred Opert, Carl Haas and Shierson. March had the most cars on the grid, Lola scored the most championship points, but Chevron took the title thanks to the hugely experienced Bill Brack. March's Grand Prix star Vittorio Brambilla won at Trois-Rivières in a guest appearance, and Bobby Rahal won the SCCA Runoffs after borrowing the ex-Brambilla car.
If you can add to our understanding of these cars, or have photographs that we can use, please email Allen at allen@oldracingcars.com.
Chassis
History
Current owner
Identifying the March 75Bs
Of the 14 75Bs shown in March records, 75B/U1 and 75B/1 stayed in the UK, and the other 12 went to North America. Not all the March 75Bs crossing the Atlantic went to the same agent, so we have more information that usual from March records to help identify the first owners and drivers of these cars. To start with the most straightforward, March records show 75B/5 and 75B/10 going to Ecurie Canada, and their respective colours identify the yellow 75B/5 as Bertil Roos' car and the white 75B/10 as Craig Hill's car. First owners are listed of John Crean for 75B/4, identifying it as the car raced by Don Breidenbach; "Shierson Woodner" for 75B/11, identifying it as the black car owned by Interscope Racing and raced by Jon Woodner; and Skip Barber for 75B/13.
That leaves 75B/2, 75B/3 and 75B/6 invoiced to Joe Grimaldi; and 75B/7, 75B/8, 75B/9 and 75B/12 invoiced to Doug Shierson. For these seven, the gel coat colours are the next clue, as few racers invested so heavily in sponsors liveries to obscure the delivered colour. Unfortunately, four of the seven were yellow, which is no help, but 75B/3 was brown, 75B/6 was red, and 75B/7 was bright blue. Price Cobb's brown 75B was previously thought to be 75B/3, but Joe Grimaldi's recollection is that Cobb had a rebodied ex-Dale Lang 73B/74B and photographs of Cobb's car support that. However, we can be confident that Jon Batchelor's blue car was 75B/7 as its chassis number was listed on the invoice.
At this stage of the process, we have six cars for which first owners cannot be identified: 75B/2, 75B/3, 75B/6, 75B/8, 75B/9 and 75B/12. Corresponding to those are:
Doug Shierson Racing
Syd Demovsky (#9 yellow)
Vince Muzzin (#99 red)
Chip Mead (#17 red)
Tim Cooper (#8 yellow)
Late-season hire car for Marcel Talbot at Trois-Rivières and Bob Beyea at Brainerd (#9)
Privateers:
Gilles Villeneuve (#69 Skiroule green)
A later invoice tells us that the Demovsky car was 75B/8, and one of Mead's or Muzzin's must surely be the red 75B/6. That leaves Tim Cooper's yellow hire car, Villeneuve's Skiroule green car, and whichever of Mead and Muzzin didn't get 75B/6, to be three of the four other cars: 75B/2, 75B/3, 75B/9 and 75B/12. There is some evidence linking 75B/2 to Tim Cooper but this is by no means definitive. However, we must also consider the possibility that DSR's late-season hire car was actually Jon Batchelor's blue 75B/7, as there is some evidence that it was blue and went to Tom Sokoly for 1976. If that is correct, then there are only five unexplained cars here, not the six we were looking for. Note that 75B/12 was not logbooked until August 1976, so one possibility is that it never raced in 1975. If it did race, then it can only logically be Villeneuve's, as Cooper's, Mead's, Muzzin's and the DSR late-season hire car all appeared in at least one SCCA event at some point during 1975.
The Doug Shierson Racing team in 1975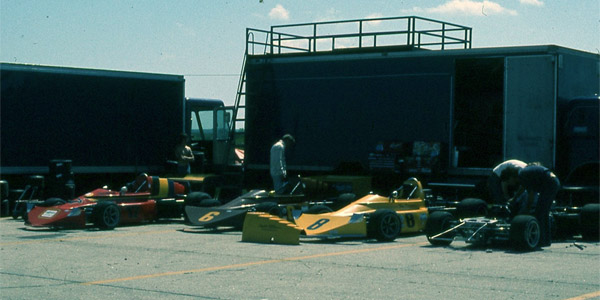 At the opening race, the Shierson team had six cars present. The most straightforward of those are Vince Muzzin's red #99, which Muzzin retained for 1976; Chip Mead's red Lambrusco by Zonin #17 entry which he raced all year; and the black Interscope #91 raced by Jon Woodner and later by Guy Tunmer at Halifax, Vittorio Brambilla at Trois-Rivières and then by Bobby Rahal at the SCCA Runoffs. A fourth car was Tim Cooper's yellow 75B, which Cooper hired for the season while apparently also retaining his older 73B. The other two cars in the DSR fleet were Syd Demovsky's yellow #9, which he only raced at the opening two rounds before moving over the Bobby Brown's second Chevron B29; and Price Cobb's 73B/75B. After a couple of races, Tom Pumpelly decided to transfer his National Tire Wholesale funding from Cavanaugh Racing, who were running a late-1974 March 74B for him, to the DSR team. Pumpelly had "a brand new FB March out for the first time" at an SCCA National in June, but photographs show that this was his 74B updated. The other half of the Cavanaugh team was Jon Batchelor's 75B/7, but this car was sold back to the Shierson team when Batchelor's money ran out after two races and was then raced by Price Cobb at Mosport in July. How this (blue) 75B was used by the DSR team in the last three races of the 1975 season remains unresolved.
While this was going on, Ian Grob arrived at the fourth race, at Mont-Tremblant in early July, to take over another of the DSR 75Bs, presumably the ex-Demovsky car, only for his finance to be found wanting, and the car was sold instead to Cliff Hansen. Another DSR 75B then emerged, raced first by Marcel Talbot at Trois-Rivières where there was a full set of six DSR or ex-DSR 75Bs present, and finally by Bob Beyea in the SCCA race at Brainerd. There is circumstantial evidence that this Talbot/Beyea car was the ex-Batchelor 75B/7, suggesting that Cobb had only raced it once, at Mosport. (It was previously thought that Guy Tunmer had raced this DSR hire car at Halifax in August but photographic evidence strongly suggests he raced the ex-Interscope 75B/11.)
Chassis
History
Current owner
One additional car was built from parts towards the end of 1975 using a 753 monocoque supplied by March.
Chassis
History
Current owner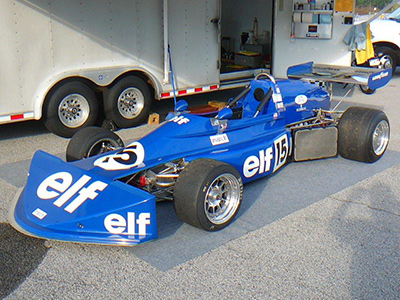 In late 1975, Richard Paul (North Hollywood, CA) and his mechanic Chic Gladding built up a new car for Formula Atlantic, using a March 753 monocoque, tub number 753-38. It was fitted with aluminium bodywork designed and fabricated by Paul and Gladding. Paul did not race the car often, and in 1978, sold it to James Wood (Suisun, CA) who fitted a Hart BDJ and ran it that season in Formula C. It was then sold to Eric Steeg (Daly City, CA) in 1987, and he raced it in Formula C in 1988. In 1997, Ken Stone (Redding, CA) bought the car and restored it between May 1999 and June 2000 with Tim Fortner, then selling it to Tony Seiniger. Still with Seiniger in January 2004. Bought by Mark Jaremko (Spokane, WA) in early 2012 from Mike Mallinen, and used to win the Monterey Pre-Historics that year when it was dark blue with Elf signwriting and wearing #15. Then sold to Dave Swigler (Panama City, FL) who raced it at the Mitty in early 2014 in the same livery. For sale via Rick Larner's Race Car Locators, LLC in November 2020.
Driven by: Richard Paul, Jim Wood and Eric Steeg. First race: Riverside, 29 Aug 1976. Total of 7 recorded races.
Dave Swigler (USA) 2020
March 75Bs in 1976
Of the identified cars, 75B/U1 and 75B/1 stayed in the UK; Don Breidenbach's 75B/4 went to Jeffrey Alkana; Ecurie Canada's 75B/5 and 75B/10 were advertised by PDW Racing in mid-1976; the ex-Jon Batchelor 75B/7 disappeared; Cliff Hansen kept his ex-Demovsky/Grob 75B/8 for most of 1976; the Interscope Racing 75B/11 disappeared; the late-season orange 75B/13 disappeared but we can be reasonably confident that this was Allen Costa's car, in which case he kept it through 1976; and the ex-Patrick Depailler 75B/R1 went to Bob Kolowich.
Of the unidentified cars - 75B/2, 75B/3 and 75B/6 invoiced to Joe Grimaldi; and 75B/9 and 75B/12 invoiced to Doug Shierson - one of these is Gilles Villeneuve's car and the other four were Doug Shierson Racing cars. Of the DSR cars, Vince Muzzin retained his car and Chip Mead's went to Ted Johnson then Glenn Guerra, but Tim Cooper's car and the late-season car of Marcel Talbot and Bob Beyea (possibly ex-Batchelor) both disappear. Note that we can be confident that Tom Pumpelly's "75B" was his 74B updated. Of these cars, we know that 75B/12 was with Giovanni Distasio in 1976, even if we don't know who had it in 1975.
So, even if we assume the two Ecurie Canada cars weren't raced in 1976, that leaves between four and six 75Bs that cannot be tracked into 1976: the black Interscope 75B/11, Villeneuve's, Cooper's, and the late-season DSR hire car, plus maybe the ex-Batchelor 75B/7 and maybe the late-season orange 75B/13. Corresponding to those are three or four unidentified 75Bs in 1976: the cars of Thomas Sokoly, Dan Carmichael and Joe Shepherd, plus perhaps Jim Mullins who appeared once that year in a 75B, but Mullins could have hired a car. Any of these could be older cars updated to 75B specification, and we also know that Dave Morris's car had been rebuilt with a 1975 monocoque and sold on, and that Price Cobb's 73B/74B was in 75B specification by the end of 1975. Colour may be a clue to some of these cars; for example, Dan Carmichael's car appears to be in the same colours as the Interscope 75B/11.
The appearance of so many second-hand March 75Bs in Central Division is no surprise given Joe Grimaldi's move from New Jersey to Doug Shierson's base at Adrian, Michigan, and the need for DSR to sell off four or five of their 75Bs. It is possible that Villeneuve's 75B was kept as a spare car by Ecurie Canada or as a show car by Skiroule during 1976 and then sold to Dorsey Schroeder at the end of the year, but Shierson advertised this car as well in February 1976, so that may not be the case.
Chassis
History
Current owner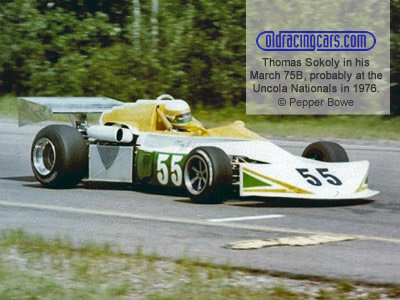 For 1976, Thomas and Theodore Sokoly acquired a March 75B from Doug Shierson Racing. The car was blue when they first acquired it, and they were told that it had been raced by a Canadian hire driver at Trois-Rivières, who had damaged the engine during practice. This would seem to be a reference to Marcel Talbot, as he was the only Canadian to drive for DSR at that race, and he failed to start the race. With Tom Sokoly (Mayville, WI) driving, and brother Ted as chief mechanic, they raced the March 75B in Formula Atlantic in 1976, including one IMSA round, two Players rounds, plus SCCA Nationals. Tom did not score any points in Central Division in 1976, but scored three points in 1977. For 1978, the car was sold to Frank Scott (Racine, WI), a local Assistant District Attorney. He scored only three points in CenDiv FB in 1978, and took part in the Labatts Championship Series race at Road America in July 1978. Advertised by Scott in March 1979 as a 75B/77B with a choice of BDD and BDN engines. Subsequent history unknown.
Driven by: Thomas Sokoly and Frank Scott. First race: Road Atlanta (R1), 11 Apr 1976. Total of 8 recorded races.
Unknown
Dan Carmichael (Columbus, OH), a 56-year-old veteran of SCCA racing, raced a #74 March 75B in SCCA Central Division Formula Atlantic in 1976. The car was in very similar livery to the Interscope March 75B: black with an orange stripe. He retained the car for 1977, scoring 14 points in the Division, although his car was described at the end of that season as a "Mascot". John Gloviak used this car at the 1977 Runoffs, but Gloviak returned to his Brabham BT35 in 1978, so may have just hired the March for this one event. For 1979, Carmichael acquired a brand new March 79B, but it is not clear whether he had also bought a newer car for 1978. Carmichael, who was 60 when the 1979 season started, was an architect from Columbus and had focused on his golf in 1978, winning the Ohio Senior Golf Championship, so may not have raced that season. The subsequent history of the 75B is unproven, but if this was the ex-Interscope car, then it went to Steve Bonney in late 1977 or early 1978.
Driven by: Dan Carmichael and John Gloviak. First race: Road America, 6 Jun 1976. Total of 6 recorded races.
Unknown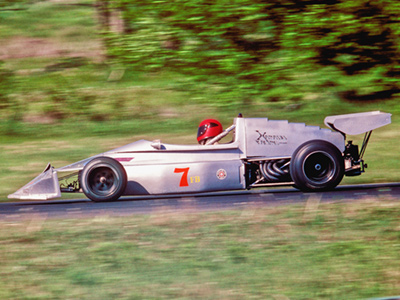 Joe Shepherd (Indianapolis, IN) raced a #7 or #97 March 75B in SCCA National, Players Canadian and IMSA series races in 1976. He advertised the car in October 1976, noting that it had only raced three times in 1976. This car was unusual for a March 75B as a Tom Schultz photograph taken at the Road America June Sprints shows that it did not have a standard 75B left-hand radiator. Also at the back of the car, it can be seen to have its oil tank behind the gearbox, as on a 73B, this having been moved to the side of the gearbox on the 74B. That would suggest it was a 73B updated to side-radiator 75B form, and the obvious contender for this would be Price Cobb's March 73B/74B/75B, last seen at the end of 1975. Nothing more known.
Driven by: Joe Shepherd. First race: Road America, 6 Jun 1976. Total of 4 recorded races.
Unknown
Two further cars are relevant to this story, both emerging in late 1976. One was a March 75B which was sold to New Zealand using the chassis number of 75B/8, a car that had been sold to the US, and given how easily damaged cars could have their monocoques replaced, it is hard to see how 75B/8 could possibly have been back in England. The second was a car built for Formula C and called a 75C, but it is not known whether this was built as such in England or was brought over to the US as components and built there.
Chassis
History
Current owner
Bob Welch (Alexandria, VA) raced a new March 75C in the Formula C class at the Runoffs at Road Atlanta in October 1976. He had qualified in Southeast Division driving an older Lola T240. According to a later advert for the March, Welch had brought the car to the US, so it may have started life as a Formula 3 March 753, or could have been built around an unused monocoque. The original monocoque number of 'AM753-50' supports the idea that it was an unused monocoque. Welch scored six points in SEDiv Formula C in 1977, then 18 points in 1978, then nine points in 1979. The car went to John Hood in May 1979, then to R.R. DeCardenas in August 1996. History then unknown, but the car was still in Welch's livery when sold to its current owner (as of 2020). By 2020, it had been rebuilt on a 1977 monocoque (tub number M773:32) and rebuilt to Formula Atlantic specification with a Cosworth BDA engine. In October 2020, it was being advertised by Art Hebert's Motorsports Market.
Driven by: Bob Welch. First race: Road Atlanta, 31 Oct 1976. Total of 4 recorded races.
USA 2020
Carrying chassis plate 75B-8, this car was bought by Kiwi Dave Saunders from March in 1976, after it had been returned to the works. It is unclear why 75B-8 would have been in England but March records do contain a note saying that its Shierson Racing sister car 75B-2 was returned to England for repairs. Presumably Saunders, who had raced in the UK in 1976, took it back with him to New Zealand because it appears in the first two rounds of the 1977 NZ series, being badly damaged in practice for the second. A NZ vehicle registration document [required for all cars in NZ] dated 10 Nov 77 confirms the plate is chassis number 8. The Pukekohe damage was made good with a new tub, bought not from March but John Thompson's fabrication company, numbered M772PU6. The car is now in Australia, and these documents were forwarded from the owner via Bryan Miller, and had been confirmed with Dave Saunders. Saunders reappeared with the car, now entered as a 77B, in the New Zealand Formula Pacific series in 1980/81, but had major accidents at Pukekohe in January 1981 and in March 1981. The car was then sold to Ross Cameron's Willowbank Motor Court Ltd (Dunedin, NZ) in May 1981. Cameron raced it in the 1981/82, 1982/83 and 1983/84 series. It then went via Ken Smith to Allan Champion, and is believed to be car raced by Geoff Champion in the 1985/86 series. It then passed via Smith again to Gerry Duyvestyn (Australia) in September 1989. It was bought by Howard Blight (Sydney, NSW) in August 1993, and raced in Australian historic events up to 2007. Sold to Robert Foster (Casino, NSW) and raced by him from 2008 onwards. Raced by Foster at Historic Queensland in July 2016. Still owned by Foster in June 2023.
Driven by: Dave Saunders, Ross Cameron and Geoff Champion. First race: Baypark Raceway (R1), 3 Jan 1977. Total of 17 recorded races.
Robert Foster (Australia) 2023
March 75Bs in 1977
Of the identified cars, 75B/1 stayed in the UK, but 75B/U1 vanished from England at the end of 1976; Ecurie Canada's 75B/5 and 75B/10 had been missing since mid-1976; and the ex-Jon Batchelor 75B/7, the Interscope Racing 75B/11 and the late season orange 75B/13 had all disappeared at the end of 1975. Only three of those cars in North America can be tracked into 1977: Alan Holly's ex-Don Breidenbach 75B/4, which he was still racing in April 1977, Cliff Hansen's ex-Demovsky/Grob 75B/8 which went to Mike Downs, and Bob Kolowich's ex-Patrick Depailler 75B/R1 which he retained. Also Allen Costa advertised what we strongly suspect was 75B/13 in March 1977.
Of the five cars from the original production run where first drivers are not known - 75B/2, 75B/3 and 75B/6 invoiced to Joe Grimaldi; and 75B/9 and 75B/12 invoiced to Doug Shierson - one of these is Gilles Villeneuve's car and the other four were the Doug Shierson Racing cars. Villeneuve's car and the DSR car of Tim Cooper and DSR's late-season hire car had all disappeared at the end of 1975. One of these is likely to be 75B/12 which Giovanni di Stasio retained for 1977, but the possibility remains that Di Stasio had that from new. The other four are likely to correspond with the three mystery 75Bs seen in 1976 of Thomas Sokoly, Dan Carmichael and Joe Shepherd. Sokoly's is likely to be the late-season hire car. Also, we must remember Price Cobb's "75B", which had been converted by Shierson from a 73B, and also goes missing at the end of 1975.
Of those three Central Division mystery cars from 1976, Thomas Sokoly and Dan Carmichael both retained their cars for 1977 and ran them in Central Division alongside the "75B" of brothers Gary and Wayne Dassinger. Apart from the Dassingers, the other mystery 75Bs to appear in 1977 were Dorsey Schroeder's ex-Ecurie Canada car and the car that Max Sebba drove at the 1977 SCCA Runoffs.
With so much unknown here, we can only speculate about the newcomers, but the Dassingers in Cincinnati could have had the Joe Shepherd car from Indianapolis or the Vince Muzzin car from Michigan or the ex-Cobb 73B/75B, and Max Sebba, on the east coast, could have acquired the Allen Costa car or the ex-Tim Cooper 73B/75B.
Chassis
History
Current owner
March 75Bs from 1978 onwards
In 1978, Steve Bonney (Pueblo, CO?) scored 33 points in Midwest Division Formula B in a March 75B. He was also very successful in the Division in 1979, ending on 35 points in a tie for second place. His car is reported to have been chassis 75B/11.
Also in 1978, Raymond Levet raced in French hillclimbs in what was reported at the time as a March 742, but has since been described as a 75B. Photographs of the car clearly show a standard 1975 cockpit and the standard 1975 cut-down rollhoop casing. Previous versions of this page suggested this could be the ex-Ray Mallock March 75B, but photographs have shown that the Mallock car had been significantly modified by the end of 1976 so that is highly unlikely. It now looks more likely to have been an ex-Formule Renault March 75R.
Chassis
History
Current owner
Dale Euga (Winchester, VA) raced what was described as a March 75B in SCCA Regionals in 1978. Nothing more known.
Driven by: Dale Euga. First race: Lime Rock (R1), 29 Apr 1978. Total of 7 recorded races.
Unknown
Gary Robinson (Broken Arrow, OK) upgraded his March 712M for a newer March 75B some time during 1979, but exactly when this happened during that season remains unclear. Robinson finished fifth in MidWest Division Formula Atlantic in 1979, then retained the car for 1980, finishing seventh in the division. He was still racing it in 1982. The identity of his March 75B is unknown but a "March 752" appeared in historic racing in the 2010s that has an SCCA stamping from Northeast Oklahoma Region, Robinson's home region, and a '75B/10' chassis plate.
Driven by: Gary Robinson. First race: Ponca City, 1 Jul 1979. Total of 4 recorded races.
Unknown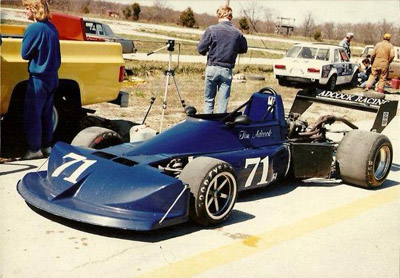 Steve Overton (Belleville, IL) owned a Formula Atlantic March in 1984 which was raced by his mechanic Ernst Schneider (Belleville, IL) in Midwest Division Formula Atlantic in 1984, winning the title. It is presumably the same March Schneider had raced in 1982. It was advertised by Overton in March 1985 as a March 75B, and sold to Tim Adcock, who raced it in SCCA Regionals from 1985 to 1988. Adcock sold it to Peter Gates in 1989.
Driven by: Ernst Schneider. First race: Hallett Motor Racing Circuit, 20 Jun 1982. Total of 5 recorded races.
Unknown
In addition to the above, unknown March 75Bs were driven by Jim Mullins and Scott Vuillemot.
Acknowledgements
Thanks to Chris Townsend for blazing the trail on this model of March, and thanks are also due to Simon Hadfield and Richard Paul for patiently explaining the detailed differences between the 73B, 74B and 75B Marches. Thanks to Kevan McLurg for interviewing Joe Grimaldi, suitably assisted by Chris Townsend, to former 75B owners Thomas Sokoly and Mike Sauce, to Wilbur Bunce for explaining the two updated March cars he ran during 1976, to Alan Holly, Richard Ames, Ken Stone, Howard Monise, Steve Cook, Scott Hansen, Joe Ordoqui, Bruce Balchin and Bill Fickling for their assistance, to former Bob Cavanaugh Racing chief mechanic Gary Bell, to former Doug Shierson Racing crew member Keith 'Wombat' Devereux, and to fellow researchers David McKinney, Bryan Miller, Ted Walker, Steve Wilkinson, and Alan Brown. Thanks also to Pepper Bowe, John Sadler, Alan Holly, Keith Devereux and Jeff Luebker for the use of their photographs.
If you can add to our understanding of these cars, or have photographs that we can use, please email Allen at allen@oldracingcars.com.
These histories last updated on .