March 722 (Formula B) car-by-car histories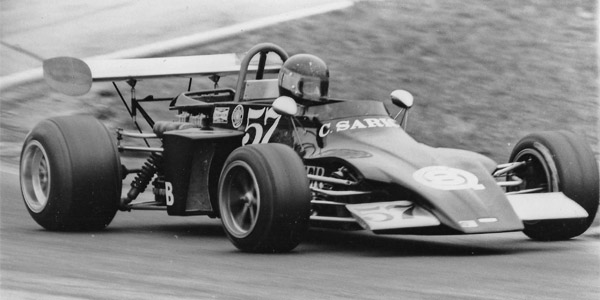 Marketed in the US as the March 72B, March Engineering's 1972 Formula B model appears in March records as the 722, the same as the Formula 2 and Formula Atlantic models. The car sold very well in the US, and also won one round of the Canadian FB series.
See also: March 722 Formula 2 and March 722 Formula Atlantic.
The March 722 followed the very orthodox outline of its predecessor, the 1971 Formula B March 71BM, with a bathtub monocoque and outboard suspension all round. Bodywork was entirely revised with a low narrow nose, which required the radiators to be moved to the sides of the car. Detailed specification is the same as the Formula Atlantic model, but with the Ford twin cam engine replacing the Formula Atlantic Cosworth Ford BDA.
Full sales records for the March 722 are not known to have survived, but it would appear that all sales went through the North American dealer, Joe Grimaldi. Sales were brisk, especially in the American northeast, where eight or nine were sold, but only two cars went to Canada, for Ric Forest and Roy Folland. Other existing Canadian customers chose to update their 71BMs to 722 specification. Of the other 722s, four or five went to the US west coast, and the other four to the US Midwest.
The Formula B March 722s continued in use for an unusually long time, as it was possible to update them with newer bodywork and suspension. A significant number were updated for 1973 and 1974 with Falconer bodywork, after which March 75B or 76B bodywork became a popular update, with March 722s still running regularly in this form in the main Pro series through to the end of 1976.
As March used the same model number for the 1972 Formula 2, Formula Atlantic and Formula B models, we have tried to ease the research by treating each variant as a distinct group. Although F2 cars were converted to Formula Atlantic in Europe, there is no evidence that any F2 or Formula Atlantic cars moved to the US. To ease the tracking of cars after their first season, and to deal with the relative paucity of information about Formula B cars, this article just deals with the cars built for Formula B. March summary records state that 20 Formula B March 722s were built, as well as 20 Formula 2 March 722s and four Formula Atlantic 722s. As we do not even know for certain which chassis numbers were the F2 cars, we cannot start to determine the chassis numbers of the Formula B cars. So all that can be done on this page is to list the seven FB cars for which chassis numbers are known (722/20, 722/23, 722/27, 722/30, 722/31, 722/33 and 722/43) and then all the unidentified 722s from the 1972 Formula B season.
If you can add to our understanding of these cars, or have photographs that we can use, please email Allen at allen@oldracingcars.com.
Chassis
History
Current owner
Unidentified Formula B March 722s in 1972
At present, we can identify the chassis numbers of only seven Formula B 722s that were raced in 1972, but there were another 13 FB March 722s running during the 1972 season for which a chassis number is not yet known. This gives a total of 20 cars. March probably regarded American Bill Gubelmann's car as a FB order, although it only ever raced in the UK, so that brings the total to 21, one more than in March's summary records.
Those seven 722s for which chassis numbers are known were Paul Keeler's 722/20, Roy Folland's 722/23, Allan Lader's 722/27, Pierre Phillips' 722/30, Ted Thomas's 722/31, Dick Doherty's 722/33 and Harold Millar's 722/43. The 13 cars for which a chassis number is not known were those of Wink Bancroft, Seb Barone, Bob Lazier, Wayne Ricciardi, Chuck Sarich, Jim Sarich, Bill Mairs, Chuck Dietrich, Tom Outcault, William Kautz, Dale Lang, Ric Forest and Russ Mayberry. Note that 722/38 was previously thought to be an identified car, but a recent advert for this car shows that its chassis plate matches its tub number, which almost certainly means that it has been given a replacement chassis plate in the mistaken belief that March chassis numbers matched tub numbers.
Chassis
History
Current owner
Formula B March 722s in 1973
Of the seven 722s for which chassis numbers are known for the 1972 season: Paul Keeler's 722/20 is unknown in 1973, but was with Gerald Lieberg by 1974; Roy Folland's 722/23 went to Bruce Jensen for 1973; Allan Lader's 722/27 went to Robert Hall; Pierre Phillips' 722/30 went to Mike Fisher; Ted Thomas retained 722/31; Dick Doherty retained 722/33; and Harold Millar retained 722/43.
Of the 13 unidentified cars, the cars of Wink Bancroft, Seb Barone, Wayne Ricciardi, Bill Mairs, William Kautz, Dale Lang and Russ Mayberry were all retained for 1973. Another four are known to have changed hands: Bob Lazier's went to Byron Hatten; Ric Forest's to Al Lader; Chuck Sarich's to Steve Jizmagian; and Chuck Sarich's to Ted Roman. So, of the 13 unidentified cars, the only ones that go missing at the end of 1972 are the cars of Chuck Dietrich and Tom Outcault, both from Ohio.
The new March 722 drivers in 1973 were Chuck Hansen's yellow #74 Falconer-bodied car in New Jersey and Bunny Ribbs' black-and-white car in northern California. The earliest sighting we have of Ribbs' car is in August, so it could have been raced by someone else earlier in 1973. The number of disappeared cars is a good fit for the number of mysteries appearing, as there may be some sharing of cars here that we have not yet identified. Note that 722/20, raced by Paul Keeler out of Greenwich, Connecticut in 1972 and then seen again with Gerald Lieberg in Connecticut in 1974, was also missing during 1973 but cannot have been either Hansen's or Ribbs' car.
Chassis
History
Current owner
Charles Hansen (Tenafly, NJ) raced a yellow #75 March 722 with Falconer bodywork at a few SCCA Northeast Division Nationals and in the Pro races at Sanair and Trois-Rivières in 1973. He ended the season with 13 points in NEDiv. The 722 was then sold to Jim Modrall (Westport, CT), who had been driving Hansen's previous Brabham BT29 for Erv Falk (Westport, CT) in 1973. Modrall raced the March in a New England Region SCCA Regional at Lime Rock in April 1974, finishing second, and was also entered in it by Falk Racing Inc for the Players Canadian Formula Atlantic race at Mosport in July. After Modrall left the team, the car was also used in practice sessions at Lime Rock by Jeff Gay (Norwalk, CT), but he preferred to race his Brabham BT29. Subsequent history unknown.
Driven by: Charles "Chuck" Hansen and James R Modrall. First race: Thompson Speedway, 27 May 1973. Total of 5 recorded races.
Unknown
William T. 'Bunny' Ribbs (San Jose, CA) entered a black/white #87 March 722 for Mike Eyerly at Road America SCCA Pro FB race in August 1973, then for Jon Milledge at Trois-Rivières a week later. Both drivers had driven Ribbs' previous Brabham BT29. Ribbs retained the car for 1974, when it was raced by Philip Ribbs and Bill Cooper in SCCA events in California. By the end of 1974, the car was noted to be wearing Falconer bodywork. Subsequent history unknown.
Driven by: Mike Eyerly, Jon Milledge, Philip Ribbs and Bill Cooper. First race: Road America, 25 Aug 1973. Total of 10 recorded races.
Unknown
Formula B March 722s in 1974
Of the seven 722s for which chassis numbers were known during the 1972 season: the ex-Paul Keeler 722/20 went to Gerald Lieberg by 1974; Bruce Jensen's ex-Roy Folland 722/23 went to Ed Villa for 1974; Robert Hall retained his ex-Al Lader's 722/27; Mike Fisher's 722/30 went to Bob Tracy; Ted Thomas again retained 722/31; Dick Doherty again retained 722/33; and Harold Millar retained 722/43.
Of the 13 unidentified cars, two had already vanished after 1972 (those of Chuck Dietrich and Tom Outcault), leaving eleven that can be tracked through 1973. Of these eleven, the cars of Wink Bancroft, William Kautz, Byron Hatten, Steve Jizmagian and Russ Mayberry were all retained for a further season, Al Lader's ex-Ric Forest car is also believed to have been retained, and Ted Roman's went via Carl Haas to Cliff Phillips. The four cars from this group that disappeared at the end of 1973 were those of Seb Barone, Wayne Ricciardi and Dale Lang, all in Northeast Division, and Bill Mairs who flitted between New York and Malibu.
To these we can add the two mystery cars from 1973: Bunny Ribbs' was retained for 1974, and Chuck Hansen's went to Erv Falk and James Modrall.
That leaves four 722s that cannot be traced into 1974: Barone's, Ricciardi's, Lang's and Mairs'. The cars raced in 1974 by Rich Bradley and Tom Crowther, both based in California and both Falconer-bodied, will account for two of those and Tom Cooney's in Indianapolis would be a third. The car of Max Sebba in Florida appeared so late in 1974 that it should probably be regarded as a 1975 mystery.
Chassis
History
Current owner
Formula B March 722s in 1975
By 1975, most 722s were approaching the end of their useful lives. Of the seven 722s for which chassis numbers were known during the 1972 season: Gerald Lieberg still raced 722/20; Ed Villa still had 722/23; Robert Hall still had 722/27; Bob Tracy still had 722/30; Ted Thomas's 722/31 goes missing but we know it didn't race again; Dick Doherty still had 722/33; and Harold Millar still had 722/43. Of the 13 unidentified cars, we had already lost track of six: those of Chuck Dietrich and Tom Outcault after the 1972 season; and those of Seb Barone, Wayne Ricciardi, Dale Lang, and Bill Mairs after the 1973 season. Of the five we had been able to track into 1974, William Kautz, Byron Hatten, Steve Jizmagian, Cliff Phillips and Russ Mayberry all retained their cars for 1975, but the cars of Wink Bancroft and Al Lader are both unknown after 1974. Of the two mystery cars first seen in 1973, James Modrall's ex-Chuck Hansen car and Bunny Ribbs' had all disappeared after 1974. All four of the mystery cars first seen in 1974 (Rich Bradley, Tom Crowther, Tom Cooney and Max Sebba - although not mentioned until October 1974) were retained all the way through 1975.
Two new mystery 722s appear in 1975: the car of Doug Turner at the start of the southern Californian season, and the car entered in the Pro series by Rick Shea for Vern Schuppan to drive. Shea told Chris Townsend that the car had come from the Canadian series, and its SCCA number indicates that it had not raced in SCCA events prior to 1975. The only North American 722 that had not appeared in SCCA races by the end of 1974 was the Ric Forest/Al Lader car, which had not been seen since 1973.
Chassis
History
Current owner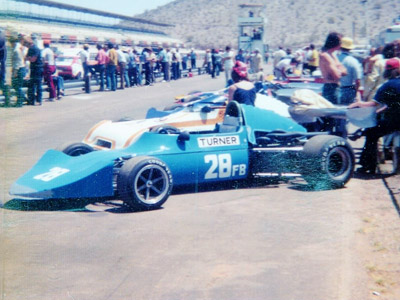 Doug Turner (Newport Beach, southern California) raced a Formula B March 722 in SCCA Nationals at Riverside and Phoenix in early 1975. The car was variously described as a 722, 722/732 and 742. He was entered on one occasion by Carrier Comfort, and John Blizzard's photograph shows that it ran as #28. Turner more usually competed in Formula C, having raced a Chevron B15/B17 for several years. In February 1976, Max Mizejewski drove Turner's March in a Regional at Riverside, and then in March 1976, Turner advertised a damaged Formula Atlantic March consisting of a 722 tub with 75B suspension, and a Jennings BDD engine. The advert said that the car was damaged at the left front as the result of a testing accident. Nothing more known.
Driven by: Doug Turner and Max Mizejewski. First race: Riverside, 17 Feb 1975. Total of 4 recorded races.
Unknown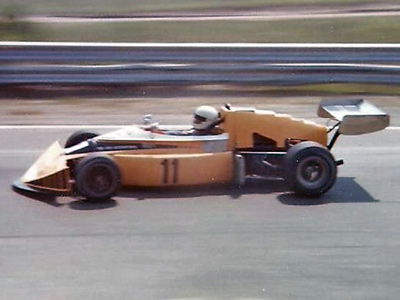 Vern Schuppan raced in the Players Canadian Formula Atlantic series in 1975 in a March 722 prepared by Rick Shea's Shea Racing. The car was yellow-and-white, in 73B (or 74B) bodywork, and ran as #11 with support from Rapid Movements. Later in the season, the car was raced by Shea himself at Brainerd in September. At the start of the 1976 season, Shea ran the car for Dave Walker. It was now described as a March "72-75" and was black, but still entered as #11. After Walker drove it in the first four races, it was later raced by Bob Beyea, Shea himself, and by Damien Magee at Trois-Rivières in September. The car was then sold to Frank Monise (Pasadena, CA), so is presumably the blue-and-white #25 March "75B" that he raced in southern Californian SCCA Nationals in 1977 and 1978. Advertised by Monise in September 1978 as a March "72 updated to 76" with "fresh CRW BDD". It was traded by Monise to Pierre Phillips in part-exchange on one of Rahal's Ralts in 1979.
Driven by: Vern Schuppan, Rick Shea, Dave Walker, Bob Beyea, Damien Magee and Frank Monise. First race: Gimli (R3), 22 Jun 1975. Total of 18 recorded races.
Unknown
Formula B March 722s in 1976
Just when the March 722s should have all been used up, Wilbur Bunce updated Dick Doherty's chassis 722/33 to 75B specification and ran it for a number of highly-regarded southern Californian drivers.
Formula B March 722s from 1977 onwards
Chassis
History
Current owner
Don Wenstrand (Denair, northern California) raced a Formula B March 722 in SCCA Regionals at Sears Point and Laguna Seca in 1977 and 1978. It was entered as #23 at its first race, and #22 thereafter. Nothing more known.
Driven by: Don Wenstrand. First race: Sears Point, 3 Apr 1977. Total of 10 recorded races.
Unknown
Bob Shelton (San Jose, CA) raced a March 722 with 75B bodywork in San Francisco Region SCCA Formula B in 1977. It was entered as #74. Nothing more known.
Driven by: Bob Shelton. First race: Laguna Seca, 26 Jun 1977. Total of 4 recorded races.
Unknown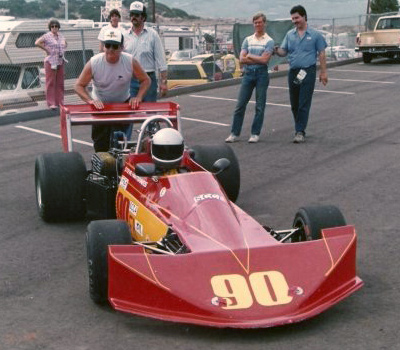 In January 1980, Jim Buick (Berthoud, CO) registered a Formula Atlantic March 722/76B with SCCA's Colorado Region. He first raced it at La Junta in May 1980, but sold it in August 1980 to Bill Murray, who then raced it at La Junta in October. Roy Jo Peltz, better known as a sprint car racer, bought the March in September 1982 and raced it at Pueblo and La Junta in 1982 and 1983. Then to Steve Hartgraves (Sunnyvale, CA) who raced it in Solo I and in west coast WCAR Formula Atlantic races in 1984. It was advertised by Steve's father Roger Hartgraves (Sunnyvale CA) in March 1985, but unfortunately Steve cannot remember where it came from or where it went. This car was acquired soon after by John Hammill (Albuquerque, NM), and has remained with him since then.
Driven by: Jim Buick, Bill Murray, Roy Jo Peltz and Steve Hartgraves. First race: La Junta Municipal Airport, 11 May 1980. Total of 5 recorded races.
John Hammill (USA) 2022
Remaining March 722 FB issues
In 1988, Jesus Villarreal (San Lorenzo, CA) raced a Falconer-bodied March 722 in the B Modified class of San Francisco Region Solo II events. He won his class in two events at Pleasanton in May 1988, where his car was photographed in The Wheel (July 1988 p31). He won his class 11 times in 14 events in 1988, easily winning the San Francisco Region Solo II B Modified title. In the National Autocross/Solo II Runoffs at Salina on 16 September 1988 (TW Nov 1988 p27-30,31), Villareal was second behind Jim McKamey (Portage, IN) in a Tecno Taurus T5, followed by Bob Anderson (Florissant, MO) in a Brabham BT21, Greg Scharnberg (Urbandale, IA) in a Brabham BT35, and Scott Wink (Evansville, IN) in a Brabham BT38. Mike Bernstein shared Villarreal's car to finish seventh, and Karen Starnes also used the March 722 to take third place in B Modified Ladies. The Wheel noted that the 722 now had a Hasselgren engine. Bernstein had used an Alexis Mk 15 with a 1592cc Fiat twin cam earlier in the year (TW Jan 1989 p25).
In addition to the above, unknown March 722s were driven by Bob Lazier, Ed Midgley, James Biebl, Bruce Trenery and James Barton.
Acknowledgements
As usual with these Formula B/Formula Atlantic models, much of the groundwork was done by Chris Townsend. Thanks to Duncan Rabagliati for information from his archive, to the International Motor Racing Research Centre at Watkins Glen for information from the SCCA Archives, and to Simon Hadfield for technical information about these cars. Thanks also to Wilbur Bunce for explaining the car he ran in 1976; to contributors Bryan Miller, James Howe, Gary Jarlson, Don Blenderman, Rick White and Don Becker; and to former owners Bill Hill, Mike Gilbert, Jimmy Santos, Jeff Gay and Steve Hartgraves.
How these histories have been constructed
As I'm often asked how we do what we do, it's worth an exploration of the process used for the March 722 FB cars, as it has been one of the most time-consuming. The starting point with these histories was to build a database of the relevant races, in this case, the Formula B championship run by the SCCA in 1972, and also the Players Canadian series. That was augmented by reports of Formula B class races at SCCA Nationals and SCCA Regionals, primarily from Competition Press & Autoweek, but also from the SCCA regional publications that OldRacingCars.com has collected, the most useful being The Wheel from San Francisco Region, Post Grid and Finish Line from Cal Club Region, Pit Talk from New England Region, and Piston Patter from Chicago Region. The SCCA Archive at the International Motor Racing Research Centre (IMRRC) at Watkins Glen contains some race results for this period, as well as a large set of SCCA regional publications. For Midwest Division, Rocky Entriken has kindly provided results sheets for the vast majority of races. In other divisions, newspapers were often a useful source for the bigger SCCA Nationals, and regional newspapers might cover the exploits of local drivers even down in SCCA Regionals, but by the mid-1970s such coverage was becoming rare. Also, both the International Conference of Sports Car Clubs (ICSCC) in the Pacific Northwest and the Midwestern Council of Sports Car Clubs (MCSCC) centred on Illinois have very helpfully made their race results available on their websites.
Race results will usually give us the model of car being used by each driver, so a picture then emerges of each model. Once a database of race results has been built, it is possible to draft a list of who used this particular model. We still have nothing on individual identities at this point.
The constructors' production records are sometimes available, but for cars that went from Britain to the US, these records typically only give the name of the agent: Joe Grimaldi for early-1970s March and then Doug Shierson, Carl Haas for Lola, or Fred Opert for Brabham and Chevron. This will tell us how many cars went to the US, and will even tell us their chassis numbers, but will not tell us who had each car. The colours of the cars can be a useful clue, as amateur racers often did not change the colour in which the car was delivered.
The next step is to add details of second-hand cars using race reports that might give such clues. For example, Canadian Motorsport Bulletin mentioned things such as Norm Joy driving the ex-Ken Huband car. These reports would also give information about cars' owners, so we can determine that Joe Grimaldi had a hire car which was used by several drivers during the season. Gossip columns in SCCA Regional magazines might mention that two drivers are sharing a car, one in Regionals and one in Nationals. Each of these pieces of information helps us refine our histories of each car, and may take us through several years of its life.
Entry lists, which were published for the Pro events and for some of the major SCCA Nationals, such as the June Sprints at Road America, the Glen Nationals at Watkins Glen, the Rose Cup in Portland, and the Olympia Sprints at Laguna Seca, are another useful source of information as they give entry numbers, which we may not know from race reports, will typically give the model of the car - or at least what the owner was claiming it to be - but can also give colours, engine types, drivers' home towns, and entrants. Please contact Allen if you have any entry lists from relevant races.
Classified advertisements are then a great source of information, as a driver who has driven a "March 732" all season may reveal in an end-of-season advert that it is actually a 1971 car with 1973 bodywork. Useful clues can emerge from adverts, such as the engine used, and the exact specification. On a few occasions, these adverts might even mention a chassis number or a previous owner, but such nuggets are rare.
In the case of the March 722s, we have also had the generous help of the IMRRC, who have the SCCA's archive of driver registrations. These registrations include detail of what type of car each driver used in the previous season, and what he expected to drive in the coming season, and give an insight into the careers of drivers who were too far down the grid at SCCA National and Regional level to feature in results.
Photographs of the cars are very helpful, and this has been an invaluable aid in building the histories of Indy cars, but the volume of photographs available for SCCA events in the 1970s is much, much smaller, so these have not been a major element in the construction of these histories. If you have photographs from these races that you'd be willing to share with us, we would be very happy to hear from you. Please contact Allen.
Where it is feasible, we will try to contact original owners and drivers, but finding them is not easy, and memories of events from 40 or 50 years ago are not necessarily sharp. If you were involved at the time and have any information that will help us, please contact Allen.
Present-day owners of these cars often have information that can help. They may have the car's SCCA Logbook, which is a gold mine of information, or may have letters, invoices or other documentation that can tell us where a car has been. Some logbooks even have the car's chassis number recorded. Ted Thomas's March 722/31 is a good example of this, a chassis number we would not know but for the log book still being with the car. In the absence of a logbook, the number that the SCCA stamped onto the rollhoop may still be present, and this allows us to see which SCCA Region first saw the car. That may be the owner's local club, in a pre-season inspection, or it may be the organiser of the first race the car attended. The car's tub number may also be a big clue. If we are lucky, the car may have its original chassis plate, and that can finally connect the history we have built to an actual chassis number, but it must be added that most chassis plates seen on cars in historic racing are reproductions. Although not directly relevant to the case of the March 722, some later cars may have the gearbox number or even the fuel tank number recorded in factory records. If you own one of these cars, please contact Allen.
Slowly but surely, all this data allows us to form a picture of the individual life of each car. Sometimes we make assumptions that prove to be incorrect, or might rely on incorrect information, or fail to correctly interpret what we have, so we might have to unpick things and try again, but generally these histories will move forward. We try to make it clear what we know, what we don't know, and what gaps we need to fill. If you can help in any way, please contact Allen.
These histories last updated on .