March 722 (Formula Atlantic) car-by-car histories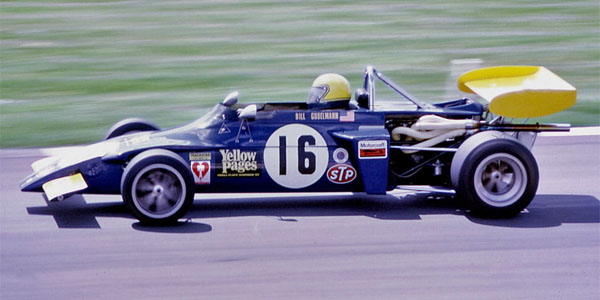 March's Formula Atlantic car for 1972 was called the March 722, the same name as the Formula 2 and Formula B models. Five cars are known to have been built to this specification.
See also: March 722 Formula 2 and March 722 Formula B.
The various versions of the March 722 and the Formula 3 March 723 were all broadly the same, utilising a bathtub monocoque built from 16-gauge and 18-gauge L72 aluminium alloy. The F3 car used a Hewland Mk 8 gearbox, which required a reversed lower wishbone in the rear suspension, while the 722 used a Hewland FT200. The front of the monocoque was lower than on the 712M and 713M, to allow for the lower nose. At the back of the monocoque, a tubular subframe carried the engine and rear suspension. The car's main radiators had been moved from the nose to sit either side of the driver's shoulders, just as on the rival Brabham BT38. Suspension was outboard all round, with relatively narrow front wishbones, at least when compared with the Brabham. The general outline of the monocoque was the same as the successful 712M, but in an aid to maintenance, the panels at the back of the 722's sidepods could be unbolted for easy installation of the fuel cells. This was a feature on all March monocoques from the 722 onwards, but real 712Ms did not have that feature, so it was a good way to tell real 712Ms in historic racing in the 1980s. Some of those "712Ms" were built using tubs from as late as 1975!
Max Mosley did not originally intend a Formula Atlantic version of the 722, as the only difference from F2 specification would be the lack of ventilated front brake discs and seat tank, which would only drop the price by £200 and thus make the car too expensive for Formula Atlantic. However, when Cyd Williams tested a car using Graham Eden's 1600cc BDA engine and equalled the lap record at Silverstone, this policy was reversed. The first to appear were for American Bill Gubelmann, whose car was probably ordered as a Formula B, northern English club racer Johnny Calvert, and Australian Vern Schuppan, whose car was quickly whisked away for two races in South East Asia before returning to Britain. Two more 722s were built for the Graham Eden Racing pairing of Chris Oates and Cyd Williams, replacing the planned Ensigns that Eden had on order. The March 722 was the dominant car of the British season, with Gubelmann, Williams and Schuppan winning 16 out of the 25 races. Williams won eight races to Gubelmann's six, but the American narrowly took the title.
In August, Vern Schuppan's car was modified to use bodywork designed by Dennis Falconer, who had already provided effective but controversial bodywork for the Eldens of the Ippokampos Formula Ford team driven by Johnny Gerber to win the 1972 World Cup Formula Ford Festival. Falconer's March 722 bodywork involved a front radiator housed in a full-width nose, following the fashion for short stubby full-width noses and front radiators that had earlier been adopted by Palliser for Schuppan's championship-leading Formula Atlantic car in mid-1971. When March adopted the same shape and layout for its 1973 range, Falconer bodywork became a popular option for updating 712Ms and 722s. Falconer later produced bodywork for Brabham's BT40 and BT41 cars.
If you can add any further information, please email Allen.
Chassis
History
Current owner
Formula Atlantic March 722s in 1973
Of the five cars built specifically for Formula Atlantic, Bill Gubelmann's 722/24 was sold to fellow American Jas Patterson and updated to 73B specification; John Calvert's 722/29 had gone hillclimbing by the end of 1973; Chris Oates 722/37 was sold to New Zealand; Cyd Williams' 722/39 was rebuilt with Falconer bodywork for Ken Bailey for 1973; and Vern Schuppan's 722/40 was transferred to Teddy Yip's ownerrship and raced in South East Asia for many more seasons.
Formula Atlantic March 722s in 1974
At the beginning of 1974, Jas Patterson still had his ex-Bill Gubelmann 722/24 although he was by now racing a March 73B; the ex-John Calvert 722/29 was being used in sprints in the Lancashire area by John Kitchen, the ex-Chris Oates 722/37 was in New Zealand; the ex-Cyd Williams/Ken Bailey 722/39 was wrecked in Philip Dowell's fatal accident in February 1974; and Teddy Yip's ex-Vern Schuppan's 722/40 was busy in South East Asia.
Formula Atlantic March 722s from 1975 onwards
By 1975, there were only two intact Formula Atlantic March 722s left in England: the ex-Bill Gubelmann/Jas Patterson 722/24 now in the hands of Roy Baker in southwest England; and the former John Calvert/Mike Mather/John Kitchen car that rarely strayed from Lancashire. Baker's is unknown after 1975, but may have found its way into sprints and hillclimbs in that part of England. The Kitchen car went to Peter Riley and was hillclimbed by him well into the mid-1980s.
Acknowledgements
Thanks to Chris Townsend for his work, both on the Formula Atlantic results on OldRacingCars.com and for his work keeping track of the Formula Atlantic March 722s. We are grateful to Adam Ferrington and Bryan Miller for information from their archives, to Gerald Swan, Richard Bunyan, Peter Townsend and Stuart Dent for their photographs, and to Simon Hadfield for technical details of the early March production cars. Thanks also to current owner Daniel Clayfield for filling the gaps on his car.
More details of the March 722 can be found in Autosport 4 Nov 1971 pp10-11. See also Autosport 20 January 1972 p4 for mention of Cyd Williams' test.
These histories last updated on .