GRD 273 car-by-car histories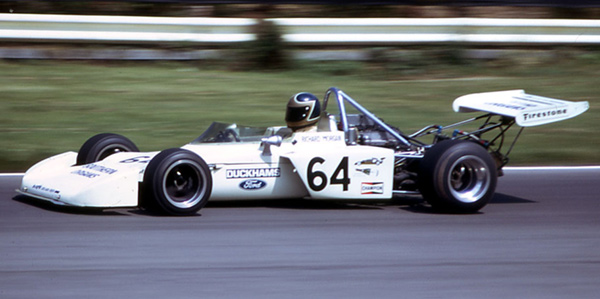 The 1973 GRD 273 was the peak of GRD's brief involvement in Formula 2, winning one early race with Reine Wisell but fading away as the season progressed.
Described by Autosport as a "logical development of the 272", GRD's 1973 Formula 2 car had a low full-width nose, side radiators, and completely conventional outboard suspension. A works car was due to be raced by former Lotus GP driver Dave Walker and entered by "DART racing with GRD", a tie-up between Mike Warner's GRD and Scottish industrialist Dennis Dobbie, but Walker was involved in a road accident in early February and still had a leg in plaster as the season was due to start. The DART car was tested by Tom Walkinshaw but he wrecked it in a test session at Snetterton just before the opening race at Mallory Park. The other high-profile sale was to Tom Wheatcroft, who bought a pair of 273s for his driver Roger Williamson. Williamson, like other GRD customers Hiroshi Kazato, Tetsu Ikuzawa and Brendan McInerney, was run by GRS International, GRD's in-house team led by chief mechanic Alastair Dimock. Picko Troberg's Team Pierre Robert operation was also running GRDs, with three 273s for drivers Reine Wisell and Sten Gunnarsson, generous funding from Scandinavian underwear maker Pierre Robert, and using Alan Smith's Cosworth FVD engines. Other GRD 273s were sold to Walkinshaw and Swiss dealer Jo Vonlanthen and the season looked very promising for GRD. In late February, the GRD factory was reported to be producing five cars a week, with 16 delivered so far out of the 48 sold, which included a massive order of 17 cars from Jörg Obermoser in Germany.
Williamson put his car on pole position for his heat at Thruxton and won the heat after the leading March 732 retired. He also led the final, until a puncture dropped him out of contention. Wisell then won at the Nürburgring a week later, but the Cosworth FVD was then banned by the CSI, and the Pierre Robert team struggled to find a replacement source of reliable engines. By the time the FVD was homologated, it was rather too late. Walker never did drive the F2 car. After recovering from his February accident and getting back to racing with the GRD S73 sports car, Walker was involved in a second and much more serious road accident on 23 August which severely injured one arm, punctured a lung and bent the pin that had been put in his ankle in February. He would be out for the rest of the season. The lack of a works car meant that Mike Warner and the GRD factory were less involved with the F2 programme, and as the season progressed the 273s were unable to compete with the dominant March 732s. Two 273s were built for Formula Atlantic and called B73s, but are included here as they were effectively the same car.
If you can add to our understanding of these cars, or have photographs that we can use, please email Allen at allen@oldracingcars.com.
Chassis
History
Current owner
Unidentified GRD 273s
Between the last known 1972 car, chassis 038, and the earliest known 1974 car, chassis 084, there are 45 chassis numbers that are likely to belong to GRD's 1973 production. Most of these are known F2, F3 or sports cars, but the 17 numbers that are not known are: 039 and 040, both of which could relate to late-1972 production or to 1973 prototypes; eight numbers 042, 046, 058, 065, 066, 067, 068 and 075, which must be 1973 production; and a further seven numbers 077 to 083 which could have been late 1973 or early 1974 cars. Somewhere among these 17 will be the five Formula 2 GRD 273s for which chassis numbers are not known: the works/DART car intended for Dave Walker, the GRS car of Brendan McInerney, Tom Walkinshaw's Formula Atlantic car, Harry Stiller's car for Bev Bond, and the late-season car built for a BMW engine for Hiroshi Kazato. The Formula Atlantic car advertised by Allen Karlberg could be a sixth. Also somewhere in that 17 will be two or three GRD S73 sports cars and between three and six GRD 373 F3 cars.
Chassis
History
Current owner
GRD 273s from 1974 onwards
Chassis
History
Current owner
Les Edmunds (Biggleswade, Bedfordshire) raced a GRD 273 with 1600cc Ford BDA engine in the British Sprint Championship in 1982 and 1983. He had earlier appeared on the entry list with the car at Harewood in June 1981, when it had a 1600cc Holbay engine. Nothing more known.
Driven by: Les Edmunds. First race: Lydden Hill (R2), 15 May 1982. Total of 6 recorded races.
Unknown
Franz Guggemos raced a GRD 273 in Historic F2 in 2004. In September 2004, he was seeking information on chassis 077, adding that he thought that it was Hiroshi Kazato's car. Kazato's first car was chassis 054, but his second car, built for the BMW engine, would have had a number somewhere around 077. Nothing more known.
Unknown
In addition to the above, an unknown GRD 273 was driven by Ken Hensley.
Acknowledgements
Thanks to Adam Ferrington, who had paid close attention to GRDs in period, and to Chris Townsend and David McKinney for their work on the broader subject of GRDs. Thanks also for contributions from Bryan Miller, Philippe Demeyer, Alan Brown, Steve Bay, Tony Nicholson, Dan Rear, Michael Oliver and Richard Page, from Ekkehard Krause, who had also explored this subject, from owners Doug Thomson, Johnny Dimsdale and Phil Creighton, from Robert Morris's son Ian, and from Tim Barry. Thanks also to Enrico Spaggiari for his information on the three Team Pierre Robert cars.
These histories last updated on .