Brabham BT23B car-by-car histories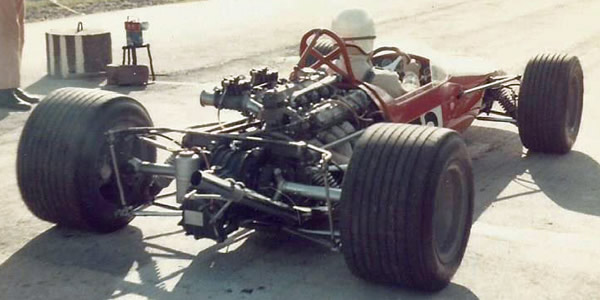 One of several derivatives of the successful Formula 2 Brabham BT23, the BT23B was designed for the Coventry Climax FPF engine and three were sold, two to hillclimbers and one to a libre racer. One of these cars would later make a brief F1 appearance,
Brabham had always provided Climax-engined cars for customers, from the original Intercontinental BT4 through the BT7A and BT11A to the 1966 BT22. For 1967, the company marketed a derivative of the new F2 BT23 design with a 2-litre or 2.5-litre Climax engine as the BT23B. The BT23 frame was widened at the rear "to accommodate the larger gearbox and rubber universals". Mike Hawley acquired the first of these for British hillclimbs, replacing his BT16-twin cam, and a second went out to Switzerland for regular customer Charles Vögele but was rarely raced. The third appeared later in the season for George Pitt. None of the cars were especially successful, primarily because the venerable Climax engine was no longer a match for the new Cosworth FVA F2 engine.
All and any help would be gratefully received. Please email Allen at allen@oldracingcars.com if you can add anything.
Chassis
History
Current owner
Sold to Mike Hawley (Solihull) and used in British hillclimbs with a 2-litre Climax engine. Won the RAC championship round at Great Auclum in August. Retained early 1968 but rarely seen and sold mid-season to Curborough sprint specialist Bob Rose (Tanworth-in-Arden, Warwickshire). Sold again to Scottish hillclimbers Gray and Agnes Mickel for 1969 and used in the national championship, guest driven by Mike MacDowel on one occasion. Retained for 1970 but advertised in October that year and sold to Bernard Worth (Cheltenham, Gloucestershire, later Navenby, Lincolnshire) for £1600. Bernard and Sue Worth ran the car at Prescott, Croft, Silverstone and Curborough during the early 1970s, and it was also raced by John Walmsley at Curborough and Prescott. It was sold in 1976/77 to Richard Thwaites (Dewsbury, West Yorkshire) who wanted the engine for his Brabham BT8. Then unknown until acquired some time around 1990 by Joe Applegarth (Houghton-le-Spring, County Durham). Still in his ownership in 2010.
Driven by: Mike Hawley, Bob Rose, Agnes Mickel, Gray Mickel, Mike MacDowel, Bernard Worth and John Walmsley. First race: Shelsley Walsh (R5), 11 Jun 1967. Total of 51 recorded races.
Joe Applegarth (UK) 2010
Sold to Charles Vögele (Neftenbach, Switzerland) with a 2700cc Climax engine for the 1967 Swiss championship but rarely seen, probably because it was not a match even for the Ford twin cam cars. Reported to have suffered an engine failure while testing at Hockenheim at the beginning of October and not seen again. It was next seen in the hands of Franco Sbarro (Grandson, Vaud, Switzerland), who would later achive fame as a builder of "concept cars" and replicas. It was next seen when raced, still in Vögele's colours, by Jean-Charles Jacob with a Ford twin cam engine in several French hillclimbs in 1971. According to Urs Hauenstein, it then returned to Switzerland where it was modified by Sbarro, fitted with a 3500cc Buick engine, and run for 16-year-old Fred Rosterg (Lutry, Vaud, Switzerland) in events at Lignières in 1972. It was then sold to Rino Botteon (Bern, Switzerland) for 1973. According to a later Bonhams auction catalogue, the car remained in Switzerland until bought by Belgian restorer Willy Widar in 1979. After restoration, it was sold to Jean-Louis Gillet in 1989 and from him to John Harper in 1998. Phillip Walker bought it from Harper and it was raced in historic events until 2008, latterly driven by Danny Wright. Sold in January 2010 to Trevor Simpson (Sydney, NSW, Australia). Raced in Australia in 2010, driven by John Bowe. Raced by Bowe at the Winton Historic Festival Of Speed August 2013. Still owned by Simpson in 2017, when it was driven by Richard Carter at the HSRCA Summer Festival at Sydney Motorsport Park on 11-12 November 2017. Acquired from Simpson by Wayne Groeger (Fairhaven, Victoria) in November 2021.
Driven by: Charles Vögele and Jean-Charles Jacob. First race: Monza (R3), 28 May 1967. Total of 3 recorded races.
Wayne Groeger (Australia) 2021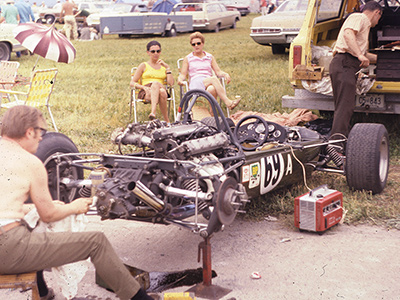 Built in September 1967 and sold to George Pitt, who fitted it with the 2.5-litre Climax engine from the ex-John Coundley Lotus 19. First raced in the Oulton Park Gold Cup in mid-September, but only raced once more that season in libre before being advertised in December 1967. Then to Racing Preparations for Tony Lanfranchi at the Race of Champions 1968 and also driven by JD Lewis (Cheltenham, Gloucestershire) later in the year. To Jack Smith for libre in 1969 and driven by Roy Pike at the race of Champions meeting. After Smith's successful libre season, it was taken to Canada and used by John Cordts (Huntsville, Ontario) in Formula A and in the Canadian GP. Raced by Cordts again in Canadian Formula A in early 1970 and later that season by Al Pease (Toronto, Ontario). Eventually returned to Smith in England and resumed its libre career. This was the car Smith was driving when he crashed at Snetterton in July 1972 and was killed. The car is understood to have been scrapped.
Driven by: George Pitt, Tony Lanfranchi, Roy Pike, Jack Smith, John Cordts and Al Pease. First race: Oulton Park, 16 Sep 1967. Total of 21 recorded races.
Destroyed 1972
The mystery cars
One BT23 later appeared in Switzerland that may prove to be BT23B-2.
Chassis
History
Current owner
In 1969, garage owner Samuel Hauser (Neuchätel, Switzerland) had a Brabham fitted with a 1990cc NSU Ro 80 twin-rotor Wankel engine. The earliest known reference to the car is when Hauser finished 13th in class at the Sancey-le-Grand hillclimb in mid-August 1969. The car was reported to have been damaged at Marchairuz in October but rebuilt for 1970 when it was said to be an ex-F2 BT23. Unfortunately, all of the BT23s can be traced up to August 1969 at least, leaving no candidate amongst those nine cars to be Hauser's car. However, Charles Vögele's BT23B had not been seen since an engine failure at the end of 1967, making it a very plausible candidate. This may also be Hauser's eponymous car in 1971. In 1972, Philippe Rauch (Sierre, Switzerland) ran a Brabham-Wankel in a few Swiss events, which seems likely to have been the same car, but if it was, it overlaps with the known history of the ex-Vögele car.
Driven by: Samuel Hauser and Philippe Rauch. First race: Sancey-le-Grand, 17 Aug 1969. Total of 5 recorded races.
Unknown
See also ultimatecarpage.com's page on the Brabham BT23B.
These histories last updated on .