Lotus 59B (Formula 2 1969) car-by-car histories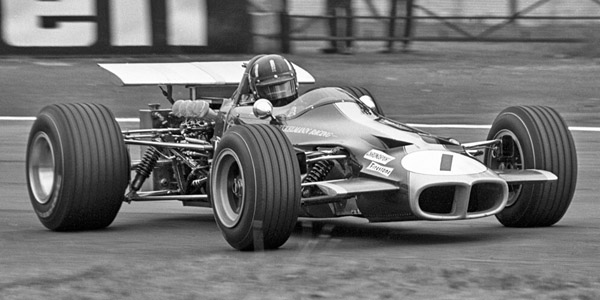 The Lotus 59B was the Formula 2 version of Dave Baldwin's new junior formulae design, as used in Formula 3, Formula B and later Formula Ford. Roy Winkelmann Racing ran two quasi-works Lotus 59Bs for Jochen Rindt, who won four F2 races, and Graham Hill, who won one, but only one customer car was sold.
Lotus had lost its grip on the Formula 3 market after a short-lived fightback with the Lotus 41 of 1966, and had seen Brabham take over its Formula 2 market despite the beautiful Lotus 48 in 1967 and 1968. The company was now determined to regain a foothold in Formula 3, and Dave Baldwin produced a completely new Lotus 59 design for in 1969. It was a relatively complex square-tube spaceframe, with orthodox outboard suspension, following the popular Brabham model rather than the inboard springs and monocoque design of all Lotus's larger formula cars.
Colin Chapman had secured the services of Jochen Rindt for 1970, the talented Austrian having dominated Formula 2 in Brabham BT23s and BT23Cs over the preceding two seasons, but having been let down in F1 by the unreliable Brabham-Repco BT26s. He would be bringing with him the formidable Roy Winkelmann Racing operation which had run his F2 cars, so Chapman promised him an F2 Lotus for 1969. Chapman had previously agreed with Mike Warner, head of Lotus's customer racing car subsidiary, Lotus Components Ltd, that F2 was out of scope, so Warner and Baldwin had to rapidly design and produce an F2 version of the new Type 59, with upgraded rear drive train, new hubs, larger wheels, sidepods to house new bag tanks, and revised bodywork. The car was produced in time for practice at Thruxton, the first race of the season, but a faulty starter motor meant that Rindt would start from the back of the grid. This did not prevent him storming through the field to win, his 18th win in 33 Formula 2 races since his period of dominance began in October 1966. He would add three more wins from his next five F2 races in the 59B that season, at Pau in April, at Zolder in June, and at Tulln in July. Graham Hill also won one race at the end of the season. The only customer order came from Len Street, who bought a car for future FIA President Max Mosley to drive, but Mosley crashed in practice for his first F2 race and the car was returned to the factory. Its DNA could clearly be seen when Mosley's new company March Engineering launched its first F3 car in October that year.
Chassis numbering of the 59s is confusing, with Lotus Components apparently laying down a large batch of cars and numbering them according to a system that has yet to be deciphered. The first few cars were for F3 and numbered straightforwardly 59/1, 59/2 and so on, but then the F2 cars were initially numbered 59B/20 and 59B/21, despite many of the intervening numbers having been neither built nor even ordered. There was then a rethink when the reported number of Jochen Rindt's 59B changed from 59B/21 to 59B/19 after Len Street's customer car appeared also wearing a 59B/21 chassis plate. A few of the missing numbers were not filled in until the start of the 1970s season, and some remain unresolved.
If you can add to our understanding of these cars, or have photographs that we can use, please email Allen at allen@oldracingcars.com.
Chassis
History
Current owner
New for 1969, and entered by Roy Winkelmann Racing for Jochen Rindt at Thruxton in April 1969, which the Austrian won. Driven by Alan Rollinson at Hockenheim, and then by Rindt again at Pau, which he also won. Rindt also won at Zolder and Tulln-Langenlebarn, and the car was driven at other races in 1969 by Rollinson, Roy Pike, Rolf Stommelen, and John Miles. According to Richard Spelberg's research, this car was converted to Lotus 69 specification for 1970, as F2.69.4.
Driven by: Jochen Rindt, Alan Rollinson, Roy Pike, Rolf Stommelen and John Miles. First race: Thruxton (R1), 7 Apr 1969. Total of 13 recorded races.
Rebuilt as Lotus 69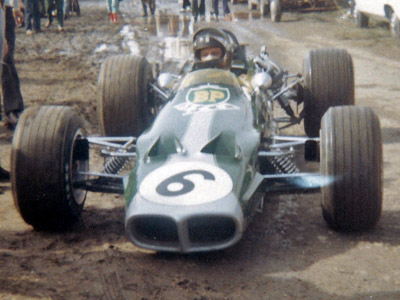 One of three Lotus 59Bs built for Roy Winkelmann Racing in F2 in 1969. This was Graham Hill's usual car, winning at Albi in September, but was driven at other races by Roy Pike, John Miles, Hans Herrmann, and Andrea de Adamich. According to Richard Spelberg's research, this car was converted to Lotus 69 specification for 1970, as F2.69.5.
Driven by: Graham Hill, Roy Pike, John Miles, Hans Herrmann and Andrea de Adamich. First race: Thruxton (R1), 7 Apr 1969. Total of 12 recorded races.
Rebuilt as Lotus 69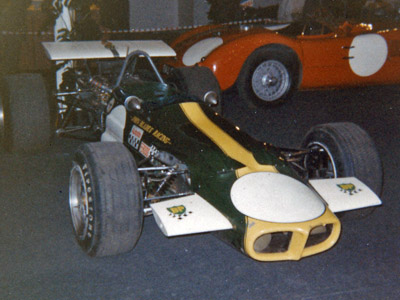 New to Max Mosley for Formula 2 in 1969. It was prepared and entered by Len Street Engineering, a successful west London Lotus dealership. The car was first seen at the Jarama F1/F5000 race where it was ballasted and entered in the F1 class. At its next race, the F2 race at the Nürburgring, Mosley went off the road during practice when a bolt worked lose in the front suspension, and the Lotus was severely damaged. It returned to Lotus for repairs, but then remained unused during the summer as Mosley retired from driving. In September it was loaned to Roy Winkelmann Racing so that Ronnie Peterson could drive it at Albi, a precursor to Mosley and Winkelmann team manager Alan Rees signing Peterson to drive the new March F3 car two weeks later. The 59B was also raced by John Miles at Vallelunga. Then sold to Johnny Blades (Whitley Bay, Northumberland) for F2 in 1970, appearing at four early-season F2 races before being returned to Lotus to be converted to 69 specification. After a few libre races, it returned to F2 at Mantorp Park in August, where Autosport said "the only parts remaining of his ex-Mosley 59B being the wheels, gearbox and engine". Despite this surgery, the car was often described as a 59 or a 59B during Blades' ownership. Retained by Blades for F2 in 1971, when it was also raced by Carlos Pace at Crystal Palace. Blades retained the car again for 1972, when it was fitted with a BDA and used in the British Formula Atlantic series. Then sold to Ton Strous (Netherlands) for 1973, and fitted with a F2 engine, but Strous withdrew after wrecking his engine before his first race. Converted by Strous to F3 specification, but then unknown Strous reportedly sold it in 1991 to Richard Spelberg (Dusseldorf, Germany), who converted back to Lotus 59B spec for historic F2. By 2020, the car was owned by Oliver Mathai.
Driven by: Max Mosley, Ronnie Peterson, John Miles, Johnny Blades and Carlos Pace. First race: Jarama, 13 Apr 1969. Total of 37 recorded races.
Oliver Mathai (Germany) 2020
Formula 2 Lotus 59Bs from 1970 onwards
The fate of the three 59Bs is unusual by Lotus standards, as all three were updated to Lotus 69 specification in 1970, and given new chassis numbers F2-69-4, F2-69-5 and F2-69-6. Rindt's and Hill's were assigned to Rindt's own team, Jochen Rindt Racing Ltd, managed by Bernie Ecclestone, which took the place of Roy Winkelmann Racing as Lotus's works-supported F2 team for its two principal drivers. Rindt had been toying with a move to the new company being formed by Max Mosley and Alan Rees, who had been Rindt's teammate for five seasons in the Winkelmann Formula 2 team from 1964 to 1968 and had retired from driving to manage the team in 1969. In the end, Rindt and his manager Bernie Ecclestone opted to stay with Lotus for 1970, but they had to do it without the Winkelmann team which folded soon after Rees and chief mechanic Pete Kerr moved to set up the brand new March operation.
Previews of the opening round of the 1970 Formula 2 series talked of Lotus 59Bs being prepared for 1970, but new rules requiring the use of bag tanks had caused problems for both Lotus and Brabham, who had to substantially modify their existing designs. Dave Baldwin's solution for the 59B was to "metaphorically" - as Autosport described it - cut the spaceframe centre section out of the 59Bs and replace it with a monocoque section, incorporating bulbous sides containing the bag tanks. The "twin-nostril" nose of 1969 was replaced with a chisel nose, and the resulting Lotus 69 also had strengthened front suspension. New 69s were sold to Emerson Fittipaldi, Tetsu Ikusawa, and Adam Potocki, and then the two Winkelmann cars from 1969, 59B/19 and 59B/20, were also converted to the new specification and given the next two Lotus 69 chassis numbers. The third 59B, Mosley's 59B/21, had been sold to Johnny Blades and raced in 59B specification at the start of the season, but it was also converted during the summer and was allocated a 69 chassis number. Despite the conversion, Blades' car was referred to by its Lotus 59 chassis number as well as by its new Lotus 69 chassis number, so its Lotus 59B identity survived in some form, the only one that did.
Acknowledgements
Much research was done on this model of Lotus by the late Richard Spelberg, and some of the results of his work came down to us in the form of an email he sent to Walter Pötz in March 1998, which Pötz has preserved on his webpage at the University of Graz. Spelberg then owned 59B/21, which he described at the time as being in "ziemlich desolater Verfassung" (pretty desolate condition).
My thanks to Mike Hayward and Gerard Barathieu for the use of their photographs of the Lotus 59Bs in 1969 and early 1970.
If you can add to our understanding of these cars, or have photographs that we can use, please email Allen at allen@oldracingcars.com.
These histories last updated on .