Brabham BT23C car-by-car histories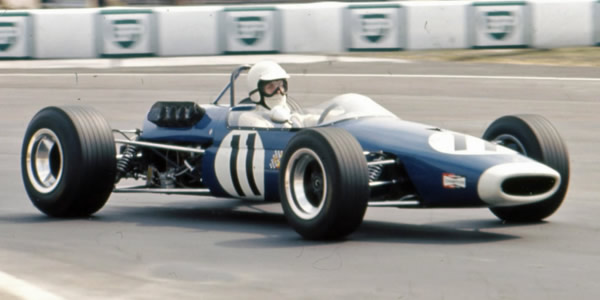 After the success of the Formula 2 Brabham BT23 in 1967, MRD introduced an improved BT23C version in September 1967. 14 were sold for 1968 and, thanks to the Winkelmann Racing car of Jochen Rindt, it was the most successful F2 car that year.
The original 1967 BT23 design spawned several derivatives, starting with the BT23A Tasman design and then the BT23B libre/hillclimb version. In the autumn, Brabham introduced a revised F2 car, the BT23C, which Jack Brabham first raced at Keimola in September. This version was put into production for 1968 and customers included Roy Winklemann Racing for drivers Jochen Rindt and Alan Rees; the very ambitious new team of wheeler-dealer Frank Williams who fielded a car for Piers Courage; German privateer Kurt Ahrens; and the new London Racing Team of Max Mosley and Chris Lambert. Later in the season, Williams bought more BT23Cs, both for his growing Italian clientele and for a group of Argentinean drivers preparing for the Argentine Temporada due in December. Because of the late delivery of the BT30, the BT23Cs remained in use with the top teams in 1969 and Bob Gerard's car won two races that year. The model remained a mainstay of libre racing, Monoposto Formula and speed events in England, one even setting national speed records, but was also raced in South Africa, New Zealand, Ireland and Switzerland.
Chassis BT23C-3 is unknown and it is distinctly possible that it was not built. The clue here is BT23C-2 which should logically have been one of the first delivered but did not appear until June 1968. One theory is that chassis numbers 1, 2 and 3 were reserved for a Brabham works team, as had been done with the BT11 F1 cars in 1964 and the F2 BT23s in 1967, so customer production began with BT23C-4. When that works team did not go ahead, a part-built BT23C-2 could have been completed and sold to Lythgoe leaving BT23C-3 as an unallocated number.
These histories were originally constructed by Andrew Fellowes with the extensive assistance of Allen Brown, Bryan Miller, Chris Townsend, David McKinney, Ted Walker, Philippe Demeyer, Steve Wilkinson and others, from information collected and discussed between 2004 and 2009 on a Brabham BT23 thread in the 10 Tenths Chassis Archive, and subsequently on OldRacingCars.com.
Chassis
History
Current owner
Extra BT23Cs
Two more cars were built up in Australia and New Zealand in the early 1970s.
Chassis
History
Current owner
Built by Baron Robertson using a new chassis acquired from Racing Frames in England and the remaining parts of BT23C/7 which had been crashed by Roly Levis while testing it for Robertson at Bay Park in December 1969. This car first raced at the start of the 1970/71 New Zealand season where Graham Vercoe says it wore a chassis plate '23/17'. New Zealand motor racing historian David McKinney referred to the car as 'BT23C/17' but did not believe it had any relationship to the car of that number that was still owned at that time by Kurt Buess in Switzerland. Raced by Robertson in New Zealand in 1971 and 1972, and then by Kelvin Cameron in 1973. By 1978 the car was with Frank Macskasy and he has confirmed to Andrew Fellowes that it was destroyed in a garage fire. The engine survived and was sold to Lloyd Evans.
Driven by: Baron Robertson and Kelvin Cameron. First race: Pukekohe (NZGS R1), 4 Oct 1970. Total of 14 recorded races.
Destroyed 1978
Ian Lees acquired a Brabham BT23C frame that had been in BT23C/5 when Vic Elford crashed it at Monza in June 1968, and took it back to his native Australia. He built the car up at some point, but it was rarely seen in front line Australian races. Subsequent history unknown, but rumoured to be nearing the completion of a restoration in 2008.
Driven by: Ian Lees. First race: Calder (R1), 16 Jan 1972. Total of 7 recorded races.
Unknown
The mystery cars
Previous versions of this page listed a "BT23C" raced by Eike Wellhausen from 1977 to 1979 but this car is now known to be the ex-John Taylor Brabham BT16/21B.
Chassis
History
Current owner
Robin Darlington (Overton-on-Dee, Wales) advertised a Brabham BT23C with rebuilt FVA engine in early January 1971. A few months later he took the Brabham to a libre at Llandow but according to Motoring News, he turned up too late for scrutineering and was refused practice. MN described his car as a BT23-FVA, reputedly ex-Hart. Brian Hart only drove two BT23-series cars, the Church Farm Racing Team BT23C/9 that he drove in 1968 and the Bob Gerard Racing BT23C/12 in 1969. The Gerard car was with Gerry Tyack by this time but the Church Farm Racing car had not been seen since March 1969 so is a distinct possibility.
Driven by: Robin Darlington. First appearance: Llandow, 31 May 1971.
Unknown
Ted Shanahan (Dublin) entered a Lotus 35 in two races at Kirkistown in the spring of 1971 but there is no evidence that he actually appeared. At Mondello Park in July, he entered the Lotus again but reports of the race say that he drove a BT23. At Kirkistown two weeks later he drove a Brabham again, this time entered as a BT18 and he was on the entry list again at Mondello Park a week later. He won the twin-cam class at Rathdrum in September and was second in a handicap race at Mondello Park the next day. After that, Shanahan and his Brabham disappear again. If this was a BT23-series car, then BT23C/11 is the only plausible one of the three known to have come to Ireland. However, it could also have been the ex-Reg Armstrong/John Smith BT18 F2-22-66 which is unknown during 1971.
Driven by: Ted Shanahan. First race: Mondello Park, 10 Jul 1971. Total of 4 recorded races.
Unknown
In addition to the above, unknown Brabham BT23Cs were driven by Heinz Schulthess and Hugh Kerr.
These histories last updated on .