Brabham BT23C car-by-car histories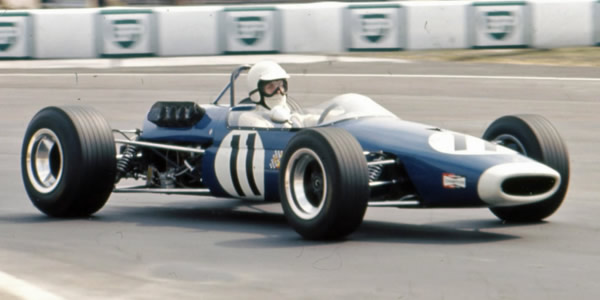 After the success of the Formula 2 Brabham BT23 in 1967, MRD introduced an improved BT23C version in September 1967. 14 were sold for 1968 and, thanks to the Winkelmann Racing car of Jochen Rindt, it was the most successful F2 car that year.
The original 1967 BT23 design spawned several derivatives, starting with the BT23A Tasman design and then the BT23B libre/hillclimb version. In the autumn, Brabham introduced a revised F2 car, the BT23C, which Jack Brabham first raced at Keimola in September. This version was put into production for 1968 and customers included Roy Winklemann Racing for drivers Jochen Rindt and Alan Rees; the very ambitious new team of wheeler-dealer Frank Williams who fielded a car for Piers Courage; German privateer Kurt Ahrens; and the new London Racing Team of Max Mosley and Chris Lambert. Later in the season, Williams bought more BT23Cs, both for his growing Italian clientele and for a group of Argentinean drivers preparing for the Argentine Temporada due in December. Because of the late delivery of the BT30, the BT23Cs remained in use with the top teams in 1969 and Bob Gerard's car won two races that year. The model remained a mainstay of libre racing, Monoposto Formula and speed events in England, one even setting national speed records, but was also raced in South Africa, New Zealand, Ireland and Switzerland.
Chassis BT23C-3 is unknown and it is distinctly possible that it was not built. The clue here is BT23C-2 which should logically have been one of the first delivered but did not appear until June 1968. One theory is that chassis numbers 1, 2 and 3 were reserved for a Brabham works team, as had been done with the BT11 F1 cars in 1964 and the F2 BT23s in 1967, so customer production began with BT23C-4. When that works team did not go ahead, a part-built BT23C-2 could have been completed and sold to Lythgoe leaving BT23C-3 as an unallocated number.
These histories were originally constructed by Andrew Fellowes with the extensive assistance of Allen Brown, Bryan Miller, Chris Townsend, David McKinney, Ted Walker, Philippe Demeyer, Steve Wilkinson and others, from information collected and discussed between 2004 and 2009 on a Brabham BT23 thread in the 10 Tenths Chassis Archive, and subsequently on OldRacingCars.com.
Chassis
History
Current owner
The prototype BT23C was used at the end of the 1967 season by Jack Brabham and Frank Gardner and then sold to Frank Williams for Picko Troberg to drive, but not start, at Hockenheim in April 1968. It was then used briefly in F3 by Harry Stiller but wasn't seen again until October 1968 when Piers Courage took it over for the Albi F2 race, his regular BT23C/07 having been "sold to Tasmania" (Autosport 25 Oct 1968 p14). Then to Laurence Brownlie (Kelso, South Island, New Zealand), possibly leased by Williams, and raced in the 1969 Tasman series before returning to Europe for Graham McRae to drive in the 1969 F2 series, entered by Williams again. Last raced in July 1969, then advertised by Alan Grant (Winkfield Row, Berkshire) in August and reappeared in April 1970 when advertised by Bobby Howlings. Sold to Rodney Seow in Singapore but never raced. Traded together with Seow's Brabham BT9 to Mike Truter by 1980 and sold on to Brian Wilson (Australia) about 1983. Wilson imported the cars to Australia, had the BT23C restored and raced it in historic racing for more than 20 years. Sold to Chad Parrish (Sydney, NSW, Australia) early 2014.
Driven by: Jack Brabham, Frank Gardner, Picko Troberg, Harry Stiller, Piers Courage, Laurence Brownlie and Graham McRae. First race: Keimola, 3 Sep 1967. Total of 25 recorded races.
Chad Parrish (Australia) 2014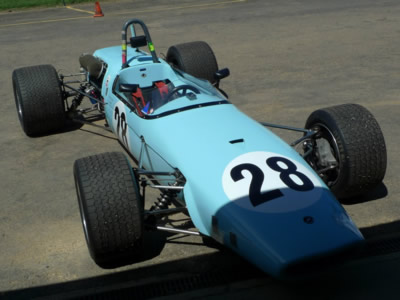 Early history unknown and possibly built for intended works team. Sold to Frank Lythgoe Racing in June 1968 for Peter Gethin to race in F2, replacing a Chevron B10. Reported to have gone to George Pitt in November 1968 but quickly found its way to John Whitmore and entered by Alan Mann Racing for Don Godden to drive in F2 in 1969, but his season was soon abandoned. Presumably the car advertised by Alan Mann Racing in 1970. Then unknown until raced by Maurice Ogier in sprints in 1972 when it had a Vegantune twin cam engine. Sold to Low Cost Racing at the end of 1972 and advertised by them in March 1973. Next seen when run by Vic Durman in Monosposto racing in 1974 and advertised from a London number at the end of that year. Advertised by Bobby Howlings' Cheshire Sports Cars in July 1976. To Dave Bishop (Suckley, Worcestershire) and raced in sprints later in 1976, and later in Monoposto in 1979 when it was loaned to Tim Cameron. Next seen when owned by Ian Webb of Northdown Racing (Ripley, Surrey) in 1982, and loaned to Mike Hartley for the Gates-Varley Monoposto Series. Then via Keith Norman (Slough, Berkshire) 1985, Hugo Studer (Berne, Switzerland) 1987, Sepp Mayer (Germany) 1997 and John Counsell (Coleby, Lincolnshire) 2005 to Andrew Fellowes (Benowa, Queensland, Australia) 2009. Sold by Fellowes to Garry Hancock April 2011 and raced by his son Damon from 2011 onwards. Raced by Damon Hancock at Philip Island March 2014 and at the Sydney Retro Speedfest in May 2014 when it suffered minor damage following a cockpit fire. Hancock suffered serious burns to his hands and arms in the incident. The car returned to competition in 2018. Garry Hancock died in September 2020, and the car was still with his family in February 2021.
Driven by: Peter Gethin, Don Godden, Maurice Ogier, Victor Durman and Mike Hartley. First race: Monza, 23 Jun 1968. Total of 13 recorded races.
Hancock family (Australia) 2021
New to London Racing Team for Chris Lambert to race in F2 in 1968. Crashed during the F2 race at Zandvoort on 28 July 1968 and Lambert was killed. It is believed that the car was broken up.
Driven by: Chris Lambert. First race: Hockenheim (R1), 7 Apr 1968. Total of 9 recorded races.
Destroyed 1968
New to Winkelmann Racing for Jochen Rindt to race in F2 in 1968, winning four of his first seven races. Driven by Vic Elford at at Monza in June and crashed. The car was rebuilt on a new chassis and Rindt won two more races later that year. To Ecurie Ecosse and raced by Graham Birrell in F2 in 1969. Ecurie Ecosse and Birrell had a BT30 for 1970 but the BT23C was raced in a libre at Ingliston in May when it was crashed. Sold in July to Stanley Robinson who fitted the engine, gearbox and suspension to the Unipower GT Group 6 car he raced with John Blanckley. The BT23C chassis was repaired some time around 1972 and sold to Joe Applegarth (Houghton-le-Spring, County Durham) who built it up using parts from BT23C/16 and fitted a pushrod Ford engine for Monoposto racing. Raced by Applegarth from 1973 until the end of 1977, competing in around 130 events, and then retained after Applegarth retired. Sold by him to Joe Willenpart (Scheibbs, Austria) in 2010. Still in the Willenpart Collection in April 2014. Following Willenpart's death, the car was sold to a private collection.
Driven by: Jochen Rindt, Vic Elford, Graham Birrell and Joe Applegarth. First race: Montjuich Park, 31 Mar 1968. Total of 78 recorded races.
Private Collection 2020
New to Max Mosley and entered for him by London Racing Team and then by Frank Williams Racing Cars in F2 in 1968. Sold to Peter Parnell (Bulawayo, Rhodesia) and raced in South African events in 1969. Then to Arnold Charlton (Sandton, Johannesburg, South Africa) for 1970 but crashed in practice at Roy Hesketh in March. Advertised as "recently rebuilt" and "immaculate" by Charlton in August 1970. Reported as sold back to the UK late in the year after repeated FVA problems. Just one week after Charlton's adverts stopped, D&A Shalls (Stratford, east London) advertised a BT23C. Some time in late 1971 or early 1972 John Hardesty bought a BT23C from an east London dealer who told him that it had come back from South Africa. Chris Choat prepared the car for Hardesty and also raced it in libre racing. In October 1972, Choat was entered for a libre race at Silverstone in a green Brabham BT23C and he was mentioned racing it at Silverstone in March and July 1973. It can be assumed he was at other races during that period but too far down to be mentioned in reports. According to Hardesty, Choat destroyed the car when he crashed at Woodcote corner and bent it round a post. The car was broken up and the suspension went to Bobby Howlings.
Driven by: Max Mosley, Peter Parnell, Arnold Charlton and Chris Choat. First race: Hockenheim (R1), 7 Apr 1968. Total of 19 recorded races.
Destroyed 1973
New to Frank Williams Racing Cars for Piers Courage to race in F2 in 1968. Also raced by Jonathan Williams to win at Monza in June. To Roly Levis (New Zealand) and raced in the 1969 Tasman series and at Singapore, Batu Tiga and Fuji in the following months. Raced in the opening rounds of the 1969/70 New Zealand season and then sold to Baron Robertson who raced it Pukekohe in early December. Levis then tested the car for Robertson in practice for the Bay Park International at the end of December but crashed heavily at Rothmans corner, effectively writing off the car. Robertson acquired a replacement frame from Racing Frames in England and built a car which used a different chassis number. The original BT23C/7 frame was rebuilt as a Formula Ford and raced by Peter Haskett in the 1973/74 NZ season. This car found its way to Martin Smith in the UK in the late 1980s after which it was restored to BT23C specification. Then unknown until acquired by Bobby Rahal in the US and extensively rebuilt by Phil Simkin some time before 2004. With Justin Segel (West Bloomfield, MI) in 2003. For sale in 2006 when said to have been owned by Tom Claridge (Fremont, CA). To Ted Wentz (Villanova, PA) 2008. Raced by Wentz at the SVRA New Jersey Vintage Races October 2009. Raced again by Wentz in 2010 but not seen since.
Driven by: Piers Courage, Jonathan Williams, Roly Levis and Baron Robertson. First race: Montjuich Park, 31 Mar 1968. Total of 26 recorded races.
Ted Wentz (USA) 2010
New to Kurt Ahrens (Braunschweig, Germany) and raced by him in F2 in 1968 under the Caltex Racing banner. Sold to Bernd Terbeck (Hiltrup, Germany) and run as part of the Montan Racing Team in F2 in 1969 and 1970. Then unknown in 1971 and 1972. Former Mini racer Graham Cooper (Sedgley, Worcestershire) raced his "newly acquired Brabham BT23C" in a sprint at Curborough in March 1973. This car was sold by Cooper to Richard Churchley (Hampton-in-Arden, Warwickshire) and run by him in sprints in 1975 with a Ford twin cam and then in 1976 with a 1600cc Hart BDA. From Churchley to Bill Morris who wanted the engine for his Ensign and sold the rest of the car to Robin Darlington (Ruabon, Wales) in early 1977. Then to Les Aylott (Oakham, Rutland) and David Knowles, fitted with Aylott's turbcharged 1600cc BDA engine by by June 1977, and raced in 1977 and 1978. Advertised from Oakham in April 1981. Then unknown until raced by Peter Rogers (High Wycombe, Buckinghamshire) in the HSCC Bradburn & Wedge Pre-71 series in 1984 with a BDA engine. (Possibly the car raced by Jon Bradburn in late 1983.) Raced by Rogers until 1987. Sold by Rogers' father Sir John Rogers to David Brown (Ashford, Kent) in 1999 and raced by him in the HSCC Classic Racing Cars Championship. Raced regularly by David Brown (Ashford, Kent) in HSCC events until sold to Graham Adelman (Free Union, VA) in 2014. Still owned by Adelman in April 2015.
Driven by: Kurt Ahrens, Bernd Terbeck, Graham Cooper, Richard Churchley and Les Aylott. First race: Hockenheim (R1), 7 Apr 1968. Total of 38 recorded races.
Graham Adelman (USA) 2015
New to Church Farm Racing Team (Pagham, Sussex) for Derek Bell to race in F2 in 1968. Bell moved to the Ferrari F2 team in June 1968 and the car was raced by Jonathan Williams at Hockenheim, by Peter Westbury and Monza and then by Brian Hart for the rest of the season. Advertised in December 1968 and March 1969. Subsequent history unknown.
Driven by: Derek Bell, Jonathan Williams, Peter Westbury and Brian Hart. First race: Hockenheim (R1), 7 Apr 1968. Total of 15 recorded races.
Unknown
New to Malcolm Payne (Fakenham, Norfolk), replacing a McLaren M4A that he had raced in libre earlier in the year. Payne only raced the BT23C in a handful of libre races, and it was sold for 1969 to Garth McGillewie (Durban, South Africa) to be raced in the South African series as part of Team Parnell. It returned to England in September 1969 when bought by Tony Dean (Leeds, West Yorkshire) and was raced by him very successfully in libre racing until May 1970 when sold to Bobby Howlings (Congleton, Cheshire) who continued to race it in libre, as did Rod Pickering (Leicester) who bought it in August. Raced by Pickering until the end of 1971 then returned to Howlings who raced it briefly before selling it to Bob Snelson (Dunfermline?) who ran it in the Scottish Hill Climb championship in 1973. Last seen when advertised by Low Cost Racing complete with FVA in October 1973 as a potential Monoposto car. Subsequent history unknown.
Driven by: Malcolm Payne, Garth McGillewie, Tony Dean, Bobby Howlings, Rod Pickering and Bob Snelson. First race: Oulton Park, 14 Sep 1968. Total of 43 recorded races.
Unknown
New to Winkelmann Racing for Alan Rees to race in F2 in 1968 but also raced by Gerhard Mitter at Hockenheim in October. To Bill Ivey for 1969 and entered for him in F2 races by Paul Watson Racing Organisation (PWRO). To Brian Cullen (Limerick, County Limerick, Ireland) in August 1969 and he raced it in a F5000 race and in libre in 1969, in European F2 events in 1970, and at Bogotá in early 1971. Entered by Irish Racing Team for Lingard Goulding at Mondello Park in July 1971 and then maybe the BT23C raced by Ted Shanahan (Dublin) over the next two months and also possibly the BT23C raced by Roy Courtney (Lisburn, County Antrim, Northern Ireland) in local clubmans/club specials racing in 1972. To Harold McGarrity (Belfast) for 1973 and raced in Formula Ireland with a 1.6-litre Holbay engine. To Paddy Heron for 1974 and raced in clubmans and in Formula Atlantic. For sale from Glengormley in 1975 and entered by Belfast car dealer Noel Crymble for Chris Stanfield to race at Kirkistown a couple of times until the Holbay pushrod engine blew up. Next seen when bought from Ireland by Mark Raymont who still had it in the late 1980s with a Holbay engine and Hewland Mk 8 gearbox. Sold to Steve Worrad of Maverick Motorsport around 2002 and restored by him. For sale by Maverick in 2004 and sold the following year via the Bonhams auction at RAF Hendon to Joe Willenpart (Scheibbs, Austria). Still in the Willenpart Collection in April 2014. Following Willenpart's death, the car was sold to a private collection.
Driven by: Alan Rees, Gerhard Mitter, Bill Ivy, Brian Cullen, Lingard Goulding, Harold McGarrity and Paddy Heron. First race: Montjuich Park, 31 Mar 1968. Total of 49 recorded races.
Private Collection 2020
New to Frank Williams' customer Corrado Manfredini and raced as a Scuderia Picchio Rosso entry in F2 from June onwards. Returned to Williams and entered by Frank Williams Racing Cars for Malcolm Guthrie in F2 in early 1969 but sold to Bob Gerard (Leicester) in May and entered for his drivers Robin Widdows and Brian Hart, each of who won a race that summer in the car. Advertised by Gerard Racing as a rolling chassis in August 1970. Sold to drag racer Gerry Tyack (Moreton-in-Marsh, Gloucestershire) in 1970 and used to set four national speed records at Elvington, and also to win the Brighton Speed Trials. Advertised by Tyack in November 1971. Its history thereafter is unclear but it reappeared in 1986 being raced by Adrian Thomas in HSCC events, then with Kelvin Lambeth (London) in 1988-89 and with Monte Shalett (Metairie, LA) in 1990. Advertised by Mark Leonard of Grand Prix Classics (La Jolla, CA) in 1998 and sold by him to Peter Ball who did not use it much, preferring his FJ. From Bull to Harindra de Silva (Palos Verdes Estates, CA) February 2008 and raced in 2008 and 2009. Then stored until run in the F1 Support Race at COTA in November 2013. Still with De Silva in March 2015. Later to William I'Anson and restored. Then to Jay Galpin (Litchfield, CT) in April 2019, and restoration finished by Simon Hadfield. Still at Hadfield's workshop in June 2020.
Driven by: Corrado Manfredini, Malcolm Guthrie, Robin Widdows and Brian Hart. First race: Monza, 23 Jun 1968. Total of 20 recorded races.
Jay Galpin (USA) 2020
New to Frank Williams Racing Cars intended for the F2 Argentine Temporada in December 1968 where it was to be raced by Carlos Alberto Pairetti. The car was car damaged by fire before official practice at the first race and did not start. After missing the second race for repairs, Pairetti raced it at San Juan but retired. It was taken over by Oscar Fangio for the final race. According to Carlos Lioni, the car remained in Argentina and in 1970 was acquired by Vicente Formisano & ANRI SRL, remaining with him until 1979 when it was acquired by Alberto Quiroga (Tres Arroyos, Argentina). In 2012, it was acquired from Quiroga by Carlos Lioni, who also owns a BT30. In August 2013, Lioni reported that he was restoring the car.
Driven by: Carlos Alberto Pairetti and Oscar 'Cacho' Fangio. First race: San Juan, 15 Dec 1968. Total of 2 recorded races.
Carlos Lioni (Argentina) 2013
New to the Argentinean newspaper 'La Razón' for the F2 Argentine Temporada in December 1968 where it was prepared by Oreste Berta and driven by Eduardo Copello and, in the final race, Carlos Reutemann. Still with Berta in December 1971. Subsequent history unknown but said to have been retained for many years by Berta. Found in a warehouse in Buenos Aires and acquired in 1988 by Phil Harris (Powell, OH), who restored it and used it in US vintage racing. Harris also found and restored BT23C/7 for Bobby Rahal and is reported to be the same person who originally straightened out BT23C/7 in New Zealand after its original accident. Raced by Harris at Sydney Motorsport Park (Eastern Creek) in June 2015.
Driven by: Eduardo Copello and Carlos Reutemann. First race: Buenos Aires, 1 Dec 1968. Total of 4 recorded races.
Phil Harris (USA) 2015
New to Frank Williams Racing Cars intended for Juan Manuel Bordeu to race in the F2 Argentine Temporada in December 1968. Retained by Williams for 1969 and raced for him by Piers Courage until his new BT30 was delivered. Earlier suggestions that this car was used by Gagliardi and Marcello Gallo in F3 in 1969 do not now appear to be correct. Sold to Alistair Walker and entered by him for Jacky Ickx to race late 1969, for Walker himself at Thruxton early 1970 and then in the Japanese GP at Fuji in May. Sold to Walter Kinnear (Gilford, County Down, Northern Ireland), fitted with a 1600cc Ford twin cam and raced by him in Irish libre racing from September 1970 to the end of the 1972 season. To John Blades (Whitley Bay, Northumberland) in part-exchange for Blades' Lotus 69 and advertised for sale by Blades in 1973. Sold to Joe Applegarth (Houghton-le-Spring, County Durham) who used parts from this car on his Monoposto Formula BT23C/5. Still with Applegarth in pieces in September 2013.
Driven by: Juan Manuel Bordeu, Piers Courage, Jacky Ickx, Franco Bernabei, Alistair Walker and Walter Kinnear. First race: Buenos Aires, 1 Dec 1968. Total of 30 recorded races.
Joe Applegarth (UK) 2013
New to Jorge Cupeiro to be used in the F2 Argentine Temporada in December 1968. Sold to Xavier Perrot (Zürich, Switzerland) for 1969 and raced in the Swiss championship and in selected F2 races as a Squadra Tartaruga entry. To Kurt Buess (Gelterkinden) for 1970 and raced in hillclimbs in Switerland and France. Note that this is not the car bearing the identity 'BT23C/17' that was imported into New Zealand by Baron Robertson in 1970. Buess was last seen racing this car at Neubiberg 25 Oct 1970. Subsequent history unknown but quite possibly the "BT23C" raced by Heinz Schulthess (Corcelles) at the Gurnigel hill climb in Switzerland in September 1971. Schulthess kept the car for some time, eventually selling it to an unknown Swiss owner. It was acquired by Hans Peter in 2018, and started restoration.
Driven by: Jorge Cupeiro, Xavier Perrot and Kurt Buess. First race: Buenos Aires, 1 Dec 1968. Total of 26 recorded races.
Unknown
Extra BT23Cs
Two more cars were built up in Australia and New Zealand in the early 1970s.
Chassis
History
Current owner
Brabham BT23C
'the Baron Robertson car'
Built by Baron Robertson using a new chassis acquired from Racing Frames in England and the remaining parts of BT23C/7 which had been crashed by Roly Levis while testing it for Robertson at Bay Park in December 1969. This car first raced at the start of the 1970/71 New Zealand season where Graham Vercoe says it wore a chassis plate '23/17'. New Zealand motor racing historian David McKinney referred to the car as 'BT23C/17' but did not believe it had any relationship to the car of that number that was still owned at that time by Kurt Buess in Switzerland. Raced by Robertson in New Zealand in 1971 and 1972, and then by Kelvin Cameron in 1973. By 1978 the car was with Frank Macskasy and he has confirmed to Andrew Fellowes that it was destroyed in a garage fire. The engine survived and was sold to Lloyd Evans.
Driven by: Baron Robertson and Kelvin Cameron. First race: Pukekohe (NZGS R1), 4 Oct 1970. Total of 14 recorded races.
Destroyed 1978
Brabham 'BT23'
'the Ian Lees car'
Ian Lees acquired a Brabham BT23C frame that had been in BT23C/5 when Vic Elford crashed it at Monza in June 1968, and took it back to his native Australia. He built the car up at some point, but it was rarely seen in front line Australian races. Subsequent history unknown, but rumoured to be nearing the completion of a restoration in 2008.
Driven by: Ian Lees. First race: Calder (R1), 16 Jan 1972. Total of 7 recorded races.
Unknown
The mystery cars
Previous versions of this page listed a "BT23C" raced by Eike Wellhausen from 1977 to 1979 but this car is now known to be the ex-John Taylor Brabham BT16/21B.
Chassis
History
Current owner
Brabham BT23C
'the Robin Darlington car'
Robin Darlington (Overton-on-Dee, Wales) advertised a Brabham BT23C with rebuilt FVA engine in early January 1971. A few months later he took the Brabham to a libre at Llandow but according to Motoring News, he turned up too late for scrutineering and was refused practice. MN described his car as a BT23-FVA, reputedly ex-Hart. Brian Hart only drove two BT23-series cars, the Church Farm Racing Team BT23C/9 that he drove in 1968 and the Bob Gerard Racing BT23C/12 in 1969. The Gerard car was with Gerry Tyack by this time but the Church Farm Racing car had not been seen since March 1969 so is a distinct possibility.
Driven by: Robin Darlington. First appearance: Llandow, 30 Apr 1971.
Unknown
Brabham BT23C
'the Ted Shanahan car'
Ted Shanahan (Dublin) entered a Lotus 35 in two races at Kirkistown in the spring of 1971 but there is no evidence that he actually appeared. At Mondello Park in July, he entered the Lotus again but reports of the race say that he drove a BT23. At Kirkistown two weeks later he drove a Brabham again, this time entered as a BT18 and he was on the entry list again at Mondello Park a week later. He won the twin-cam class at Rathdrum in September and was second in a handicap race at Mondello Park the next day. After that, Shanahan and his Brabham disappear again. If this was a BT23-series car, then BT23C/11 is the only plausible one of the three known to have come to Ireland. However, it could also have been the ex-Reg Armstrong/John Smith BT18 F2-22-66 which is unknown during 1971.
Driven by: Ted Shanahan. First race: Mondello Park, 10 Jul 1971. Total of 4 recorded races.
Unknown
In addition to the above, unknown Brabham BT23Cs were driven by Heinz Schulthess and Hugh Kerr.
These histories last updated on .