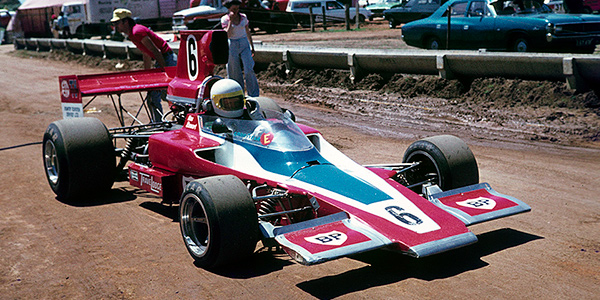 Australian Gold Star 1974
Although grid sizes remained small, an influx of new hardware improved Australian F5000 in 1974. Kevin Bartlett, Warwick Brown and Kiwi Graeme Lawrence all had new Lola T332s, and defending champion John McCormack had an Elfin MR6, but it was Max Stewart in his well-travelled Lola T330 that had proved to be the best of the locals in the 1974 Tasman series, winning two races, and he continued his good form into the Gold Star series, winning the first five races, including the Australian GP. Bartlett was his closest competitor, as he had been when Stewart last won the title in 1971, but this time his only victory was in the final race of the season.
The Leyland P76 engine in the Elfin MR6 proved unable to match the power of the heavier Holden unit, so McCormack's season was ruined. A couple of the old Matich A51s reappeared, one in the hands of Italian F1 driver Lella Lombardi, who proved impressively competitive.
The races
04 Aug 1974 > Oran Park
01 Sep 1974 > Surfers Paradise
20 Oct 1974 > Calder
03 Nov 1974 > Victoria Trophy at Sandown Park
17 Nov 1974 > Australian Grand Prix at Oran Park
23 Nov 1974 > Phillip Island
1974 Australian Gold Star table
1
Max Stewart
Lola T330 - Chevrolet V8
51 pts
5 wins
2
Kevin Bartlett
Lola T332 - Chevrolet V8
25 pts
1 win
3
Phil Moore
Elfin MR5 - Repco Holden V8
16 pts
4
Garrie Cooper
Elfin MR5 - Repco Holden V8
11 pts
5
John McCormack
Elfin MR5 - Repco Holden V8
Elfin MR6 - Leyland P76 V8
8 pts
6=
John Leffler
(ANF2) 1.6-litre Bowin P8 - Ford twin cam
7 pts
6=
Jon Davison
Matich A50 - Repco Holden V8
7 pts
8
Warwick Brown
Lola T332 - Chevrolet V8
6 pts
9=
John Goss
Matich A53 - Repco Holden V8
5 pts
9=
Kurt Seeberg
(ANF2) 1.6-litre Brabham BT35 - Ford twin cam
5 pts
All cars are 5-litre ANF1 (F5000) cars unless otherwise noted.