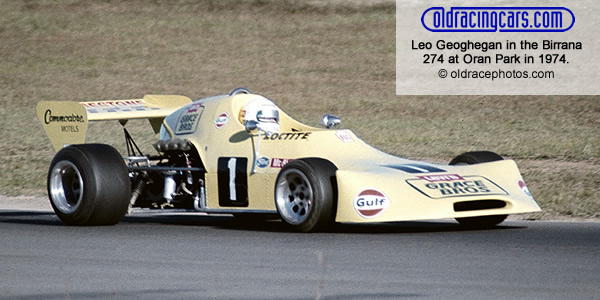 Australian Formula 2 1974
In 1974, the ANF2 series was boosted by a large injection of sponsorship from Van Heusen. The deal was secured by Hans Tiepermann who ran promotional activities for Grace Bros, one of Australia's biggest retail store chains, and owners of a prominent racing team. Tiepermann saw ANF2 as providing better racing than the F5000 series, and wanted to use the funding to promote Grace Bros team members through Formula Ford to ANF2 and beyond. The extra money led to a significant re-equipping of the top ANF2 teams, with new Birranas replacing the old Elfin 600s, March 732s arriving from England, and new designs emerging from Bowin, Elfin and Rennmax.
Leo Geoghegan started out as he ended 1973, winning the first two races in a new Birrana 274, but was chased hard by Bob Muir, who had started the season with a couple of guest drives in Rennmaxes, but then took over Bob & Marj Brown's Birrana 273 and won three of the next five races. Muir crashed at the last race, leaving Geoghegan to finish second and clinch the title.
The races
16 Jun 1974 > Hume Weir
23 Jun 1974 > Oran Park
21 Jul 1974 > Amaroo Park
18 Aug 1974 > Calder
22 Sep 1974 > Symmons Plains
13 Oct 1974 > Phillip Island
27 Oct 1974 > Adelaide International Raceway
08 Dec 1974 > Lakeside
1974 Van Heusen Australian Formula 2 Championship table
1
Leo Geoghegan
Birrana 274 - Ford twin cam
41 pts
3 wins
2
Bob Muir
Rennmax BN6 - Ford twin cam
Birrana 273 - Ford twin cam
37 pts
3 wins
3
John Leffler
Bowin P8 - Ford twin cam
25 pts
1 win
4
Ray Winter
Mildren 'Mono' - Ford twin cam
24 pts
1 win
5
Bruce Allison
Birrana 274 - Ford twin cam
12 pts
6
Graeme Crawford
Birrana 273 - Ford twin cam
11 pts
7
Johnnie Walker
Elfin 622 - Ford twin cam
10 pts
8
Wolfgang Prejawa
Birrana 274 - Ford twin cam
8 pts
9
Enno Buesselman
Birrana 273 - Ford twin cam
6 pts
10
Tony Stewart
Brabham BT36 (Dolphin) - Ford twin cam
6 pts
11
Ken Shirvington
March 732 - Ford twin cam
4 pts
12
Max Stewart
March 722 - Ford twin cam
3 pts
13=
Ian Douglass
March 733M/743 - Ford twin cam
3 pts
13=
Chris Farrell
Elfin 600B - Ford twin cam
3 pts
15
Craig McAllister
Elfin 622 - Ford twin cam
2 pts
16=
Michael Stillwell
Elfin 622 - Ford twin cam
1 pt
16=
Paul Hamilton
Elfin 600 - Ford twin cam
1 pt