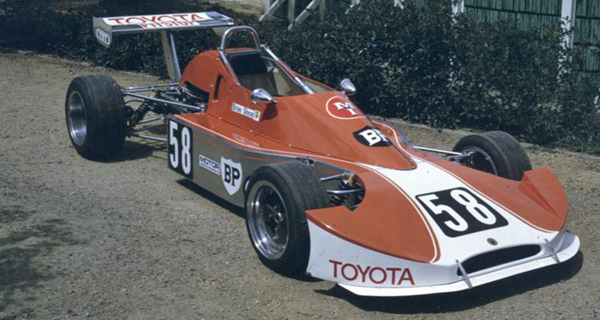 Australian Formula 2 1979
The 1979 championship started with a battle between John Bowe in the new VW Golf-powered works Elfin 792 and the well-developed Cheetah Mk 6 with Toyota Celica engine in the hands of Brian Shead. The VW Golf had a bit too much power for the Cheetah, but the Celica had good torque and could keep up, the two drivers sharing a new class record lap around Calder before Bowe took a narrow win. Meanwhile John Smith's Ralt RT1, the only car on the grid not built in Australia, broke an engine in practice so he had to cobble something together for the race, flying through the field from the back of the grid to finish third.
The second race was held in pouring rain at Winton. Smith took pole position by a distance and led in the early stages, followed by Shead and Brian Sampson in the twin Cheetah-Celicas but the Ralt skated off into the bank on lap 9. Bowe crashed out of third place when he tangled wth a slower car, and when Shead stopped for tyres and Sampson spun, the race was won by Graham Engels, whose gamble to start on wet tyres paid off.
Ian Richards took pole at the third and final race in the Tudor-Golf, but the first heat turned into another battle between Bowe and Shead, Bowe again winning. With heavy rain started falling between the heats, but the second started with Bowe again narrowly ahead of Shead, but only for five laps, as the Golf started to misfire and Shead was able to pull past, carrying on to win the race and the championship.
The races
05 Aug 1979 > Calder
19 Aug 1979 > Winton
11 Nov 1979 > Symmons Plains
1979 Australian Formula 2 Championship table
| | | | | |
| --- | --- | --- | --- | --- |
| 1 | Brian Shead | Cheetah Mk6 - Toyota Celica | 18 pts | 1 win |
| 2 | John Bowe | Elfin 792 - Volkswagen Golf | 15 pts | 1 win |
| 3 | Graham Engel | Cheetah Mk6 - Ford | 10 pts | 1 win |
| 4 | Ron Trim | Rennmax BN7 -Ford | 6 pts | |
| 5= | John Smith | Ralt RT1 - Ford | 4 pts | |
| 5= | Tom Crozier | Cheetah Mk6 - Volkswagen Golf | 4 pts | |
| 5= | Bob Prendergast | Cheetah Mk6 - Volkswagen Golf | 4 pts | |
| 5= | Ian Richards | Tudor - Volkswagen Golf | 4 pts | |
| 9 | Brian Sampson | Cheetah Mk6 - Toyota Celica | 3 pts | |
| 10= | Peter Macrow | Cheetah Mk6 - Toyota Celica | 2 pts | |
| 10= | Ian Carrig | CRD - Ford | 2 pts | |
| 10= | Geoff Forsyth | Cheetah - Toyota Celica | 2 pts | |
| 10= | Gregg Taylor | Elfin 600B - Ford | 1 pt | |