Rennmax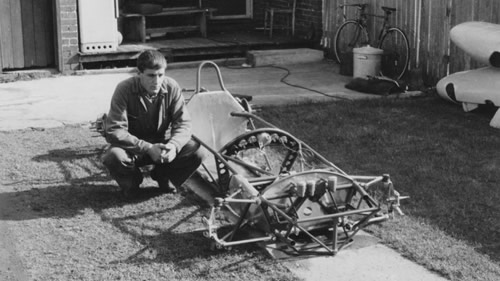 Bob Britton was one of Australia's leading builders in the late 1960s and early 1970s and was responsible for a series of highly competitive designs, most of which were based heavily on imported cars. Many of his most interesting cars stemmed from repair work, such as the successful series of Brabham BT23-based cars such as the Mildren, the Rorstan and the Rennmax BN3s.
The Rennmax story is a fascinating one but more information is still needed. If you can help, please email Allen at allen@oldracingcars.com.
Type
Years
Number built
Notes
Rennmax-Cooper
1962
1
The rebuild of the Noel Hall Cooper T51 (F2-16-59) into a Lotus 18 chassis type car. According to John Blanden's 'Historic Racing Cars of Australia' it used the wheels, brakes, engine and gearbox from the Cooper.
Rennmax BN1
1962-1964?
6 or 7 or 8
A Lotus-based single-seater incorporating elements of the Lotus 20 and 22 designs. Full details.
Mildren-Maserati sports car
1964
1
Lotus 23 style car using a Lotus 19 clone frame built for Alec Mildren and fitted with his 2.9-litre Maserati Type 61 engine. This also used parts from a Cooper T51, apparently the ex-Mildren/Ross Dalton F2-22-59 in this case. Raced in 1965 as the Mildren-Maserati. Sold to Ross Ambrose (Burnie, Tasmania) in 1966 or 1967, fitted with a 2.2-litre Climax engine and raced as the Rennmax-Climax. Ambrose then bought the ex-Reventlow/Scarab 4.4-litre Traco-Olds engine out of Tony Osborne's Argo Sports and Geoff Smedley fitted that to the Rennmax during 1969. In 1970, the "Traco-Rennmax" had passed to Geoff McHugh and then to Glenn Warren in 1973 or 1974. By 2005, it was owned by David Doubtfire (Melborne).
Rennmax Vee
?
7?
A batch built for Greg Cusack and Bruce Burr
Lotus 23 replicas
?
Unknown
A series of cars that evolved out of Britton's Lotus 23 repairs
MRC Repco Mk 2
1968
1
Built for Lionel Ayers in 1968 originally with a Traco Oldsmobile engine and Hewland DG300 gearbox. Converted in 1969 to use a 5-litre Repco 740-series engine. Finished second in the 1971 Australian Sports Car Championship. Raced by Ayers until 1972 when the engine and gearbox went into his new car. Acquired c1996 by Ian Ross. Retained 2013.
Rennmax BN2
1968
1
A one-off design for Max Stewart based on the Brabham BT14 design. Full details.
Rennmax BN3
1969-1970
5?
A series of cars based on the Brabham BT23. The Rorstan and Mildren from 1969 were effectively the same construction. Full details.
BMW sports racers
1970-1971
2

The first was built for Doug Macarthur in 1970, using the engine from a GT Chevron and then changed in late 1971 to use the 2.5-litre Repco 730 V8 engine from the ex-Leo Geoghegan Lotus 39. To Barry Randall 1974 then to Paul Gibson (Benalla, Aus). Sold in 2013 to Melbourne collector/racer Jay Bondini.

A second car built in 1971 for Ray Hanger with the BMW from McArthur's car and later converted to use a Waggott TC4V engine. Later to Paul Scott. Discovered some time later by Ian Moyes and Jim Foulis (Melbourne, Aus) and restored to its BMW specification. Retained 2013.

Repco Repco V8 sports racer
1972
1
Built for Lionel Ayers using the 5-litre Repco engine from his 1968 car. Finished second in the 1973 and 1974 Australian Sports Car Championships. Sold in the late 1970s to Jim Gibson and raced by his family for some years. Said to be owned by Jim Phillips in 2004 but some mystery surrounds its current ownership as of 2013.
Rennmax Vee 2nd series
?
Unknown
This may have been the BN4 design.
Rennmax BN6
1974
1
Monocoque. Prototype of BN7. One built for Doug Heasman.
Rennmax BN7
1975
3
Monocoque. Three built for Terry Quartly, Andrew Miedecke and Ross Switzer. Terry Quartly's was sold to Colin Ekert in early 1975, and Miedecke's was sold to Richard Flemming in Tasmania for 1977.
Thanks to Ray Bell, Bryan Miller and Mark Bisset for their help constructing these histories. Mark kindly provided the results of his research into the sports cars. This page last updated on 10 May, 2021 . Racing Cars News had an article on the Rennmax-Repco sports car in March 1972 pp36-37.