Rennmax BN1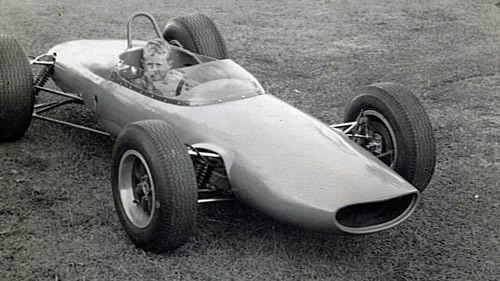 Bob Britton set out to build a Lotus 20 copy from photographs and measurements but, after the first chassis had been built, he was able to get a Lotus 22 to copy and built a jig from that. A further six cars were built from that jig. The BN1 was essentially a Lotus 20 with Lotus 22 suspension.
A total of eight cars are shown here but Mal Cooper's disappears early so one of the later cars could be second-hand.
Thanks to Ray Bell and Bryan Miller for their help constructing these histories, to Kevin Davis for sorting out the two Laurie Ellis cars with the help of Laurie and Roger Ealand, to Harry Hickling for details of his car and for the photograph, and to Kevin Taylor and Wayne Newman for details of their cars. All and any help would be gratefully received. Please e-mail Allen at allen@oldracingcars.com if you can add anything.
Car
History
Current
owner
Rennmax-Lotus
'the first Laurie Ellis car'

Built for Laurie Ellis but this was before Britton was able to acquire a Lotus 22 to copy. When Britton built a jig to make Lotus copies, Ellis sold this car unfinished to Des Gay 1963 who completed it with a 1500cc Ford and raced it as a Lotus - Brendan Tapp (Tasmania) 1968 and raced as Lotus - traded to Bill Reynolds (Wren Racing Cars) for a new Wren - F Houston 1970 (as a Lotus) - Colin Fulton 1971 (as Lotus) - Gunter Tippman - Jim Shepherd 1974 (as Lotus) and started to restore it to Lotus 20 specs only to discover it wasn't a Lotus 20. To Mike Ferrari and Bruce Gladstone 1979 - Les Sergeant 1982 - Anthony Taska 1984 - Graeme Clark 1986 - Ross Hodge 1988, none of whom completed the restoration. To David Doubtfire 2008. Then unknown until bought by Roger Ealand 2011. Sold to Phil Hall in 2015. Advertised by Hall as "BN1-2" in July 2021.

Phil Hall (UK) 2021
Rennmax BN1
'the Cooper car'

Mal Cooper (first recorded outing Warwick Farm 14 Oct 1962; initially 997cc and Green). Cooper Warwick Farm 2 Jun 1963. Then the Reynolds car? Subsequent history unknown.

Unknown
Rennmax BN1
'the Barry Garner car'

Barry Garner, hillclimbs etc.1963-4, then Don Baker 1964-66, then Tony Cavanagh 1966-9, then Ray Winter 1969-1972. Wayne Newman recalls buying the car from Winter and selling it to "a Bill Anderson in Queensland in early 1976". Subsequent history unknown but later owner Grant Patullo advises that the CAMS CoD lists Ted Peel in 1980, Bruce Polain in 1988, John Pitt in 1997, Pete ffrench in 1999 and then Grant Patullo (Victoria, Aus) in 2006. Raced by Patullo in 2007 and 2008 historic events events. Also seen at one-off outings in 2010, 2012 and 2016, and he continues to race it as funds and time allow. Still with Patullo in April 2022.

Grant Patullo (Aus) 2022
Rennmax BN1
'the Kingsley Hibbard car'

Kingsley Hibbard (first recorded outing 8 Sep 1963; initially 1096cc and Gunmetal Blue). Hibbard Warwick Farm 16 Feb 1964. To Ken Ward as 1100cc then 1300; retained. Ward drove the car in historic racing in 2004 but died at the end of 2006. To Noel Bryen (secretary of the HSRCA in Sydney) and used by him in historic racing from 2008 onwards. Raced at the HSRCA Sydney Classic in June 2021.

Noel Brien (Aus) 2021
Rennmax BN1
'the Peter Williamson car'

Peter Williamson (first recorded outing 16 Feb 1964; initially 1489cc supercharged pushrod Ford): it was the third car built and Williamson used it to win the 1964 Warwick Farm Tourist Trophy. To Paul Bolton (Hillman Minx engine): Gold Star 1964, Blair Shepherd in 1966, Brian Power (pushrod Ford): Gold Star 1968, Gold Star 1970, Brian Schuster and later drivers only in minor events. Owned since the early 1980s by Harry Hickling and restored by Gary Simkin with help from Bob Britton. Still with Harry in November 2019.

Harry Hickling (Aus) 2019
Rennmax BN1
'the Tony Reynolds car'

AJ 'Tony' Reynolds (first recorded outing 7 Jun 1964; initially 1098cc and green/yellow). Later to Max Stewart (initially 1098cc and green): Warwick Farm 13 Feb 1966, Warwick Farm 19 Feb 1967 (1098cc and red); re-engined with 1498cc twin-cam (and now red): Warwick Farm 14 May 1967, Warwick Farm 16 Jul 1967, Warwick Farm 10 Sep 1967, Warwick Farm 3 Dec 1967. Sold to John Christian (Braddon, a suburb of Canberra, Australia) Feb 1968 and entered as an 1100cc in 1968 but crashed at Warwick Farm that year and put to one side, unrepaired.

According to the CAMS logbook (N878 issued 13 February 1968), it was sold by Christian to Dean Rainsford (Dudley Park, South Australia) in Oct 1990. Restored by Rainsford for Australian FJ historic racing in 2002 but not believed to have been raced. To Kevin Taylor (Maida Vale, Western Australia) May 2013. Raced at Barbagallo Raceway Wanneroo from 2013 to 2017, and at Collie Motorplex in March 2018.

Kevin Taylor (Aus) 2018
Rennmax BN1
'the second Laurie Ellis car'

Laurie Ellis and completed with a 1500 pushrod Ford. Sold in 1969 to Ivor Valentine (driven by his son John) - Monty South (Ryde) 1972 - Kevin Davis 1973 and fitted with a 1300 Xflow Ford Kent engine in 1974 and run as a F3 until 1977. Retained for many years since then. Raced by Davis at Wakefield Park Raceway and Sydney Motorsport Park from 2014 to 2017, at Sydney in February 2021, and at Pheasant Wood Circuit in April 2021.

Kevin Davis (Aus) 2021
Rennmax BN1
'the Warren Small car'

Warren Small. Later to Percy Hunter, then Errol Richardson, in his hands very successful in NSW hillclimbs resulting in the championship between 1967 and 1974. Then to Alec Brincat. Later purchased from Murray Richards as a rolling chassis and sold on to Rob Hands (Victoria, Aus) some time before 1999. Raced by Hands in Australian historics from 1999 to 2003. With Ron Woodbridge June 2012. Raced by Woodbridge at Lakeside Park in June 2013.

Ron Woodbridge (Aus) 2013
It has been reported that the second Ellis car was originally built by Bob Britton for Geoff McClelland 1962 as a rolling chassis but never completed.