Rennmax BN3 car-by-car histories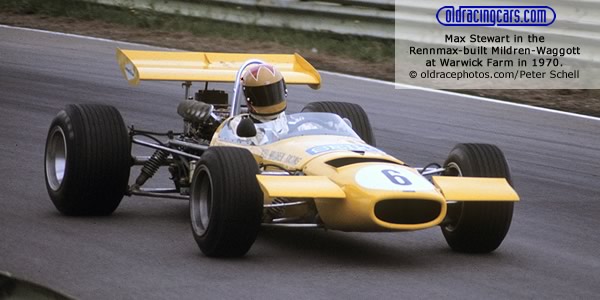 In 1968 and 1969, Bob Britton built a series of cars based on the design of the Brabham BT23. The first were for the Rorstan and Mildren teams, and were named after their new owners, but later cars were raced as Rennmax BN3s.
In 1968, Denny Hulme entered the ex-Winkelmann/Rindt F2 Brabham BT23 [5] in the 1968 Tasman series. At the very first race, Pukekohe's NZ GP, he crashed the car heavily and the wreck was acquired by Feo Stanton and Ian Rorison of Rorstan Racing. They sent it to Bob Britton but, instead of repairing it, Britton built a jig and sent a new frame back to Rorstan. This car was built up with a 2.5-litre Climax FPF as the Rorstan Mk 1. The old wrecked BT23 frame went on the roof of Britton's workshop, but that's another story.
After the Rorstan and a car built for Alec Mildren's team which was always known as the Mildren, it would appear that five more cars were built with the name Rennmax, mostly in 1969 but with one straggler appearing at the start of 1971. A further car was later completed using a spare frame that had been built for Mildren. The Rorstan was later wrecked, but the Mildren and all the other six are known to still exist.
Arguably the Jane-Repco could also be included here, as that was built by Bob Jane's team in early 1970 using a BT23-type frame supplied by Bob Britton.
Please contact Allen Brown (allen@oldracingcars.com) if you can add anything to our understanding of these cars.
Chassis
History
Current owner
Lloyd Cleaver also owns a car that appears to have a Rennmax chassis, but its full history is not yet known. Bryan Miller adds that Ian Cook (the one that lived in NSW, not the one from Victoria who died) and Bob Vickers built up a car on a spare Mildren-Rennmax chassis, fitted a 1300cc Fiat 128 engine for Australian Formula 3, and called it the Squire CV3. Vickers (Sydney) advertised this car in February 1974, noting that it was a Rennmax BN3 chassis modified and updated by Cook.
Thanks to Ray Bell, Bryan Miller, Gary Neilsen, Matt Ruggles, Vaughan Stibbard and others for their help constructing these histories, and to Lynton Hemer for contributing his excellent pictures. All and any help would be gratefully received.
Please contact Allen Brown (allen@oldracingcars.com) if you can add anything to our understanding of these cars.
These histories last updated on .