Elfin MR6 history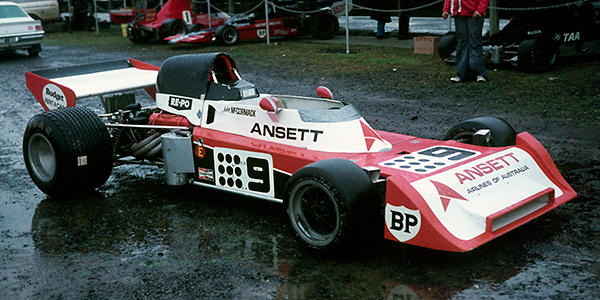 The 1974 Elfin MR6 was designed around Repco's new Leyland P76 engine, but after Repco's withdrawal and Leyland's collapse later in 1974, it was fitted with a Holden engine for 1975. Driver John McCormack won the 1975 Gold Star title in the revamped car.
Despite the success of Repco's Holden F5000 engine, Repco's veteran designer Phil Irving was looking for a significantly lighter engine, and took an interest in the all-alloy engine that had been designed for the newly-launched Leyland P76, the vast saloon car on which Leyland Australia had bet its future. A three-way deal was struck between Elfin, Repco and Leyland Australia boss Peter North, which would see Repco develop a competition version of the P76 engine which would power a radically smaller and lighter Elfin. The engine's capacity was increased from 4400cc to 4931cc, and it used Repco pistons, con-rods and bearings. With all its major castings made from aluminium or magnesium, the final engine weighed in at 160 kg, compared with 220 kg for the Holden. Garrie Cooper designed the new Elfin MR6 specifically for this engine, so it was smaller, lighter and shorter than the MR5. It would be driven for Ansett Team Elfin by John McCormack, who had won the Gold Star title in his MR5 in 1973. Despite announcements through the press that the Repco-Leyland would be the most powerful F5000 engine, power output from the P76 was poor, and it was not until the final race of the 1974 Tasman series at Adelaide that it was considered ready to race. McCormack found the car was out-dragged by the Chevy engines, but made up ground in the corners, and was fifth when the engine's cast-iron crankshaft broke in two after 56 laps. It was replaced by a steel unit before the car next raced.
After the Tasman series finished, Repco announced the company's withdrawal from racing, with the Leyland engine project being taken in house by Elfin, with continuing assistance from Leyland. Ken Syme joined Elfin from Repco, and McCormack's mechanic Dale Koennecke took on the machining work. However, Koennecke quickly discovered that the engine had nowhere near the quoted 425 bhp, and in Elfin's own tests never bettered 365 bhp. The project's viability received another blow in July, when an Australian government industry commission effectively suggested that Leyland stop building cars in Australia. Executives were sent out from Britain to assess the loss-making division's prospects and some clue to those conversations was given in the immediate resignation of North. The P76 had been designed for a different era, and after the shock of the oil crisis at the end of 1973, Australian consumers were looking to smaller more economical Japanese imports. Leyland P76 sales were already poor, and buyer confidence now dropped so far there was little option but to cease production.
Against this backdrop, the Elfin MR6 felt doomed. McCormack drove it in three of the first four races of the 1974 Gold Star series, but then gave up on it, returning to his Holden-powered MR5 for one race. In December 1974, the P76 engine was removed and the MR6 was rebuilt with the latest development of the Repco-Holden engine with single-plane crankshaft, resulting in a car 68 kg heavier and 2 inches longer, but significantly more powerful. McCormack raced the MR6 in this form in the 1975 Tasman series. Although not among the quickest in practice, the MR6 was now reliable and McCormack scored second-place finishes at Wigram and Teretonga Park in New Zealand and at Sandown Park in February. When the Australian Gold Star series began in August, McCormack found the Elfin-Holden to be competitive with the unloved Lola T400s and locally built Matich A53 and Bowin P8, and won two rounds, at Oran Park in September and at Calder in October to take the points lead. Second place at Phillip Island in November saw him clinch his second domestic title in three years. However, when International competition returned for the 1976 Rothmans series he was off the pace, and the car was then retired.
If you can add to our understanding of these cars, or have photographs that we can use, please email Allen at allen@oldracingcars.com.
Chassis
History
Current owner
New for John McCormack for 1974, and fitted with a Repco-developed all-alloy Leyland P76 engine. The engine was down on power, so its first race was at Adelaide in February where the crankshaft failed. Raced by McCormack in some 1974 Gold Star rounds, then rebuilt with a Repco-Holden V8 for 1975. McCormack won two Gold Star races in 1975, and the overall title.
It was used in the 1976 Internationals, but then not seen again until used as a backup car in McCormack's "Budget F1 Team" in 1978. It was later sold to Western Australian driver Tim Slako, who raced it in the 1980 Australian GP and in the 1981-82 ARCO Graphite series. According to the Elfin Registry, the car went to Jim Runciman (Western Australia) in 1985, but "Australia's Elfin Sports and Racing Cars" by John Blanden and Barry Catford, says the MR6 was later acquired by Basil Riccardello who used suspension components in a Sports Sedan. They agree that in 1985 it was acquired by Peter Brennan (Victoria) who sold it to Roger Seward (South Australia) in 1988.
In 1995, the car passed to Paul Trevethan (Victoria), who completed the restoration that Seward had begun, and raced it in MR6L specification at VHRR Historic Sandown in November 2008. It was then raced by Trevethan in the F5000 Tasman Revival series in 2010, the Australian GP support races in 2010 and 2011, and at VHRR Historic Sandown in November 2012. According to the excellent Elfin Register, it was sold to Karl Seeberg (Cheltenham, Melbourne, Victoria) in 2015.
Driven by: John McCormack and Tim Slako. First race: Adelaide International Raceway (Tasman R8), 24 Feb 1974. Total of 24 recorded races.
Karl Seeberg (Australia) 2015
Acknowledgements
The main sources for this article include "Australia's Elfin Sports and Racing Cars" by John Blanden and Barry Catford, The Elfin Register (Brian Lear, Ian Hobbs and Barry Catford), Autosport's race reports and with background on Leyland Australia and the catastrophic P76 project from Chris Cowan's hair-raising "British Leyland: Chronicle of a Car Crash 1968-1978". Thanks also to former MR6 owner Peter Brennan.
For further information on this car and the background to the racing version of the Leyland P76 engine, see Mac's McLaren on Mark Bisset's excellent primotipo.com.
These histories last updated on .