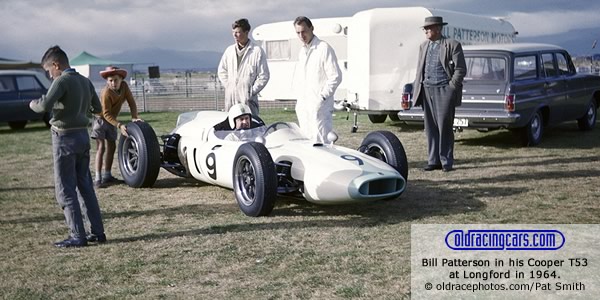 Australian Gold Star 1964
Gold Star rules changed in 1964 with the races being run to the new 2.5-litre 'Tasman formula. Champion Bib Stillwell decided to keep his Brabham BT4 and found that it was easily strong enough to retain his title, taking two wins and two second places from the first four races. John Youl also kept his Cooper T55 for the first few races before retiring from the sport. Lex Davison was able to secure another Brabham BT4 after the Internationals and handed his Cooper T63 down to young teammate Rocky Tresise.
Replacing Formula Junior was the new AF1½ category for 1500cc cars. The leading runners were late-1963 Formula Junior cars converted to Ford twin cam engines and the quickest of these were Greg Cusack's Brabham BT6 and Arnold Glass's Lotus 27. At the end of the season Leo Geoghegan appeared in a new F2 Lotus 32 with a twin-cam and won the Hordern Trophy after Stillwell and the pole-sitting Kiwi Frank Matich dropped out wth engine troubles.
The races
09 Feb 1964 > Australian Grand Prix at Sandown Park
02 Mar 1964 > South Pacific Trophy at Longford
13 Sep 1964 > Lakeside
12 Oct 1964 > Mallala
06 Dec 1964 > Hordern Trophy at Warwick Farm
1964 Australian Gold Star table
1
Bib Stillwell
Brabham BT4 - Climax FPF
30 pts
1 win
2
Lex Davison
Cooper T62 - Climax FPF
Brabham BT4 - Climax FPF
15 pts
1 win
3
Greg Cusack
(ANF1½) Brabham BT6 - Ford
14 pts
4=
John Youl
Cooper T55 - Climax FPF
10 pts
4=
Arnold Glass
(ANF1½) Lotus 27 - Ford twin cam
10 pts
6=
Frank Matich
Brabham BT7A - Climax FPF
9 pts
6=
Leo Geoghegan
(ANF1½) Lotus 32 - Ford twin cam
9 pts
1 win
8=
Garrie Cooper
(ANF1½) Elfin Mono Mk I - Ford
4 pts
8=
Rocky Tresise
Cooper T62 - Climax FPF
4 pts
10=
Dave Walker
(ANF1½) Brabham BT2 - Ford
3 pts
All cars are 2.5-litre ANF (Tasman formula) cars unless otherwise noted.