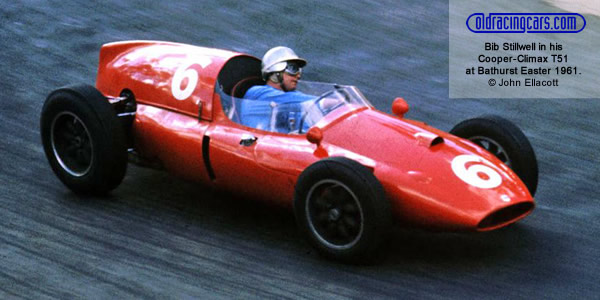 Australian Gold Star 1961
Formula 1 rules changed to 1.5-litre for 1961 but Cooper, Yeoman Credit, Lotus, Rob Walker and BRM all decided to send their 2.5-litre Intercontinental formula cars "down under" for the New Zealand and Australian Internationals. The two Australian Internationals were won by Stirling Moss (Rob Walker Lotus 18) and Dan Gurney (works BRM P48) but Roy Salvadori (Ecurie Vitesse Cooper Mk IV 'T51') and Jack Brabham (his 'lowline' Cooper T53) stayed on to win two more races. Only one of these, Salvadori's win at Longford, counted towards the Gold Star and Bill Patterson scored maximum points with a second-placed finish in his 1959 Cooper-Climax T51.
Patterson then scored a lucky win in the second round, the Bathurst Easter race, after Stan Jones had retired his T51-Climax from the lead and extended his winning streak at Lowood in June after a battle with Alec Mildren's T51-Maserati. He then wrecked his T51 but acquired another (of mysterious provenance) to win a poorly supported Gold Star race at Caversham. He led the final round as well, the Grand Prix at Mallala, but lost three laps to a misfire and finished fourth.
Lex Davison inherited the Grand Prix win in Bib Stillwell's spare Cooper T51 having borrowed the Cooper after his 3-litre Aston Martin DBR4 had not returned to England in time following the Intercontinental season. Bib Stillwell also had a 3-litre Aston to add to his ex-Jack Brabham Cooper T51 but when that didn't work out he invested instead in a brand new Intercontinental Cooper 'lowline' T53. In total Stillwell won four non-Gold Star races during the season, once in the Aston (the only race it started), once in the T51 and twice in the T53. Stan Jones retained his 1960 Cooper T51 and had been the quickest Australian at the start of the year but won only once, at Lakeside in July. Also in T51s were Mildren, who retired mid-season, David McKay, Noel Hall, who won the NSW Championship at Bathurst in October, John Youl, Austin Miller and Arnold Glass.
The races
29 Jan 1961 > Warwick Farm "100"
12 Feb 1961 > Victorian Trophy at Ballarat
05 Mar 1961 > Longford Trophy
12 Mar 1961 > Craven A International at Hume Weir
13 Mar 1961 > Craven A International at Hume Weir
03 Apr 1961 > Craven A Gold Star at Bathurst
21 May 1961 > Racing Scratch at Warwick Farm
11 Jun 1961 > Queensland Road Race Championship at Lowood
16 Jul 1961 > Lakeside Libre Race
12 Aug 1961 > Craven A Gold Star at Caversham
19 Aug 1961 > Mallala Trophy
17 Sep 1961 > Warwick Farm
01 Oct 1961 > NSW Championship at Bathurst
09 Oct 1961 > Australian Grand Prix at Mallala
05 Nov 1961 > Hordern Trophy at Warwick Farm
Australian Gold Star events shown in bold
1961 Australian Gold Star table
1
Bill Patterson
2.4/2.5 Cooper Mk IV 'T51'-Climax
51 pts
3 wins
2
Lex Davison
2.2 Cooper Mk IV 'T51'-Climax
15 pts
1 win
3=
Bib Stillwell
2.5 Cooper Mk IV 'T51'-Climax
2.5/2.7 Cooper 'lowline' T53-Climax
12 pts
3=
Stan Jones
2.3/2.5 Cooper Mk IV 'T51'-Climax
12 pts
5
Alec Mildren
2.5/2.9 Cooper Mk IV 'T51'-Maserati
11 pts
The points system used was 12-7-5-3-2-1 with only Australian drivers' licence holders qualifying for points..