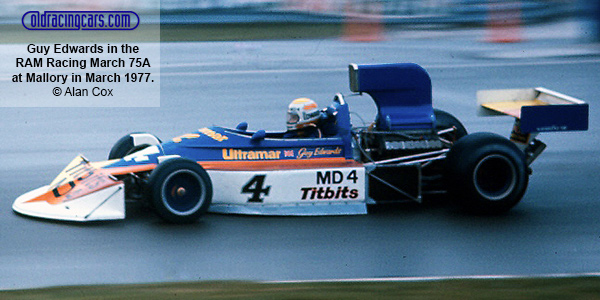 ShellSport Group 8 1977
The first season of Group 8 racing had shown that a well-prepared and reasonably up-to-date F1 car was the ideal option, and Tony Trimmer proved that when he secured a brand new Surtees TS19 for 1977, prepared by Melchester Racing, and breezed to the title. Guy Edwards bought the March 75A V6 that Hexagon had run in 1976 and took it back to RAM Racing. It was good, but not quite good enough, with its Ford V6 engine, so RAM converted it to a F1 Cosworth DFV engine, after which Edwards won two of the last three races.
Also proving effective in F1 cars were Emilio de Villota, who replaced his Lyncar 006 with a pair of F1 McLarens, Divina Galica, who also acquired a Surtees TS19 and came close to winning at Donington as well as leading at Brands, and Derek Bell who won one race in the Penske PC3, but was disqualified at Mallory Park and penalised 48 points. The most competitive of the 5000cc cars was Bruce Allison's Chevron B37, which finished second three times, and Val Musetti also went well in his V6-engined March 752. Best of the F2 cars was Tony Rouff, who won at Thruxton in Graham Eden's Ralt RT1/77.
The races
13 Mar 1977 > Mallory Park
27 Mar 1977 > Snetterton
08 Apr 1977 > Oulton Park
11 Apr 1977 > Brands Hatch
22 May 1977 > Mallory Park
06 Jun 1977 > Thruxton
26 Jun 1977 > Brands Hatch
09 Jul 1977 > Oulton Park
24 Jul 1977 > Mallory Park
31 Jul 1977 > Donington Park
29 Aug 1977 > Brands Hatch
11 Sep 1977 > Thruxton
02 Oct 1977 > Snetterton
16 Oct 1977 > Brands Hatch
1977 ShellSPORT International Championship table
1
Tony Trimmer
(F1) Surtees TS19 - Cosworth DFV
181 pts
5 wins
2
Guy Edwards
3.4-litre March 75A/761 - Ford GAA V6
(F1) March 75A/761 - Cosworth DFV
129 pts
3 wins
3
Val Musetti
3.4-litre March 752 - Ford GAA V6
85 pts
1 win
4
Tony Rouff
(F2) Sana RD9 - Ford BDG Eden
(F2) Ralt RT1/77 - Ford BDG Eden
80 pts
1 win
5
Emilio de Villota
(F1) Lyncar 006 - Cosworth DFV
(F1) McLaren M23 - Cosworth DFV
(F1) McLaren M25 - Cosworth DFV
76 pts
3 wins
6
Divina Galica
(F1) Surtees TS19 - Cosworth DFV
(F2) March 742/752 - Swindon BDX
74 pts
7
Bruce Allison
(F5000) Chevron B37 - Chevrolet
72 pts
8
Keith Holland
(F5000) Lola T332C - Chevrolet
(F5000) McRae GM1 - Chevrolet
63 pts
9
Norman Dickson
(F2) March 772 - BMW M12/7
52 pts
10
Tom Belsø
(F5000) Lola T330 - Chevrolet
45 pts
11
Alo Lawler
(F2) Lola T462 - Swindon BDX
41 pts
12
Robin Smith
(F5000) Lola T330 - Chevrolet
21 pts
13
Damien Magee
(F5000) Lola T332C - Chevrolet
18 pts
14
Hervé Leguellec
(F2) March 762 - Ford BDX
17 pts
15=
Kim Mather
(F2) Chevron B35D - Ford BDA
12 pts
15=
Brian Henton
(F1) Penske PC3 - Cosworth DFV
12 pts
17=
Don Gray
(F5000) Chevron B24/B28 - Chevrolet
11 pts
17=
Hugh "Wink" Bancroft
(F2) Chevron B40 - Hart 420R
11 pts
19=
Iain McLaren
(F2) Chevron B35 - Swindon BDX
10 pts
19=
Dennis Leech
(F5000) Chevron B28 - Chevrolet
10 pts
21
Adrian Russell
(F2) Lola T450/T460 - Swindon BDX
(F2) March 762 - Swindon BDX
9 pts
22=
Brian McGuire
(F1) McGuire BM1 - Cosworth DFV
8 pts
22=
Allan Kayes
(F5000) Lola T330 - Chevrolet
(F5000) Lola T400 - Chevrolet
8 pts
22=
Derek Cook
(F2) Chevron B27 - Ford BDG Smith
(F1) Hesketh 308C - Cosworth DFV
8 pts
22=
Ray Mallock
(F2) Chevron B40 - Hart 420R
8 pts
26
Andy Barton
(F2) Chevron B35 - Ford BDA
7 pts
27
Danny Sullivan
(F2) Boxer PR276 - Hart 420R
6 pts
28=
Jim Kelly
(F5000) Trojan T101 - Chevrolet
4 pts
28=
Mike Wilds
3.4-litre Chevron B30 - Ford GAA V6
4 pts
30=
Kevin Bowditch
(F/Atl) Lyncar 007 - Ford BDA Nicholson
3 pts
30=
Gregg Young
(F2) Chevron B40 - Hart 420R
3 pts
32=
David Prophet
(F1) Surtees TS16-4 - Cosworth DFV
2 pts
32=
John Bowtell
(F/Atl) March 712M/74B - Ford BDA
2 pts
34
Derek Bell
(F1) Penske PC3 - Cosworth DFV
-6 pts
1 win