March 75A history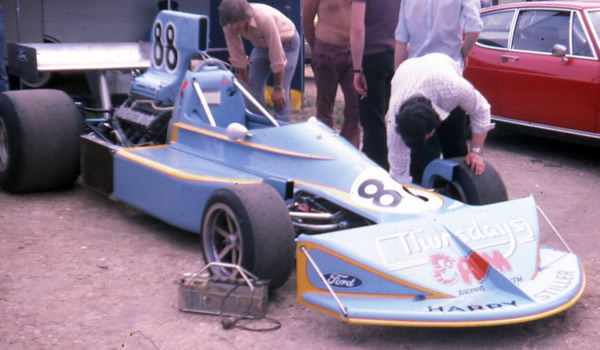 The March 75A was built for RAM Racing and was one of the first F5000 cars to utilise the new 3.4-litre Cosworth-Ford GA V6 engine. The car had a long and very successful career, latterly in F1 761 specification.
After the disappointment of their 1973 F5000 car, March were now only building F5000 cars to order. John MacDonald had formed RAM Racing at the start of 1975 and had run a pair of ex-works Chevrons but they were achieving little. He ordered a new March 75A which was built using a F2 monocoque, the GA engine, and parts from the very similar F1 car. Alan Jones was recruited to drive and was immediately competitive, qualifying second to Teddy Pilette's Lola T400 at its first start, at Mallory Park in August, and then winning at Brands Hatch two weeks later. Jones won again at Silverstone in September and also picked up two third places and two pole positions.
RAM moved up to F1 for 1976 and the March was sold to Paul Michaels' Hexagon of Highgate and run for Damien Magee. Magee started the season well with wins at Snetterton and Oulton Park and led the championship after four races. David Purley's Chevron then took the initiative, and Hexagon bought a F1 Penske PC3 to replace the March. For the 1977 season, Guy Edwards bought the March and took it back to RAM Racing to run for him. The GA engine was retained but Edwards acquired a March 761 tub (formerly in Brambilla's 761-1 wrecked at the Austrian GP), and RAM used that to fully rebuild the car. He started the season well, with a win and two pole positions before Easter but Tony Trimmer's F1 Surtees TS19 was now the car to beat, and the GA engine couldn't match the Surtees' DFV. In July, RAM rebuilt the March with a DFV, meaning that it was now all 761 and virtually nothing of the 75A remained. Edwards won two more races but failed to finish another four and, for the second season, the March was second in the championship. Edwards and RAM retained the '761' for 1978 until their two new 781s were available. Edwards and Bruce Allison both drove it but with little success.
The 75A/761 was then bought by Terry Smith who fitted it with a 5-litre Repco engine, its third powerplant, and ran it in sprints in 1979, including five rounds of the British Sprint Championship. He won the Brighton Speed Trials that year and made a more concerted effort on the championship in 1980, but was off the pace. He used it again in 1981 but had also bought Alan Humphries' March 761, ironically fitted with a Ford GA engine, and usually preferred that. In 1982, although Smith was still sprinting, John Meredith also used the car to defend his early season championship lead. He was beaten by Ken Ayers' March 79S on the tie-break rule. Smith took the car to victory on the Isle Of Man at the end of the year. The 75A/761 was not used in 1983 and during that season Smith sold it to Ray Rowan, the man who had pipped him to the 1981 British Sprint Championship. Rowan would go on to take the title again in 1985 before swapping to hill climbs and taking the British title in 1989. He kept the March chassis for around 18 months until 1985 but the Repco engine was sold separately and ended up in Australia.
The movements of the 75A/761 are then unclear. According to Rowan's and Smith's recollections and looking at Autosport adverts over the next few years, it appears to have moved via a hillclimber and a dealer and been sold to Europe in mid-1987, almost certainly as a 761. In 2011, a car was advertised from France and photographs showed that it was the 75A/761, still in the same livery used by Terry Smith in 1981. It was sold to a Belgian in 2013, and was restored for racing in Masters F1, but now in Beta livery.
If you can add or correct anything, please contact Allen Brown (allen@oldracingcars.com).
Chassis
History
Current owner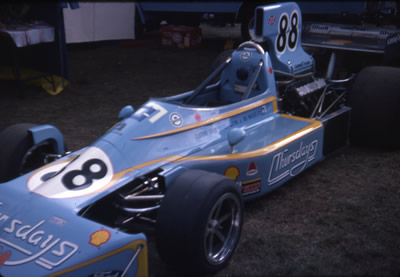 John MacDonald (RAM Racing) 1975. Raced in UK 1975: driven by Alan Jones (3rd BARC Thruxton 17 Aug 1975) - Hexagon Garage for Damien Magee UK 1976 - Guy Edwards UK 1977; rebuilt on a March 761 monocoque, and then converted to DFV power for last few races of 1977. Edwards UK 1978 (first two races); then for Bruce Allison (five races). Also used by Desire Wilson in a test session prior to the British GP. To Terry Smith (Felton, Somerset), fitted with a 5-litre Repco engine, and used in the British Sprint Championship 1979, 1980 and 1981. Used by Smith and John Meredith British Sprint Championship 1982. To Ray Rowan 1983, and retained by him until about 1987 when the Repco engine was sold to Australia and the rolling chassis was sold via a dealer to Italy. Reemerged four years later when sold by Andrea Frasson (Rosà, Vicenza, Italy) to Daniel Pouteau (Paris, France) in December 1991. Retained by Pouteau, still apart and in still Terry Smith's livery, until sold via Bernard De Dryver to Paul Grant (Brussels, Belgium) in April 2013. Rebuilt for Masters F1 in 2015, and debut at the Spa 6 Hours in September 2015. Raced at Spa again in September 2016 and September 2017, and at Nivelles in May 2019. Raced at Zandvoort in June 2023.
Driven by: Alan Jones, Damien Magee, Guy Edwards, Bruce Allison, Desiré Wilson, Terry Smith, Allan Humphries and John Meredith. First race: Mallory Park (UK R9), 10 Aug 1975. Total of 62 recorded races.
Paul Grant (Belgium) 2023
The Greg Thornton March "75A"
A previous version of this page noted that Randy Johnson (Dallas, TX) was racing his ex-Don Wasserman March in Thursdays colours and wearing #88 in the late 1990s. This car was sold to Greg Thornton in 2012, and it has since been identified as a March 761 that was rebuilt on a F2 tub and then fitted with a Ford GA engine when being used in speed events in the UK in the 1980s. As the changes to revert to F1 specification would be significant, Greg continued to race the car in 75A form.
These histories last updated on .