McLaren M10A car-by-car histories
With the introduction of Formula 5000 into the UK in 1969, McLaren built the McLaren M10A, derived from the F1 M7A. It was put into production by Trojan, and Peter Gethin took the prototype to the British championship.
Although the original idea of the Formula A/5000 car had been, in designer Gordon Coppuck's words, to "just put a Chevy in the back of a modified M7", the resulting McLaren M10A monocoque was significantly different, as the Chevrolet engine was wider than the Cosworth DFV and could not be used as a stressed member. Starting with the F1 M7A design, Coppuck widened the monocoque and extended it rearwards as far as the clutch bellhousing to support the engine, also stiffening it significantly by "taking the monocoque side panels right up and over the top behind the driver's shoulders". This style of design was then adopted on the F1 McLaren M7C in 1969 in place of the less rigid bathtub monocoque of the M7A. The new car was larger and also significantly heavier than its elder sister.
Four cars were quickly sold to the US, but Peter Gethin's quasi-works prototype was the sole McLaren running in the British series. Additional cars were sold to Canada, Australia and into British hillclimbing, but it was only when Gethin's car transferred to the US very successfully in July that a second batch of cars was sold to the US. Towards the end of the year, two further cars were sold to South Africa. George Eaton was McLaren's most successful driver in the US series until Sam Posey acquired an M10A to replace his Eagles, and won at Lime Rock in September. Frank Matich and Graham McRae both won races in the 1970 Tasman series, and orders for the new 1970 M10B were brisk.
Eoin Young's book on McLaren says Trojan sold 20 M10As but then says they only built 17. Records from a parts supplier show that coil/shock units were supplied for M10A 300-01 to 300-26 but it looks like some of these must have been kept for spares or absorbed into the M10B production. As well as the Trojan production, assumed to have started at 300-02, there was a prototype car built by McLaren that carried the number M10A/1. The highest known number for an M10A is 300-16 but as new ones were appearing as late as December, that isn't definitive. Production could be anywhere between 16 and 23 but the most likely number of complete cars, as opposed to monocoques, appears to be 16.
The nine US-based M10As continued in front-line service for several years, and several of them raced right through the 1970s. In the UK, two ran in sprints and hillclimbs until 1977, but one of the South African cars was destroyed, as were the two cars in New Zealand and Australia. Several are either still missing or are unresolved. If you can add anything to our understanding of these cars, please contact Allen Brown (allen@oldracingcars.com).
Chassis
History
Current owner
The 1969 mystery cars
As well as the cars mentioned above (Eaton's 300-02, Motschenbacher's 300-05, McCaig's 300-07 and Esseks' 300-09), five other M10As were seen in North America in 1969. These were presumably 300-03, 300-04 (probably Jerry Hansen's and Pete Botsford's car for John Barker); then 300-11, 300-12 and 300-14. This is exactly (but probably coincidentally) matched by five unknown M10As racing in the US.
The first production cars were delayed by a strike at component makers, impacting the cars of Eaton, Hansen and Motschenbacher. Eaton and Motschenbacher both flew to England to help complete their cars, Motschenbacher flying out on Thursday 10 April with mechanic Joel Griffin.
Chassis
History
Current owner
The 1970 mystery cars
The main mysteries are in the US but there might also be one in the UK. Nine cars had run in the US in 1969 and eight can be accounted for in the known end-of-season movements. Grable took over Motschenbacher's 300-05, McCaig retained 300-07, Esseks retained 300-09, Eaton's car went to Heimrath, Hansen's to Baker and Botsford's to Blackmore, while Ward and Bouverat retained their cars. So only Posey's car goes missing. The ex-Botsford car spent 1970 being rebuilt by Barry Blackmore.
Just one unexplained car appears in 1970: John Bisignano of Denver, CO doing a full season. This was presumably the ex-Posey car.
Meanwhile in England, John Bosomworth was reported to have taken delivery of a McLaren M10A to replace his Rover-engined M4B but Roy Lightie, who worked for Bosomworth, confirmed in August 2015 that had retained his older M4-based car for 1970.
In October 1970, Ted Hummell (Englewood, CO) advertised a M10A. This may be the Botsford/Barker or Bisgnano car.
Chassis
History
Current owner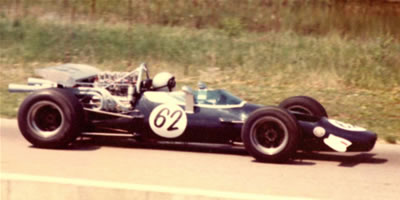 John Bisignano (Denver, CO), later a F1 commentator for ESPN, raced a M10A in the US Pro series in 1970. Advertised 20 Mar 1971. To Palumbo Lees Racing: driven by John Marshall (Sandusky, Ohio) US 1971 (three races only: R4 Mid-Ohio 5 Jul, R7 Brainerd 15 Aug and R8 Lime Rock 6 Sep); later driven by Tony Palumbo (Toledo, Ohio): US 1972: only two known entries: R3 Watkins Glen 18 Jun 1972 (unknown entry) and R4 Elkhart Lake 16 Jul 1972 (DNS). Palumbo sold the car in 1974 to Patrick Garmyn (Archbold, Ohio) who was stepping up from karts straight into F5000. He raced the car a total of 18 times, including Blackhawk Farms in August 1975, the 1975 Runoffs and an SCCA National at Nelson Ledges 23 May 1976. He sold it at the Kruse Classic car auction to Tommy Turner BMW (Houston, TX) who was buying it to put in his showroom.
Subsequent history unknown.
Driven by: John Bisignano, John Marshall, Tony Palumbo and Patrick Garmyn. First race: Riverside (US R1), 19 Apr 1970. Total of 16 recorded races.
Unknown
The 1971 mystery cars
For 1971, Jon Milledge retained 300-05, McCaig still had 300-07, Will Painter acquired 300-09, Gregg Peterson acquired the ex-Eaton/Heimrath car, Palumbo Lees acquired the Bisignano car, Blackmore brought out the ex-Botsford/Barker car and Jon Ward appears to have retained his car. The cars of Fred Baker and Bouverat both disappear at this point, but one new M10A driver appears: Merle Brennan in his first M10A.
Chassis
History
Current owner
Merle Brennan (Reno, Nevada) raced a car through the 1971 season, first seen at the SCCA National at Riverside 14 Feb 1971. As well as a full season of Nationals, Brennan also appeared at three west coast Pro races in April and May and at the USAC Seafair '200' in August. At the end of 1971, Brennan is said to have bought 300-09 from Wil Painter so Brennan must have had two M10As. It seems unlikely that he would sell one M10A only to buy another so maybe his 1971 car was wrecked? Subsequent history of his 1971 car unknown.
Driven by: Merle Brennan. First race: Riverside, 14 Feb 1971. Total of 13 recorded races.
Wrecked?
The 1972 mystery cars
Six M10As continue service into 1972. Of the ones already covered, Howie Fairbanks buys 300-07, Brennan buys 300-09, Pavesi buys Peterson's ex-Eaton/Heimrath car, Len Miller and Benny Scott buy Blackmore's and Palumbo's car is retained. Of the other 1971 runners, Milledge's 300-05 and Ward both disappear. Brennan's 1971 car also disappears.
Fairbanks, Brennan, Pavesi, Scott and Palumbo are joined by Tony Settember in a highly modified M10A.
Chassis
History
Current owner
The McLaren M10/18 of Tony Settember (Penngrove, CA) in 1972 was 'a much modified M10A chassis which had been cut front and back, lengthening the wheelbase by 5"' according to the Motoring News report on Road Atlanta 1972. The car was prepared by Bruce Burness, who had been George Follmer's mechanic in 1971. Raced by Settember in the US series in 1972 (6 races); and in 1973 (7 races; best finish 4th at final race at Seattle). Raced by Jim Mullins (Gresham, OR) in SCCA Northwest Regionals in 1974, leading at the Kent Regional 19 May 1974. Advertised Mar 1975 and presumably the same car raced by Mullins at Sears Point April 1976.
To Bert Frank (San Francisco, CA) later in 1976 and raced by him in SCCA Regionals that year. Advertised in January 1977 and sold to Fred W Cornelius (Reno, NV). Frank advertised it as Settember's 1973 car and Cornelius recalls that it was fitted with a sports car nose. Cornelius ran it in Formula A in SCCA Regionals on the west coast in 1977 and 1978, then sold it to former M10A owner Merle Brennan (Reno, NV). Brennan crashed badly at the Laguna Seca June Sprints on 24 June 1979, and the car caught fire, leaving Brennan with a head injury and major burns. The car was destroyed by the fire, and Cornelius recalls that it was buried at the landfill east of Reno. Brennan was in a burns unit for three months, and the head injury he suffered was believed to be the trigger for Alzheimer's disease that worsened over the next few years. He returned to competition in July 1980 with a Can-Am Lola, and the SCCA allowed Brennan to continue to drive even after he could no longer remember his wife Norah's name, and in 1984 she had to plead with SCCA officials to withdraw his licence. Merle died on Christmas Eve 1996 after many years in a nursing home.
Driven by: Tony Settember, Jim Mullins, Bert Frank, Fred Cornelius and Merle Brennan. First race: Laguna Seca (US R1), 7 May 1972. Total of 22 recorded races.
Scrapped
The later mystery cars
In 1973, only Merle Brennan (300-09), Howie Fairbanks (300-07) and Tony Settember carry on with their M10As in pro races. After the end of 1973, no M10As appear again in Pro races. Brennan's car goes to Glenn Brown and then to Jan Labell in the Pacific Northwest; Fairbanks keeps his until 1975 when it goes into a museum; and Settember's goes to Jim Mullin for 1974.
Chassis
History
Current owner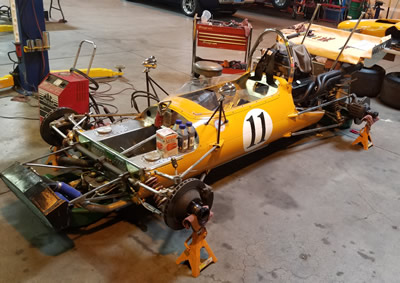 Martin Fogel (Hermosa Beach, CA) raced a McLaren M10A in US vintage events. He reports that he acquired the rolling chassis from Merle Brennan in 1973 but the monocoque was rendered unusable by sea air and a new monocoque was built by Marc Bahner, one of the US's top fabricators, in October 2000. Raced at the Wine Country Classic May 30-June 2, 2008. Also raced at the Legends of Motorsport event at Laguna Seca 14 Jun 2013. Raced by Fogel at Monterey in August 2018.
Martin Fogel (USA) 2018
These histories last updated on .