Shadow DN3 car-by-car histories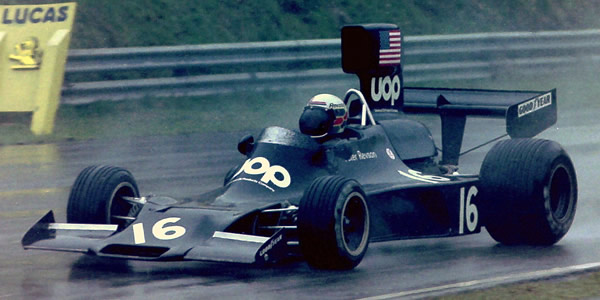 Tony Southgate designed the Shadow DN3 for 1974, a development of the DN1 concept but a significant improvement, and new drivers Jean-Pierre Jarier and Tom Pryce achieved some impressive results.
The first Shadow DN3 was destroyed in Peter Revson's fatal accident while testing before the South African GP. Jean-Pierre Jarier raced DN3/2A all season, and the second car, DN3/3A, was driven by Brian Redman and then by Tom Pryce. A spare car, DN3/4A, first appeared at the Monaco GP meeting. Pryce crashed DN3/3A at the French GP and the replacement car, called DN3/3A-2 by some journalists and DN3/5A by others, was used to the end of the year. At the South American races at the start of 1975, Jarier had a new DN5, but Pryce continued to use his late-1974 car.
In 1976, Roger Springett bought two DN3s for the Shellsport Group 8 series, and the first of these, as driven by Mike Wilds, wore the chassis plate "DN3/2A". However, photographic comparison shows that it cannot have been 2A, as 2A had a welded rollhoop and the Wilds car had a bolted rollhoop, indicating that it was one of the later cars, 4A, 5A or possibly a previously unknown sixth car. A detailed examination of DN3/5A, comparing it to period pictures of 4A, 5A and the Wilds car established clearly that Wilds' car was a sixth DN3, so is called "6A" here. Wilds crashed this car at Mallory Park in June 1976, and Springett built up another DN3 for Wilds to drive at the British GP. This second car wore the chassis plate "DN3B/5A" but photographic and other evidence points to it having been the ex-Jarier DN3/2A.
Four surviving cars exist today, and discussions are continuing in an effort to reach agreement on all their identities.
Please contact Allen Brown (allen@oldracingcars.com) if you can add anything to our understanding of these cars.
These histories last updated on .