Lola T400 car-by-car histories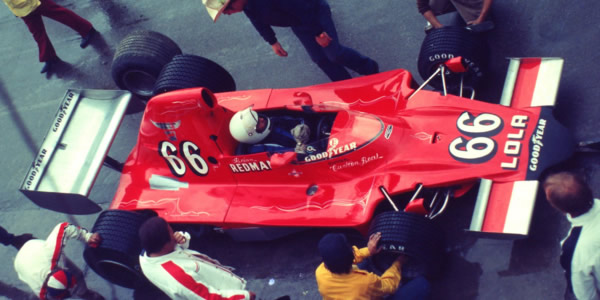 With heavily revised aerodynamics and a rising rate suspension, the 1975 F5000 Lola T400 baffled and perplexed its customers and many went back to the T332 design. VDS persisted and Teddy Pilette won the British championship in his car.
After the T332 had dominated the 1974 season, much was expected of the high-tech new T400. Described by development driver Frank Gardner as "the most sophisticated Formula 5000 to be built so far", the T400 was a completely new design, strikingly different to its T300, T330 and T332 predecessors. The radiators were mounted in front of the rear wheels, as part of the mandatory deformable structure, so the aerodynamics could be significantly cleaner. However, the key difference was Eric Broadley's adoption of rising rate suspension, with rocker arms and inboard springs, both front and rear. This would, eventually, prove very successful but at first nobody really understood how to make it work. In the Tasman series, the cars were off the pace due to a lack of development, and Broadley conducted extensive testing at Paul Ricard in February with key European customer VDS. Although this was encouraging, the VDS T400s were very slow at the opening races of the European series. In the US, Vel's Parnelli Jones abandoned their T400s after tests at Riverside and used T332s during practice for the Pocono race in early May. The race was rained off and when the teams returned to Pocono to try again four weeks later, even Lola importer Carl Haas had found a 1974 T332 for Brian Redman. In the UK, VDS had little choice but to persevere as they had sold their 1974 Chevrons, and had one of their T400s working really well by the end of the season; four wins in the last eight races securing a second F5000 title for Teddy Pilette.
One, maybe two, of the 14 T400s were wrecked in accidents, but we can account for the recent whereabouts of twelve survivors. A 13th car was stolen in 2006 and its exact history is yet to be established. Particular thanks go to Teddy Pilette, Shayne Windelburn, Marc Rauchfuss, Marcus Pye, Richard Fried, Mike Engstrand, Dan Bowden, Chris Townsend, David Craig, Ken Shirvington, Gareth Williams, Jeremy Jackson, Norbert Vogel, Paul and Andrew Higgins, David Abbott, Peter Cousins, Ed Swart, Peter Vincent, Steve Bay, Simon Hadfield and Mark Blaze for their help getting this far. There are still gaps in several of the histories, and updates would be appreciated on the ownerships of some of the cars. Please email Allen at allen@oldracingcars.com if you can add anything.
Chassis
History
Current owner
The mystery cars
There are still two unresolved puzzles: exactly which of Vel's Parnelli's two T400s was raced at Mosport in 1975, and what was the car that Larry Clain owned for more than 20 years.
Chassis
History
Current owner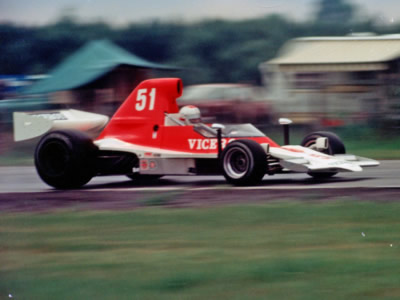 Vel's Parnelli Jones bought two Lola T400s for 1975 but the only time either car was used was when Al Unser drove on at Mosport Park in June 1975. It is not known which car was used. Both cars were later sold to Barry Blackmore and their histories continue as shown above.
Driven by: Al Unser. First race: Mosport Park (US R2), 15 Jun 1975. Only one recorded race.
Larry Clain (Tulsa, OK) ran a Frissbee-Lola T400 in SCCA A Sports Racing and in Can-Am in 1984. The car was entered at the Dallas Can-Am race in July, and at the Riverside Can-Am in October, but did not appear at either. Clain was then listed as a non-qualifier at the Runoffs at Road Atlanta two weeks later.
Clain is reported to have had a significant car collection that included two Baldwin-Motion GT Corvettes, a 1967 Chevrolet Camaro RS/SS, and a 1966 or 1967 Chevrolet Nova, as well as the T400. Clain died in May 2006, and his collection was then said to include the Lola T400, still wearing Frissbee bodywork. It was reported to be ex-Ongais, indicating that it was T400 HU10. Shortly after his death, his workshop was broken into and many of his cars stolen. In July 2016, it was reported that none of the cars had been recovered.
Driven by: Larry Clain. First appearance: Road Atlanta, 20 Oct 1984.
Stolen 2006
To muddy the VDS picture a little, Richard Fried, who worked for VDS from 1982 to 1984, recalls a T400 being in storage and heard that it had been bought by VDS Indy mechanic Carl Dean (Chicago, IL) when the team folded at the end of 1984. Shayne Windelburn thinks this is more likely to be one of the team's T333s, used in F5000 spec by Warwick Brown in 1978 and 1979.
In 1985, John Bladen drove his newly-restored Lola T400 at the Australian Grand Prix meeting but hit the concrete wall at the chicane. This is believed to have been HU2.
Shayne Windelburn remembers hearing of a surviving T400 in England somewhere.
A note on chassis number identification
Chassis numbers are mainly based on Lola invoice records. The 1976 Surfers Paradise race program was helpful in identifying the four Australian cars (HU1, HU2, HU3 and HU15), as was a race report in Autoweek 5 Mar 1977 p13. As OldRacingCars.com has not yet finished compiling race results for all races in Australia after 1975, the race results quoted here are partly based on the Formula 1 Register Fact Book: Formula 5000 1972-1981.
These histories last updated on .