McLaren M25 history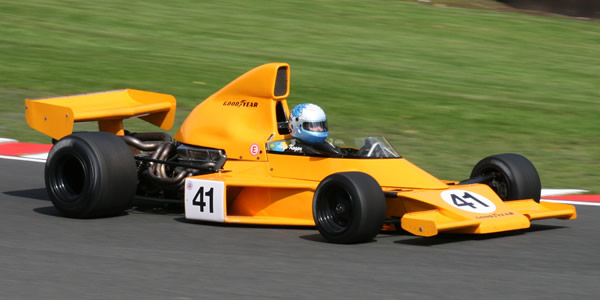 The car that might have challenged Lola's dominance of Formula 5000, the McLaren M25 was built in 1973 but did not race until 1976, by which time it was too late for it to be competitive. It then became a F1 car for Emilio de Villota.
Ever since the Group 7 McLaren M1A in 1965, all McLaren customer cars had been built by Trojan, but these collaborations ended after 1972, when Trojan had built a completely uncompetitive M22 Formula 5000 car. The companies then went their separate ways, with Trojan building the Trojan T101 for 1973, and McLaren started work on a new car based on their successful McLaren M23 F1 car.
The new car showed promise in its first tests in November 1973, driven by John Nicholson. Denny Hulme tried it at Silverstone and thought it was one of the quickest and nicest cars he had driven. He reportedly did a 1m 17s in it, about the same as David Hobbs' pole time in the F5000 round earlier that year. Tony Dean, as usual, was the intended buyer but, in February 1974, Carlos Avallone stepped in with more money and bought the car. The Brazilian former F5000 driver intended to run it in the US series in 1974 and then put a DFV in it for F1 in 1975. However, the car was impounded the moment Avallone took delivery, and was tied up in a legal dispute for over a year.
David Hepworth finally emerged as the legal owner, and Bob Evans raced the M25 twice for Hepworth in F5000 in 1976. It it was then sold Guiseppe Risi's Iberia team for Emilio de Villota, and rebuilt to M23 specification as a back-up to their ex-works M23/6. It was raced once by de Villota in late 1977 in a Shellsport Group 8 round, and retained for the 1978 Shellsport season. Villota used both his McLarens in practice at the Spanish GP that year, but failed to qualify. After that, the M25 was used as a show car until it was sold by Risi in August 1982. It was used in historic racing briefly in the mid-1980s but then remained in the same hands for many years, until it was acquired by collector Abba Kogan, who had it restored back to F5000 specification, and raced it in the Derek Bell Trophy race at Oulton Park in 2008. It has since been sold to another major collector, and has been returned to F1 specification.
Car
Total
Race
Starts
Grand
Prix
Starts
Grand
Prix
Wins
First Race
Present Location
11
Brands Hatch (UK R9)
(30 Aug 1976)
Private Collection 2019
This was not quite McLaren's last customer racing car. McLaren continued to produce M16C Indy cars, and in 1977 produced the M24, also based on the M23 F1 car, and sold a number to customers. However, it was not until 1994 that McLaren moved back into the customer car market with the road-going McLaren F1.
Please contact Allen Brown (allen@oldracingcars.com) if you can add anything to our understanding of these cars.
These histories last updated on .