Brabham BT42 car-by-car histories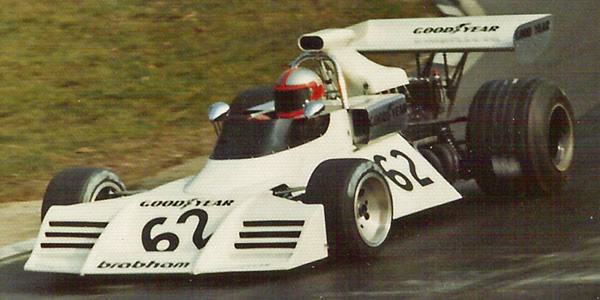 After two poor seasons, Gordon Murray's distinctive triangular Brabham BT42 marked the start of Brabham's revival in F1. Carlos Reutemann only had two podium finishes, but the mood was now upbeat.
Gordon Murray took over the design office at MRD, and was allowed a clean sheet of paper to produce the 1973 Brabham BT42. To improve top speed, he used a triangular section monocoque, the sidepods each containing one fuel cell, with the third cell between the driver and engine. He revived the 'lobster-claw' idea of split front radiators, but used triangular housings with a chisel nose in between. The car had a short wheelbase and low centre of gravity, and the 1973-regulation deformable structures were built into the design. Carlos Reutemann and Wilson Fittipaldi were both kept on as drivers, but Graham Hill went off to do his own thing. John Watson was given the job of giving BT42/1 its debut at the Race of Champions, but he crashed heavily and was out of racing for four months.
The Brabham BT37 had been an update on an old design, but the BT42 was entirely new, and although the team's results were not dramatically better, the new design was full of promise. The McLaren M23, Lotus 72 and Tyrrell 006s were the leading cars of 1973, but the BT42 was not far behind them. Reutemann qualified fifth in Sweden and finished fourth; finished a fighting third in France; qualified fifth at Zandvoort; ran fourth in Germany; qualified fifth in Austria and finished fourth; qualified fourth in Canada; and then ended the season very well when he qualified second at Watkins Glen and finished third. Exciting new Brabham BT44s were ready for the start of 1974, so three of the four surviving BT42s were sold off: John Watson driving BT42/2 for Hexagon of Highgate; and Scuderia Finotto acquiring BT42/5 and BT42/6 for hire drivers. The remaining car, BT42/3, was retained by MRD as a spare and then for hire deals, after which it was handed over to sponsors Martini as a show car. One of the four has been completely rebuilt to BT44 specification for historic racing, and a second has BT44 bodywork. These two, plus one standard-specification BT42 all appeared together at the Monaco Historics in 2008, while the fourth is a recent Concours winner.
Car
Total
Race
Starts
Grand
Prix
Starts
Grand
Prix
Wins
First Race
Present Location
1
Race of Champions
(18 Mar 1973)
Written off, Brands Hatch 1973
22
18
Spanish Grand Prix
(29 Apr 1973)
United States 2019
16
14
Spanish Grand Prix
(29 Apr 1973)
Italian owner (UK) 2017
2
2
French Grand Prix
(1 Jul 1973)
Written off, British GP 1973
4
4
German Grand Prix
(5 Aug 1973)
United States 2021
6
5
Austrian Grand Prix
(19 Aug 1973)
Private Collection 2020
Brabham BT42/1-R
(no races recorded)
Australia 2014
Please contact Allen Brown (allen@oldracingcars.com) if you can add anything to our understanding of these cars.
These histories last updated on .