Tyrrell 005/006 car-by-car histories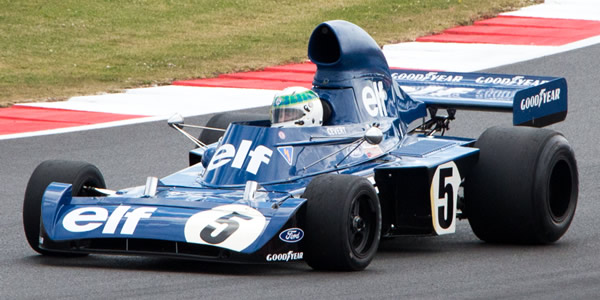 The 'short-chassis second series' of Tyrrells includes Tyrrell 005, completed in July 1972 for Jackie Stewart to drive, Tyrrell 006 for François Cevert, 006/2 which was Stewart's principal car during his 1973 World Championship season, and the ill-fated 006/3.
Derek Gardner's 1972 Tyrrell design was intended to be small, light and manoeuvrable. The monocoque was lower and wider; a slab-sided and flat-topped bathtub monocoque which sloped down to the same bluff nose as the 002-004 range. The water radiator was again in the nose, with side-mounted oil radiators tightly cowled in at the back of the monocoque. Outboard coil/spring units were used front and rear. Jackie Stewart gave Tyrrell 005 its debut at the Dutch GP and led the early stages but fell back with tyre problems. He then burnt out the clutch before the start of the Italian GP, allowing Emerson Fittipaldi the win he needed to clinch the 1972 World Championship. Only then did Stewart and 005 come good, winning in Canada and the United States. François Cevert's Tyrrell 006 was built in time for those North American Grands Prix, and the drivers would start 1973 in the same cars. Stewart won the South African GP, and then took over the newest car in the range, confusingly numbered 006/2. This took him to victory in Belgium, Monaco, the Netherlands, and Germany, to reclaim his World Championship. At the Canadian GP, Cevert crashed 006 heavily, wrecking the monocoque, and a new 006/3 was built up in the Watkins Glen technical building using a spare monocoque. It was in this car that Cevert was tragically killed when he crashed violently at the Esses during practice at Watkins Glen. The car bisected the Armco guardrail, and Cevert died instantly.
Jackie Stewart retired after the 1973 season, and Tyrrell started 1974 with two new drivers, Jody Scheckter and Patrick Depailler. Scheckter drove Stewart's 006/2 in the early races of the season, while the Frenchman drove 005, the only other intact car. Tom Wheatcroft bought 006/2 for his Donington Museum, and 005 was retained by Tyrrell as a show car, spending many years in Donington before it was sold in the late 1980s. Chassis 006 was also repaired and was sold to a dealer in 1985, before spending many years in Jack Setton's fabulous collection in France. In recent years, 006 has been raced in historic events by John Delane, but it was sold to a collector in 2016.
Please contact Allen Brown (allen@oldracingcars.com) if you can add anything to our understanding of these cars.
These histories last updated on .