Brabham BT37 car-by-car histories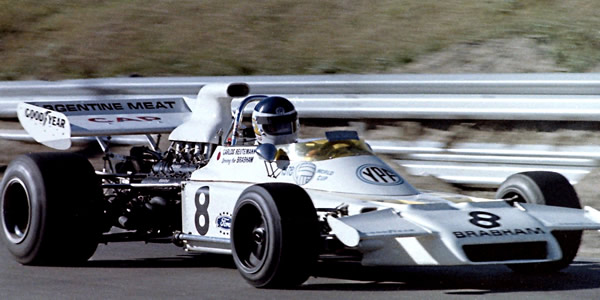 The Brabham BT37 was the first F1 car of the Bernie Ecclestone era, but its design was based on the unloved Brabham BT34. Carlos Reutemann found some speed, but Brabham finished ninth in the 1972 Constructors Cup.
Bernie Ecclestone bought MRD from Ron Tauranac after the 1971 season, but Tauranac stayed on to work on a new design, the BT37, which was basically a Brabham BT34 without the lobster claw. Tauranac left in February 1972, and Ecclestone hired Ralph Bellamy from McLaren to finish the BT37. With only minor differences from a car that had hardly been a success, little could be expected of the BT37. New driver Carlos Reutemann was clearly a future star, and he regularly eclipsed the nominal team leader Graham Hill, but an ankle injury over Easter put the Argentinian out of action until June. Hill rarely qualified in the top half of the grid, but Reutemann was ninth on the grid when he received BT37/2 for the Belgian GP, and later tenth at Brands Hatch, sixth at the Nürburgring, and fifth in Austria. However, the BT37 regularly failed to finish, its first decent result being at Monza where Hill finished fifth despite a brake problem, without which he could have challenged for third. Reutemann then drove an excellent race at Mosport Park, running in third place in the final stages before he ran out of fuel and dropped to fourth.
The two BT37s were retained for 1973 to be used until new Brabham BT42s were ready, after which Andrea de Adamich drove one as a third entry. He was lucky to walk away after a rear stub axle failed during the Spanish GP, and BT37/1 was reduced to complete wreckage. The Italian later did well to place fourth at the Belgian GP in BT37/2 before getting his own BT42 later in the season. The surviving car was sold off to Paul Michaels' Hexagon of Highgate for John Watson to drive in F1, then passed through a couple of dealers to Geoff Rollason, who hillclimbed it in 1974 and 1975. It then spent 20 years in obscurity in Cyprus before returning to the UK in 1998. After a sympathetic restoration by Hall & Hall, it has since been used for historic racing.
Car
Total
Race
Starts
Grand
Prix
Starts
Grand
Prix
Wins
First Race
Present Location
16
14
International Trophy
(23 Apr 1972)
Written off, Spanish GP 1973
29
15
Belgian Grand Prix
(4 Jun 1972)
United Kingdom 2022
Please contact Allen Brown (allen@oldracingcars.com) if you can add anything to our understanding of these cars.
These histories last updated on .