Brabham BT34 history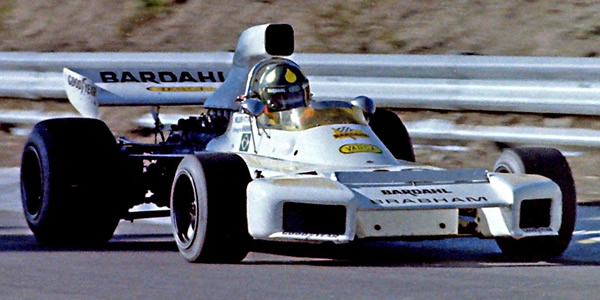 The 'lobster-claw' Brabham BT34 was Ron Tauranac's last design for MRD. Despite a win in the International Trophy early in 1972, the car was not a great success, and only one was built.
Jack Brabham had retired at the end of the 1970 season, and Ron Tauranac brought in another veteran, Graham Hill, to lead the team. He would be joined by Tim Schenken in the No 2 car. The BT34 design followed the prevailing trend of being a squarer and flatter "slab-sided" monocoque, and was entirely conventional in most respects, including a return to outboard springs in the front suspension. Designers were always working out the best place to put the large water radiators required by a F1 engine, and most F1 cars still had their main radiator in the nose. The Lotus 72 had tried putting them in front of the rear wings, to allow a lower nose, and Tauranac tried a related idea, to put them in front of the front wheels. The BT34 had faired pods in front of the wheels, leaving room for a tub-width front wing between them. Rear suspension on the BT34 was identical to the Brabham BT33, but the new car used Hewland's FG400 transmission, which offered a saving of 20-25 lbs over the BT33's Hewland DG300. Schenken did not get a BT34, and had to go through the season using the remaining BT33s.
For 1972, Tauranac sold the team to Bernie Ecclestone, and he brought in ex-McLaren designer Ralph Bellamy to develop the BT34, and to finish off Tauranac's new design, the Brabham BT37. New driver Carlos Reutemann was allocated the slightly modified BT34 and shocked the establishment by putting the car on pole position for the opening race in Argentina. He ran a strong second before his tyres went off. El Lolé also won a non-championship F1 race in Brazil in this car. It was then raced by Wilson Fittipaldi as a third works entry during 1972, after which it was sold to the Fittipaldi brothers for their car collection in Brazil. It returned to the UK in 1985, and was raced by Ean Pugh in historic racing for over a decade, until he retired from racing in 2009.
Car
Total
Race
Starts
Grand
Prix
Starts
Grand
Prix
Wins
First Race
Present Location
25
20
Race of Champions
(21 Mar 1971)
Private Collection (UK) 2013
Please contact Allen Brown (allen@oldracingcars.com) if you can add anything to our understanding of these cars.
These histories last updated on .