Brabham BT33 car-by-car histories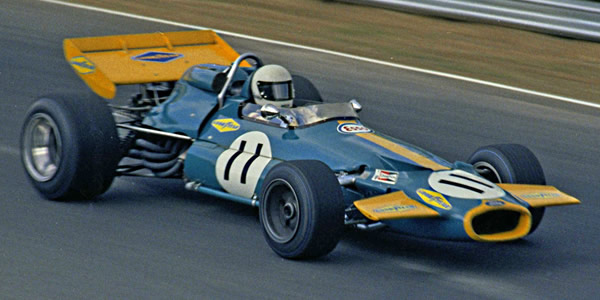 Brabham's first monocoque F1 car was among the fastest Cosworth DFV cars in 1970, but was let down by reliability. Jack Brabham won the South African GP, and twice lost out on victory on the final lap.
New regulations regarding fuel cells forced Ron Tauranac to design his first monocoque F1 car, although he had already built the monocoque Brabham BT25 for the Indy 500 in 1968. The BT33 followed the standard pattern, with 'D'-shaped monocoque pontoons sewn together with steel bulkheads to form a bathtub monocoque. Inboard springs and rocker arms were used at the front, with outboard springs at the rear. Three cars were built, with the design evolving through the season. For once, MRD had two cars ready for the start of the season, with Jack Brabham joined in the team by Rolf Stommelen, whose job was to bring sponsorship and otherwise keep out of the way. Jack Brabham won the South African Grand Prix, overtaking Jackie Stewart's new March 701 for the lead and pulling away. He then qualified on pole in Spain and ran second to Stewart until his engine broke. At Monaco he again led, this time for over 50 laps but Jochen Rindt closed on him in the final laps and Brabham locked up going into the last corner and threw away his lead. Brabham was later third in France and then second at the British Grand Prix, where he was leading by 13 seconds on the last lap but ran out of fuel. From then on, his BT33 was so unreliable, he failed to score another point.
Jack Brabham retired at the end of the season, and Graham Hill and Tim Schenken were recruited as drivers. Although BT33/1 had been written off by Stommelen, a new car was built using the same number, and Schenken used that and BT33/3 during 1971, but achieved little of note. A new Brabham BT34 was built for Hill to use, but only one was built. One of the BT33s was retained for the start of 1972, but the other two were sold off: one for the South African national series, and the other to Alain de Cadenet's Ecurie Evergreen. The final car was sold for hillclimbing late in 1972, and had a very long career in speed events. All three BT33s have more recently appeared in US vintage racing. As of April 2017, all three were in full working order and in the western United States.
A detailed description of the Brabham BT33 appeared in Motoring News 15 Jan 1970 p2 and in Autosport 15 Jan 1970 pp6-7. Autosport then followed up with a more detailed article and a cutaway on 5 Feb 1970 pp23-25.
Please contact Allen Brown (allen@oldracingcars.com) if you can add anything to our understanding of these cars.
These histories last updated on .