March 701 car-by-car histories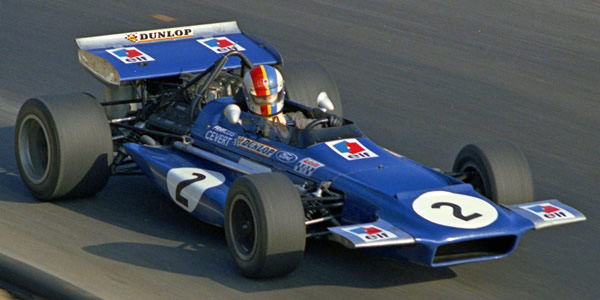 March's first F1 car was an immediate success, with March 701s being run by Team Tyrrell, March Engineering, and STP. Jackie Stewart won the Race of Champions and the Spanish GP, and Chris Amon then won the International Trophy, before the 701's fortunes declined.
For a company that only came into existence at the end of 1969, it was remarkable that March had even one car on the grid of the first GP of 1970, let alone five. Robin Herd designed a simple bathtub monocoque for the March 701, with basic outboard suspension. As well as running a works team with STP sponsorship and drivers Chris Amon and Jo Siffert, cars were also supplied to Team Tyrrell for the new World Champion Jackie Stewart, to STP for Mario Andretti, and to Antique Automobiles for F2 star Ronnie Peterson. Stewart and Amon sent joint fastest practice time in the 701's first race, the South African GP, and Stewart finished third in that race. Marchs then won the next three F1 races: two non-championship races in Britain, and the Spanish GP, which Stewart led from start to finish. Stewart and Amon were fastest at Monaco, and Stewart led that race convincingly until a pit stop. Only then did the BRM P153, Lotus 72 and Ferrari 312B start to get the better of the March, and despite new inboard rear brakes and lightweight monocoques, only four more second places were to follow.
The three works cars were sold into private hands, joining three other customer cars, and these were all raced during 1971. The three Team Tyrrell cars passed into Ford's ownership and one of those was restored in highly original condition at Boreham, and is now on display at the Heritage Motor Centre at Gaydon, Warwickshire. Several other cars are used in historic racing, and six different 701s have appeared at the Monaco Historique since 2002.
Please contact Allen Brown (allen@oldracingcars.com) if you can add anything to our understanding of these cars.
These histories last updated on .