Southeast Asia Formula Pacific 1978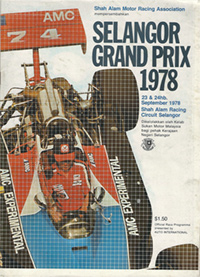 The Rothmans-sponsored championship did not continue into 1978, but the same four races were held as in 1977: the Penang and Malaysian Grands Prix on consecutive weekends in May, then the Selangor GP in September and finally the Macau GP in November. The rules had finally settled on a variant of Formula Atlantic, thus eliminating the fuel-injected engines of the previous two seasons. This brought the Southeast Asian races in line with Formula Pacific in New Zealand and Japan, but in Australia CAMS continued to prevaricate over a move from Formula 5000.
1977 champion Steve Millen acquired the brand new Chevron B42 that had taken Riccardo Patrese to the 1977 Macau GP, and won at Penang with Malcolm Ramsay second in his new Birrana A78. Veteran Albert Poon won the Malaysian GP in his nearly-new Chevron B39/40, with Millen second. Graeme Lawrence then won the Selangor race in his well-travelled March 76B, with Ramsey second.
The Macau race attracted a fabulous field, with Alan Jones heading the grid in Theodore Racing's new March 782, alongside Riccardo Patrese in Chevron's development B42/48. Patrese was in Team Harper colours, and right behind him were teammates Derek Daly and Keke Rosberg in more Chevron B42s. Masahiro Hasemi led the Japanese challenge in his Nissan-engined Chevron B40, with three Flying Tigers Ralt RT1s next. Patrese and Daly won the race in a Harper/Chevron walkover.
The races
22 May 1978 > Penang Grand Prix
28 May 1978 > Malaysia Grand Prix at Shah Alam
24 Sep 1978 > Selangor Grand Prix at Shah Alam
19 Nov 1978 > Macau Grand Prix
Full results are still needed for the 1978 Penang Grand Prix. Can you help?
The new Malaysian National Formula specified for the 1978 Grands Prix of Malaysia and Selangor did not mention Formula Pacific or Formula Atlantic, but specified engines with a maximum capacity of 1600cc from cars homologated in Appendix J Group 1, Group 2 or Group 3. The Ford BDA was noted as acceptable as long as valve sizes did not exceed standard dimensions. Fuel injection was not allowed, so the large-valve fuel-injected Cosworth BDM used in the previous two seasons was prohibited.