South-East Asian racing 1972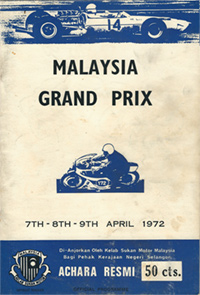 The Australians arrived in 1972, their National F2 cars matching the new Malaysian national formula. Max Stewart won the Singapore GP in the Rennmax-built Mildren from Vern Schuppan in his brand new March 722. The Malaysia Grand Prix a week later resulted in a home win for Sonny Rajah in his ex-Ronnie Peterson Rothmans-sponsored March 712M from Kiwi Ken Smith in his Lotus '69' and then a trio of Aussies. However, none of the Kiwis or Aussies came back for the Selangor GP in September, when American expat helicopter pilot Harvey Simon won in his Elfin 600B after Sonny Rajah retired from the lead with seven laps to go. Local drivers Percy Chan and Jan Bussell took second and third. After a troubled season so far in his newly-acquired Brabham BT36, John MacDonald returned to form to win the Macau Grand Prix from Stewart and Rajah.
With two high-profile events in Singapore and Macau plus two more on the excellent facility at Batu Tiga, the region's motor racing was booming. The machinery in use was impressively up to date, Rajah's March and MacDonald's Brabham being only one year old.
The races
02 Apr 1972 > Singapore Grand Prix for Cars
09 Apr 1972 > Malaysia Grand Prix at Batu Tiga
16 Apr 1972 > Penang Grand Prix
10 Sep 1972 > Selangor Grand Prix at Batu Tiga
04 Dec 1972 > Macau Grand Prix
Entry list and results are still needed for the 1972 Penang Circuit Races. Can you help?
Please email Allen (allen@oldracingcars.com) if you have any additions, corrections or comments.