South-East Asian racing 1974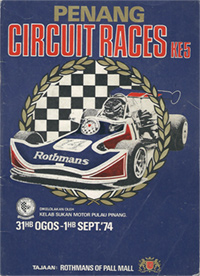 The Singapore Grand Prix did not continue after 1973, so that left three races on the Malayan peninsula, two at Batu Tiga and one on the Esplanade at Penang, plus the Greenhills Grand Prix in the Philippines in July and the Macau Grand Prix in December.
All the leading contenders kept their 1973 machinery and the three Malaysian March 732s of Team Rothmans were pitted against the two Hong Kong Brabham BT40s of John MacDonald and Albert Poon, and the Surtees TS15 of Kiwi Graeme Lawrence.
Albert Poon won the Malaysian GP from Jan Bussell and Percy Chan in the Rothmans Marches, then MacDonald won at Penang with Poon second and Pocholo Ramirez from the Phillipines third in his Toyota Celica-powered Elfin 622. Lawrence won at Greenhills after borrowing an engine from MacDonald, who was second ahead of Joey Bundalian. MacDonald won the Selangor race in September, with Bussell and Chan again in the minor places, and was favourite to take a third Macau Grand Prix win in December. His rivals at Macau included Poon as usual from just across the bay in Hong Kong, but also present were Vern Schuppan in Teddy Yip's March 722 and David Purley in Bob Harper's Chevron B27. MacDonald qualified in the middle of the front row in between the two visitors, but after the Brabham lost six minutes in the pits, Schuppan was able to win easily from Purley.
The races
07 Apr 1974 > Malaysia Grand Prix at Batu Tiga
14 Jul 1974 > Greenhills Grand Prix at Manila-Greenhills
01 Sep 1974 > Penang Grand Prix
08 Sep 1974 > Selangor Grand Prix at Batu Tiga
01 Dec 1974 > Macau Grand Prix
Entry list and full results are still needed for the 1974 Greenhills Grand Prix. Can you help?
The 1974 Macau Grand Prix was a low point for the racing car event, with only 15 cars on the grid and six of those being makeweights from the separate sports car and touring car grids. The track was completely renovated for 1975 including the road surface, crash barriers and run-off areas. Grids slowly improved over the next few years and the Grand Prix grid was finally able to get by without sports cars at the 1977 event when the GP became an FIA event. The event has flourished since that time.
Please email Allen (allen@oldracingcars.com) if you have any additions, corrections or comments.