South-East Asian racing 1973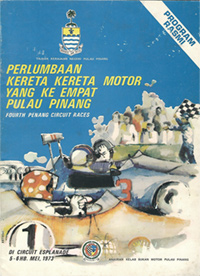 The stable 1600cc formula and an influx of sponsorship money from Rothmans, Marlboro, Malaysia–Singapore Airlines and Hong Kong's Cathay Pacific Airways led to a major investment in new cars for 1973. Sonny Rajah had taken delivery of a March 73B in England, Graeme Lawrence brought his brand new Surtees TS15 over from New Zealand, John MacDonald and Albert Poon in Hong Kong both had new Brabham BT40s, and Leo Geoghegan and Malcolm Ramsay from Australia had new Birrana 273s.
MacDonald won the new Greenhills Grand Prix in the Philippines in his older Brabham BT36, then won the Malaysia GP in his new Brabham BT40, from Poon's similar car. Vern Schuppan brought his well-developed Theodore Racing March 722 over from England to win the Singapore GP from Lawrence and MacDonald with the Australian contingent out of contention. MacDonald then used his BT36 again at the Fourth Penang Circuit Races where he battled for the lead with Ken Smith's March 722 until rain started to fall on lap 17. MacDonald was on intermediate tyres and was then able to pull away from the slick-shod March to win by two laps. After racing his March 73B in British Formula Atlantic, Sonny Rajah returned home for the Selangor Grand Prix in September to spearhead a three-car Team Rothmans. He raced his older March 712M, now rebuilt and updated, and won, with Lawrence second and Rajah's teammates Percy Chan in the newer March "732" and Jan Bussell in his usual Palliser next up.
The finale at Macau saw MacDonald, Schuppan and Rajah on the front row, with guest star Dieter Quester next up in a March 73B leased for him by Bob Harper. After Quester's engine blew and Schuppan spun off, it turned into an easy win for MacDonald, his third win at Macau and capping a very successful season.
The races
01 Mar 1973 > Greenhills Grand Prix at Manila-Greenhills
15 Apr 1973 > Malaysia Grand Prix at Batu Tiga
22 Apr 1973 > Singapore Grand Prix for Cars
06 May 1973 > Penang Grand Prix
09 Sep 1973 > Selangor Grand Prix at Batu Tiga
18 Nov 1973 > Macau Grand Prix
The 1973 Greenhills Grand Prix was not the first motor sport event held in the Manila area. According to Anne Wong's column in The Straits Times (13 February 1972 p14), the first had been at the city's huge Rizal Park on 25-26 July 1970, followed by a Greenhills Grand Prix in June 1971 in a property development outside the city. The second Greenhills Grand Prix on 30 January 1972 was on a different circuit in the same area, based around Ortigas Avenue and the streets to its north. The main races at these events were for saloon cars, won by Dante Silverio in a Toyota Celica in 1972, but a support race for single seaters was planned for the 1971 event and Albert Poon won an open formula race at the 1972 event in his Brabham BT30. Two more events on the 3.2km Ortigas Avenue track were held in 1973 and 1974.
Please email Allen (allen@oldracingcars.com) if you have any additions, corrections or comments.