Brabham BT36 car-by-car histories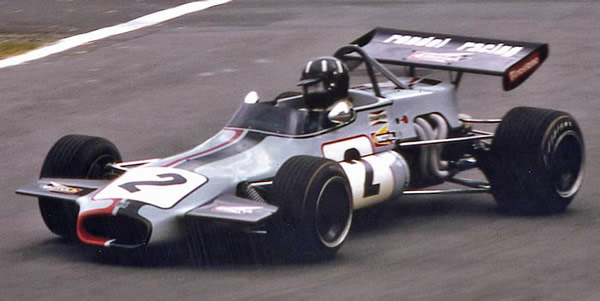 The Brabham BT36 was MRD's 1971 Formula 2 car, replacing the BT30. Most of the changes were those required by the new regulations, and the BT36 was only an evolution of the two-year-old BT30 design.
Leading BT36 drivers included Graham Hill and Tim Schenken for Rondel Racing and Argentinian newcomer Carlos Reutemann. Despite a win early in the season by Graham Hill, the BT36 was beaten by March's new monocoque 712M and the 1971-series Lotus 69 which also incorporated a monocoque centre section. Brabham would move to monocoque construction as well for 1972.
These histories have been constructed by Andrew Fellowes with the extensive assistance of Bryan Miller, David McKinney, Allen Brown, Ian Henderson, Chris Townsend, Ted Walker, Jeremy Jackson, Steve Wilkinson, Philippe Demeyer, James Murray, John Turner, Dan Rear, Milan Fistonic and others. Much of the information was originally collected and discussed on a Brabham BT36 thread in the 10 Tenths Chassis Archive.
If you can add or correct anything, please contact Allen Brown (allen@oldracingcars.com).
Chassis
History
Current owner
The mystery cars
Hans Obrist appeared in a BT36 in 1972 which is now believed to be the ex-Silvio Moser BT36/11. Some year later, Michel Salvi had a Brabham in French hillclimbs that was described as a BT36 and is now believed to be the same car. One further mystery appeared in Japan in 1973.
Chassis
History
Current owner
Noritake Takahara raced his BT36 with a Mitsubishi Colt R39B engine in 1972, but changed to a Cosworth BDA for 1973. However, also in 1973, another BT36 appeared as a Bellco Racing Team entry with Mitsubishi Colt R39B engine for Kuniomi Nagamatsu. Yoshimasa Kawaguchi and Tomohiko Tsutsumi then had BT36-BDAs in 1974, but it is likely that one of these is an older BT30 updated. Kenzou Muromachi then drove this "extra" BT36 in 1975 and 1976. Subsequent history unknown.
Driven by: Kuniomi Nagamatsu, Yoshimasa Kawaguchi, Tomohiko Tsutsumi and Kenzou Muromachi. First race: Fuji (R1), 3 May 1973. Total of 7 recorded races.
Unknown
These histories last updated on .