McLaren M4A car-by-car histories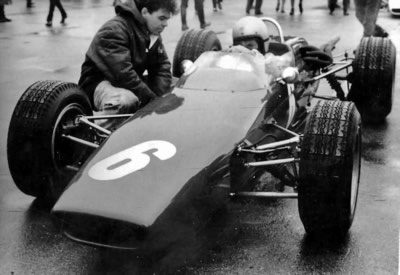 The McLaren M4A, or Mark IV as it was sometimes known in the US, was McLaren's first attempt at a junior formula car. It was designed primarily for Formula 2 but examples were also sold for F3 and SCCA Formula B.
The first M4As were built by Bruce McLaren Motor Racing for the start of the 1967 Formula 2 season and both equipped with the new Cosworth FVA engine. Bruce McLaren would drive M4A/1 as a works entry using a Hewland FT200 gearbox and John Coombs entered Piers Courage in M4A/2 with a heavyweight HD5. The McLaren proved competent in F2 but was no match for the Brabham BT23 or Lotus 48.
Trojan had taken over the production of McLaren-Elva customer cars and their first taker for a M4A was American SCCA racer Chuck Dietrich, a long-term Elva customer, to be used in Formula B with a Vegantune engine. His car was delivered late June but the only other M4A customer for Trojan that season was Frank Lythgoe, who bought a car for Alan Rollinson to race in F2. Sales only really took off in 1968 when The Chequered Flag did a deal to run a pair of cars in F2 and another pair in F3, as well as Dietrich running a two-car team in Formula B and Jo Schlesser buying three cars for his F2 team.
As well as the cars listed below, Duncan Dayton (Danbury, CT) has owned a papaya-coloured M4A-FVA in the US for many years, a car that may have been previously owned by Joel Finn (Roxbury, CT). That car will be built into the histories below as more information becomes available.
Chassis
History
Current owner
The 1968 mystery cars
Assuming that Trojan production chassis numbers started with Robert Amey's 200-10 in June 1967, then the chassis numbers for which we do not have known first owners are 200-12, 200-16, 200-21, 200-23, 200-24 and 200-25. These are likely to be the cars driven by Ian Ashley and Mike Walker for Chequered Flag in F3, by Malcolm Payne in libre, by Brian Robertson in FB, and by John Bosomworth in hillclimbs, leaving one car unexplained. It is likely that other monocoques were built to rebuild the cars of Courage, Walker and Widdows, but it is uncertain whether these tubs would have had separate numbers.
Chassis
History
Current owner
The 1969 mystery cars
The Chequered Flag advertised four McLaren M4As at the end of the 1968 season and it appears that all four of them went to the US, one to Charles Kirkbride on the east coast, one to Max Callicott in California and two to an operation run by Dick Barbour in southern California. As well as these cars, five others were already running in Formula B: Chuck Dietrich's original car now in the hands of Dow Byers in California, Anthony Lloyd's car also in California, Dietrich's two 1968 cars in the mid-west and Brian Robertson's car in Canada; making a total of nine in North America. Elsewhere in the world, the two original BMMR cars were racing in Australian and New Zealand together with Graeme Lawrence's car; Jo Schlesser's three cars were last seen in France; and Bill Stone had acquired another ex-Flag car for F3 in Britain. Still unaccounted for were Robs Lamplough's F2 car and Malcolm Payne's Vegantune car, both last seen in England, although the latter is quite possibly Anthony Lloyd's car.
Chassis
History
Current owner
The later mystery cars
Chassis
History
Current owner
How many McLaren M4s were built?
Without access to Trojan records, it is very difficult to know exactly how many McLaren M4As were built. In estimating a number, it is helpful to distinguish between cars built for Formula 2, Formula 3, Formula B and other categories. From the cars known to have existed, our best estimate is that 10 were built for F2 (Bruce McLaren, John Coombs, Frank Lythgoe, Graeme Lawrence, plus apparantly three to Chequered Flag for Robin Widdows and Graeme Lawrence, and three to Ecurie Intersport), two for F3 (to Chequered Flag for Ian Ashley and Mike Walker), and five for Formula B (Robert Amey, Brian Robertson, Martin Sellers, Chuck Dietrich and Malcolm Payne), plus a one-off hillclimb car for John Bosomworth, making a curiously low total of 18.
Acknowledgements
These histories have been constructed with the kind help of David McKinney, Chris Townsend, Tony Garmey, Duncan Fox, Andrew Fellowes, Tom Johnston and many of the current owners, past owners and dealers. Thanks to Lee (Leroy) Brandon for adding to the history of his car.
In addition to the above, unknown McLaren M4As were driven by Mike Eyerly and George MacDonald.
These histories last updated on .