Lola T100 car-by-car histories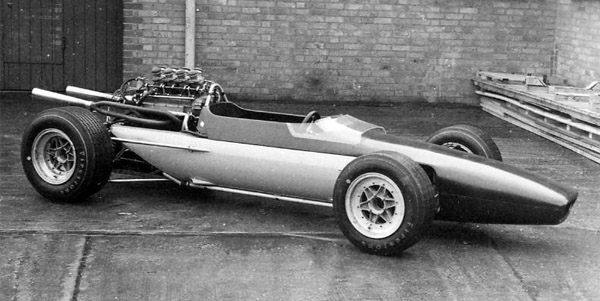 Lola's 1967 T100 Formula 2 car was used by John Surtees' new Lola Racing Ltd, and by a new BMW works team. The Cosworth FVA engine proved to be a better option than BMW's powerplant, and Surtees won two F2 races in a T100-FVA.
John Surtees had a relationship with Lola Cars going back to 1965, when the World Champion raced Lola's T70 sports car with great success in England and America, and also won the Oulton Park Gold Cup Formula 2 race in one of the company's T60s. Surtees expanded his private racing interests after his departure from Ferrari in mid-1966, again winning numerous races in a T70, as well as having a single F2 outing. For 1967, with Formula 2 changing from 1000cc to 1600cc, Lola and Surtees came together to form Lola Racing Ltd, to enter Lola's new 1967 Formula 2 T100 using Cosworth's new FVA engine and also a new engine from BMW. The team would also enter Lola T70 sports cars, and Chris Irwin, David Hobbs, and Pedro Rodriguez were all signed to drive, with Howard Marsden joining from Alan Mann Racing as general manager. BMW would also enter a works team of new T100s, headed by Alex van Falkenhausen, with ex-Abarth engineer Klaus Steinmetz as team manager, and Hubert Hahne and Jo Siffert as drivers. BMW's engine had been designed by Paul Rosche and was fitted with a radial valve cylinder head designed by Ludwig Apfelbeck. In 2-litre form, this engine had already been successfully tested in an ex-Dan Gurney Brabham F1 car. Reduced to 1599cc capacity for F2, it generated 225 bhp at 9500 rpm on Lucas fuel injection. The Surtees team cars ran on Firestone tyres, 'Big John' having a lucrative testing contract with the American company, and the BMW works car ran on Dunlops.
The Lola T100 was of monocoque construction, with built-in fuel tanks along the lines of the company's T90 Indy car design, the monocoque continuing to the rear of the car and enclosing the engine. The rocker arm inboard front suspension of the preceding T60 series was replaced by double wishbones and outboard spring/damper units. Rear suspension was also conventional with a reversed bottom wishbone, single top links and radius rods. Like almost all the cars built for the new 1600cc F2, it used a Hewland FT200 gearbox. Although the Surtees/BMW deal was not described as an exclusive arrangement, it effectively squeezed out Lola's previous F2 partner Midland Racing Partnership (MRP), who soon realised they would be unable to acquire T100s, so wound up their operation.
At the opening race of the season, Surtees chose to run a T100-Cosworth with both Hubert Hahne in the works BMW car and Irwin in Surtees' BMW-powered car struggling. Surtees had a brand new BMW-powered car for the Nürburgring race and went very well, finishing second, while Hahne wrestled the ill-handling BMW works car home in fourth place. Surtees then received a sixth car, FVA-powered, and used this to win the next two races: a masterful drive in the rain at Mallory Park followed by a last-lap victory at Zolder. The BMW engines seemed to go backwards during the season, Hahne and Siffert being slowest of all at Albi in September, and Surtees was only interested in driving the Cosworth car. One of Surtees' older cars was sold to David Bridges for Brian Redman to drive, and an experimental narrow track car was sold to Alistair Walker for 1968. The two BMW works cars were rebuilt by John Woodington and Tony Kitchiner with FVA engines and given new chassis numbers for the Spanish Escuderia Nacional CS team in 1968.
If you can add to our understanding of these cars, or have photographs that we can use, please email Allen at allen@oldracingcars.com.
Chassis
History
Current owner
Lola T100s from 1968 onwards
The two T100s owned by BMW were repurposed for the Escuderia Nacional CS team, becoming SL100/7 and SL100/8. Of the four cars run by John Surtees' Lola Racing operation in 1967, SL100/2 was sold to Alistair Walker for 1968, SL100/4 was sold to David Bridges during 1967, and SL100/6 was sold to Escuderia Nacional CS in May 1968 to replace SL100/8 wrecked by Alex Soler-Roig. That leaves only SL100/5 with the Surtees team, so this must be the Team Surtees Lola T100 reported to be testing tyres at Brands Hatch in February 1969. That car went to Robs Lamplough, Alistair Walker's brother-in-law, later in 1969.
The conversion of BMW's SL100/1 and SL100/3 means that only six distinct cars were built, and when SL100/8 was written off, that reduced the total to five. The first two of these to disappear from sight were Walker's SL100/2, which he recalls being sold to the US, and Jorge de Bagration's SL100/7, which may well have gone the same route. Max Mizejewski in southern California had one of these two cars by late 1969, but who had the second US car at this early stage is unclear. That left three cars still active in the UK and Ireland. By the start of 1970, SL100/4 was with Robin Darlington, SL100/5 with Robs Lamplough, SL100/6 with Dave Furlong in Ireland.
Chassis
History
Current owner
Max Mizejewski (Woodland Hills, CA) raced a Lola T100 in Formula B in Southern California in 1970, entered at #97 at least part of the time by Dr Walter H. Martin. Mizejewski and his engine preparer Chuck Willis moved to a new Lola T240 for 1971, and the movements of the T100 are unknown in 1971. Raced by Bob Bollegra (Centerport, NY) in SCCA Regionals in NEDiv in 1972, and advertised by him in December 1972 as "ex-Max Mizejewski". Subsequent history unknown.
Driven by: Max Mizejewski and Bob Bottega. First race: Riverside, 5 Oct 1969. Total of 15 recorded races.
Unknown
Unresolved Lola T100 references
Unexplained advertisements:
Lola T100B Monocoque Roller Chassis. 5 races only from new ... £650 B.C. Baker, Bewdley 3209 (Worcs). Autosport 28 Nov 1974 p57. There was no T100 in England at that time that had only done five races, so this is a puzzle.
Lola T100 F2 rolling chassis. March bodywork. 9" and 13" wheels, ideal Sprints or Hillclimbs, or basis for Super Saloon. £395. Ossett 272235 (day time). [Richard Simms] AS 12 Apr 1979 p63
Ted Walker (Dursley, Gloucestershire) owned two T100s at one point. He bought them from John Harper, and believes they came from Harry Heathcote.
Chassis
History
Current owner
A Lola T100 acquired by Ted Walker from John Harper, and restored for HSCC racing. This car later went to Steve Hartley (Darwen, Lancashire), and was raced by him in Historic F2 about 1990. Hartley sold the car to Christer Lofstrom (Gothenburg, Sweden) in March 1991.
Unknown
Some notes on chassis number identification
The chassis numbers used here are based on Lola records, and make the assumption that the cars were used in the order indicated: i.e. that the first car used by Hahne at the start of 1967 was SL100/1, and that the second car that appeared for that team was SL100/3. For the Lola Racing cars, SL100/2 can be confidently identified as the car Irwin drove at the start of the season, because this car was wrecked and rebuilt as the narrow-track test car, which was identified in 1968 as SL100/2. That leaves SL100/4 as Surtees' early-season car, which was sold to David Bridges as soon as newer cars were available. The new BMW-engined car for Surtees at the Nürburgring in April, and the new Cosworth-powered car for Surtees at Mallory Park in May must then be SL100/5 and SL100/6 respectively. Lola Racing's three Cosworth-powered cars were all sold off by mid-1968 - first SL100/4 to Bridges, then SL100/2 to Alistair Walker, and then SL100/6 to Escuderia Nacional CS - so the T100 retained by Team Surtees for Firestone testing in 1968 and 1969 can only have been SL100/5.
Lola records show the two cars that went to the Spanish Escuderia Nacional CS team in 1968 as SL100/7 and SL100/8, but John Woodington advises that these were the two BMW team cars, rebuilt by him and Tony Kitchiner with FVA engines and given new chassis numbers.
Acknowledgements
I am most grateful to Ben Mitchell and Ted Walker for their help constructing these histories. Also, thanks to previous owners Alistair Walker, Robin Darlington and Bob Eccles; to current owners Paul Busby, Dean Butler, Christer Lofstrom and Gary Schroeder, to Gerald Swan at Lola Heritage, to John Woodington for solving the mystery of the BMW team cars, and to regular collaborators David McKinney, Chris Townsend, Steve Wilkinson and Simon Hadfield for their input.
The BMW engine was described in Autosport 17 March 1967 p383. The Lola Heritage website has an excellent page on the Lola T100.
These histories last updated on .