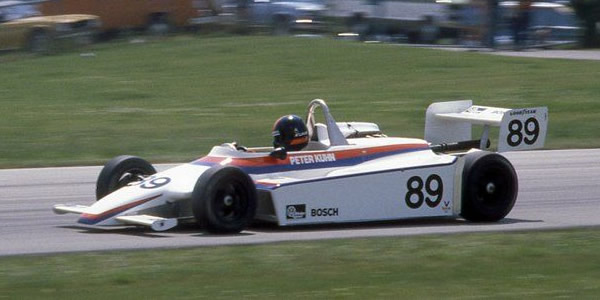 US Formula Super Vee 1980
Kiwi Dave McMillan, who had won a number of races in his domestic series with an antique Ralt RT1, moved to the US for 1980 and secured a drive with David Psachie's team, driving the latest Ralt RT5/80. After second places in the first two races, he won at Watkins Glen and Mid-Ohio in July to lead the championship, but then his funding ran out and he was dropped by Psachie. He was forced to convert his old RT1 to FSV specification, but a nasty accident at Minnesota ended his title chances. This opened the door for Peter Kuhn, who had started the season in a Bill Scott Racing Ralt RT1/78, but acquired a new Ralt RT5/80 after the first few races and won four races in succession in July and August. He then scored enough top-4 placings in the remaining races to hold off Josele Garza in the second Psachie RT5/80.
The Ralt RT5/80 was the dominant car of 1980, and the March 80Vs were overwhelmed. Two American cars are worthy of note. Former Coyote and Wildcat Indycar designer Bill Riley produced the Protofab Riley which dominated the Michigan event before being disqualified because the car's skirts were too wide. The rather more legal Autoresearch was designed by Dave Bruns, later the Swift DB1 designer, and built by Don Edmunds, who had built the early Indy Lightnings. Ray Lipper and Bruns himself were the main drivers, and Bruns scored two second places at the end of the season.
The races
18 May 1980 > Charlotte Motor Speedway
08 Jun 1980 > Milwaukee Mile
22 Jun 1980 > Pocono International Raceway
06 Jul 1980 > Watkins Glen
13 Jul 1980 > Mid-Ohio
20 Jul 1980 > Road America
10 Aug 1980 > Brainerd
23 Aug 1980 > Minnesota State Fair
24 Aug 1980 > Minnesota State Fair
30 Aug 1980 > Ontario Motor Speedway
20 Sep 1980 > Michigan International Speedway
05 Oct 1980 > Watkins Glen
26 Oct 1980 > Riverside
08 Nov 1980 > Phoenix International Raceway
1980 Robert Bosch/VW Super Vee Championship table
1
Peter Kuhn
Ralt RT1/78 - VW
Ralt RT5/80 - VW
123 pts
5 wins
2
Josele Garza
Ralt RT5/80 - VW
108 pts
1 win
3
Dave McMillan
Ralt RT5/80 - VW
Ralt RT1 - VW
March 80V - VW
83 pts
2 wins
4
Pete Halsmer
Ralt RT1/79 - VW
Ralt RT5/80 - VW
79 pts
1 win
5
Michael Chandler
March 80V - VW 4
66 pts
6
Ed Pimm
Ralt RT1/78 - VW
Ralt RT5/80 - VW
55 pts
7
David Bruns
Autoresearch 001 - VW
54 pts
8
Bob Lazier
March 80V - VW 4
Ralt RT5 - VW
47 pts
9
Billy Scyphers
Ralt RT5/80 - VW
44 pts
1 win
10
John Kalagian
March 80V - VW 4
42 pts
Other race winners in 1980 included Bob Earl, who underlined his ability by appearing at two races and winning both, one in the Arciero Gibbs Racing Ralt RT1/79, and the other in the ex-McMillan Psachie Racing RT5/80; and 18-year-old Al Unser Jr who also only started two races, but dominated the final race of the season, also in that Psachie Ralt RT5. McMillan's old car won the last three races of the season with different drivers, Indycar racer Herm Johnson guest-driving it to victory at Watkins Glen.
This was the first season of the combined SCCA/USAC sanction, with the races split between the old Gold Cup road racing circuits and the Mini Indy oval tracks. FSV was definitely seen as junior to Formula Atlantic at this stage but the series were effectively on separate ladders: FSV drivers aiming for oval competition and ultimately the Indy 500, and Atlantic drivers having their sights set on the top of road racing, namely F1.
See also Gordon Kirby's review in Autosport 8 Jan 1981 p26.