Lola T190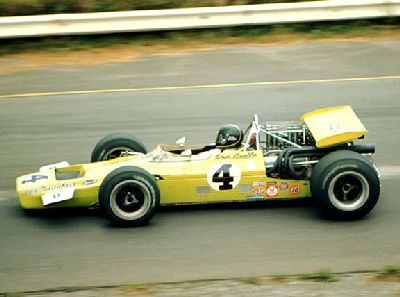 Although the Lola T142 had been numerically dominant in 1969, it had been unable to challenge the monocoque Eagle, McLaren and Surtees cars. For 1970, Broadley started again and produced a lower, slimmer and lighter machine: the monocoque T190. A full 7.5 in shorter than the previous season's McLaren M10A and 2.5 in narrower, the Lola was priced a good 10% more than rival designs from Leda, Lola and McLaren.
In the first half of the season, the T190 was a flop, still far behind the lightly revised McLaren and Surtees designs, but once Frank Gardner starting developing his car with a longer wheelbase, Lola became much more competitive.
The T190 saw Lola's "market share" decline from the 42% of 1969 to 33% in 1970 and then slipping behind McLaren to just 28% in 1971. A far better car was needed, and even the heavily revised T192 wasn't enough.
Only half the cars can be accounted for so far: four wrecked and five found. Thanks to Wolfgang Klopfer, Chris Townsend, Chuck Haines, Robert Ryan, Shayne Windelburn, Jim Gustafson, Lola archivist Gerald Swan, Reinhold Jung, Norbert Vogel, Tony Russell and many others for the material used in these histories.
All and any help would be gratefully received. Please e-mail Allen at allen@oldracingcars.com if you can add anything.
Chassis
History
Current owner
Lola T190
190/F1/1
Jerry

Hansen

US 1969 (R13 Sebring only); also driven by Chuck

Parsons

(his #44 Aqua Velva T190 at US R1 1970); Jerry Hansen US 1970 (R4 Laguna Seca 14 Jun only - DNS); advertised 25 Jul 1970 - apparantly sold to Rich

Galloway

US 1970 (4 races; debut R9 Brainerd 16 Aug 1970); probably car used by Galloway Tasman 1971 (crashed by Bobby

Brown

in practice for R1 but rebuilt for Brown in remaining New Zealand races and then for Galloway in Australia - then crashed at last race) - Charlie

Hayes

: for Bobby

Unser

at Questor GP ("ex-Hansen") 1971; presumably then the car advertised by Charlie

Hayes

7 Aug 1971. Advertised "Bobby Unser's Questor GP T-190-92" from Los Altos, CA 15 Apr 1972. Subsequent history unknown.
Unknown
Lola T190
190/F1/2
Ulf

Norinder

Tasman 1970 (7 races); UK 1970 (first three races then crashed in practice for R4 Zandvoort - 19 April 1970). Car rebuilt on 11th T190 tub as 190/F1/2-2. Norinder UK 1970 (5 races + 1 DNS); raced by Tony

Lanfranchi

(2 races then crashed on warm-up lap at Oulton Park Gold Cup 22 Aug). Car broke its back on landing and was not seen again. Presumed destroyed.
Wrecked
Lola T190
190/F1/3

Penske for Mark Donohue US 1969 (Sebring only) - Don Williams for Ron Grable US 1970 (10 races + 2 DNS; 2 wins). Probably not the car updated by Hayes for Questor 1971 (shown as "T190/H3" in Motoring News). Then Grable again early US 1971 (R1 Riverside won Heat 1, R2 - then American 1 - then not seen after Donnybrook). Is this then the car Williams advertises as "T190-192" on 12 Jun 1971 and later as "T191" Riverside Heat 1 winner 23 Oct 1971. (Not the Felter car as that ran from start of 1971, although Erwin identifies Felter's Watkins Glen 1972 car as "ex-Grable Questor".)

Subsequent history unknown until acquired from Chuck Hayes (Orange County, CA) by Joe Hunt of Joe Hunt Magneto when Hayes was selling off old inventory. Sold to Don Baker Jr. Later bought by Chuck Haines from Vic & Walt, a VW shop (Acron, Ohio) in Feb 1980 by which time the car was black, with Baker's name still on the side and still wearing the chassis plate 190/F1/3. Sold by Chuck to Reinhold Jung (Hauser, Idaho) Feb 2007.

See the colour picture of this car at the top of the page which was taken at St Jovite 1970 and the car looks very different to Al Moore's picture shown here.

The restoration of this car was documented by two videos on YouTube.com: Part 1 and Part 2.

Reinhold Jung (US) 2007
Lola T190
190/F1/4
Jo

Bonnier

US 1969 (R13 Sebring 28 Dec 1969 only). To Daniel

Rouveyran

1970 for hillclimbs but crashed. Returned to Bonnier and rebuilt on new T190 tub. Sold to Roland

Heiler

(Germany) and loaned back to Bonnier again for 1971 Argentine GP. Peter

Wiechert

(Germany) and Heiler UK 1971. Likely to be the car raced by Hans

Furian

(Switzerland) in Swiss Championship events in 1973 and at the F5000 races at Snetterton and Brands Hatch in Oct 1973. Subsequent history unknown.
Unknown
Lola T190
190/F1/5
John

McNicol

SA 1970 (debut Cape South Easter Trophy 10 Jan 1970) - Nolly

Limberis

SA 1971 (debut Goldfields 1 May 1971); SA 1972 (one race only: R1 Killarney 8 Jan 1972) - Fred

Cowell

SA 1972 (1 race + 1 DNS); SA 1973 (6 races); SA 1974 (3 races). Subsequent history unknown.

---

A car with this number and said to be ex-McNicol ended up in England somehow under the ownership of Paul

Hayward Halfpenny

. Sold to Poul

Christie

(NZ) early 1990s and shipped to New Zealand. Raced by Christie in the Formula 5000 Tasman Cup Revival at the Australian GP meeting 28 Mar 2009.
Poul Christie (NZ) 2009
Lola T190
190/F1/6
Test car.

Epstein-Cuthbert

for Mike

Hailwood

UK R1 1970 but crashed Heat 1 and replaced by 190/F1/15 for next three races. Original car apparantly to Dow

Byers

II US 1970 (11 races). Presumably the car driven by Jack Byers at Questor 1971 ("T190/6"). Advertised by Jack Byers 12 Jun 1971. Subsequent history unknown. Note that two cars in the US may have carried this number, Byers' and Don Dierking's ex-Epstein car (see 190/15).
Unknown
Lola T190
190/F1/7
Henley Forklift (Doug

Hardwick

) UK 1970 for Mo

Nunn

(2 races), Davey

Powell

(7 races + 2 DNS) and Trevor

Taylor

(6 races); UK 1971 for Kaye

Griffiths

(2 races + 1 DNQ), Terry

Sanger

(1 race only), Ian

Ashley

(3 races) and Tony

Trimmer

(1 race only) - Rocky Plumridge UK 1972 for Ian Ashley (9 races + DNQ for Rothmans £50,000). Subsequent history unknown.
Unknown
Lola T190
190/F1/8

Eric

Haga

US 1970 (11 races). Subsequently traded on T192 and unknown until Jim

Gustafson

(Bessemer, MI and Costa Mesa, CA) bought a modified Lola T190 with new 192 front radiator and low nose from Don Baker in Long Beach in 1974. Gustafson raced in West Coast SCCA events (finished 8th in 1974 Southern Pacific Division with 1 pt) and in the 'Pro' series at R5 Ontario 1 Sep 1974 and R7 Riverside 27 Oct 1974. Advertised as a T190/2 on 1 Feb 1975 and sold to Richard

Votava

(Southern California). First entry in the log book (which identifies the car as 190/F1/8) is dated February 1976 and shows Troy R.

Milken

(or Millen or Milleau) driving the car in a school on 21 Feb 1976. Then Votava in SCCA Regionals (mainly at RIR) in 1976 and 1977; SCCA Nationals in 1978 (Votava in SCCA Southern Pacific Div points table 1978) and 1979 - Marshall

Tarnow

Mar 1980 - Alan

Sevadjain

(owned with Don

Johnstone

) and raced at Texas in 1981 - Larry C.

Clain

raced at RIR and elsewhere 1982 - Chuck

Haines

1984 - Chip

Boatright

(Illinois) 2006.
Chip Boatright (US) 2006
Lola T190
190/F1/9
Invoiced to Carl Haas. Nothing more known but see the 1970 mystery cars.
Unknown
Lola T190
190/F1/10
Lola records say sold to "Lucas", presumably Charlie

Lucas

. DNA for

Lanfranchi

UK R7 Castle Combe 9 May 1970. Advertised by Fred

Opert

(Paramus, NJ) in Autoweek 25 Jul 1970. Appears to be unraced at that point ("driven 25 laps") ...

Hansen

? (later listed as "ex-Hansen?" at ARRC 71 in Erwin's notebooks) ... James

Dunkel

Lime Rock 1971 (Erwin). Dunkel in #45 (a number used by Felter's T190 elsewhere) T190 at R4 Mid-Ohio 4 Jul 1971, R7 Donnybrook, R8 Lime Rock and ARRC. Dunkel advertised car late 1971. Subsequent history unknown.
Unknown
Lola T190
190/F1/11
Invoiced to Carl Haas. Nothing more known but see the 1970 mystery cars. Could this have become 190/F1/2-2?
Unknown
Lola T190
190/F1/12
Mike

Goth

US 1970 (3 races, crashed at R4 Laguna Seca 14 Jun) - Crockey

Peterson

US 1970 (from R7 Elkhart Lake 18 Jul; 2 races + 2 DNS; crashed in practice for final race); also driven by Gus

Hutchison

at R11 Mosport Park 13 Sep. Adv 19 Feb 1972 "reskinned". Later to Chuck

Haines

and then, probably, to Mac

McClendon

(Yorba Linda, CA) 1979. Subsequent history unknown but would have been stripped for parts to contribute towards McClendon's run of new Lola T70s. The bare tubs were later sold to Bud

Bennett

(Wixom, Michigan) and then on to Eric

Haga

in Nov 2010.
Tub with Eric Haga (US) 2011
Lola T190
190/F1/14

Test car. Motor Racing Research for Frank Gardner UK 1970 (from R3: 13 races + 1 DNS). Lengthened as prototype T192. Malcolm Guthrie's 1971 Tasman car. Is this the "Lola 192 1970 Formula 5000 car ex-Gardner" advertised by Frank Williams in Autosport in March 1972? To Chris Featherstone. Advertised by Featherstone (Rochester, Kent) during 1974. Advertised by GTR Racing Equipe (High Wycombe) May 1975.

This must be the "Lola T190/2 ex-Gardner F5000 with deformable structures" advertised by Terry Herman (Lake Tahoe, CA) in JUne 1976 and then the "Lola FA" raced by Herman (Mill Valley, CA) at Sears Point Apr 1978.

Subsequent history unknown but said to be owned by Nick Shrigley-Feigl 2004.

Nick Shrigley-Feigl? (UK) 2004
Lola T190
190/F1/15

Invoice date 8 May 1970 (sold to 'Haas'). Intended for Byers but grabbed off the production line to replace 190/F1/6? Mike Hailwood UK 1970 (R2 to R6 where crashed; maybe crashed again in testing). Another car(?): R8, R9 Mondello (DNS, crash - wrecked? ). T190 "A" Same or different car at R12 Anderstorp and four further races before being replaced by a new T192. Advertised by Epstein as "F5000 Long Wheelbase Lola T190/1, rolling chassis" 18 Mar 1971 and as "T190/1 ex-works" (Hailwood's name on car) 7 Oct 1971? Sold by Epstien as 190/6 to Don Dierking (Los Angeles, CA) and shipped back to the US. Raced in SCCA Nationals (first outing Riverside May 1972). Later sold to Dr Frank Morgan (Woodland Hills, CA).

---

A car claiming this history was advertised by Bud Bennett's RM Motorsport in 2011. Bennett believed it hads been acquired from Mac McClendon who is known to have bought up a number of T190s for his Lola T70 projects. Built up as a display car by Bud's son Kurt Bennett.

Sold to Lilo Zicron (Burbank, CA) in July 2011 but without any supporting documentation so the history of the car remains unknown and no link to Frank Morgan, the last known owner of 190/F1/15, has been shown. Restored to running condition and tested at California Speedway in Jun 2012. Advertised by Zicron on eBay Sep 2012 quoting the history from this web page.

Please note that OldRacingCars.com offers no opinion on whether the car advertised on eBay is chassis 190/F1/15 and does not vouch for the claimed history in any way.

Unknown
Lola T190
190/F1/16
Invoice date 10 Mar 1970 (sold to 'Haas', colour not shown). Nothing more known but see the 1970 mystery cars.
Unknown
Lola T190
190/F1/17
Invoice date 21 May 1970 (sold to 'Haas', colour not shown). Nothing more known but see the 1970 mystery cars.
Unknown
Lola T190
190/F1/18
Invoice date 26 Jun 1970 (sold to 'Haas', colour not shown). Mike

Brockman

US 1970 (8 races; debut R5 Sears Point 28 Jun 1970), there is a picture of Brockman's car at St Jovite 1970 here - believed loaned to Priester/Jerry

Eisert

US 1971 (#51; driven by Ron Bucknum: unable to compete at R1 due to multiple problems; qualified 4th and also 4th in Heat 1 at R2 Laguna Seca 2 May 1971; driven by Mike

Hiss

at R3 Seattle and crashed, bending the tub; not at R4). Then back to Brockman and repaired. Brockman US 1971 (#87; two races only: R5 Elkhart Lake 18 Jul 1971 and R8 Lime Rock 6 Sep 1971. Subsequent history unknown until sold by Stu

Barnett

to Chuck

Haines

June 1982. Barnett said bought from Dennis

Day

(at Classic Auto Parts, Safety Harbor, FL). Day believed the car was "ex-Lothar Motschenbacher". Retained by Haines until sold to Bill

Vande Vord

(Chicago, IL) 2004.
Bill Vande Vord (US) 2004
The 1970 mystery cars
So it looks as if 11 T190s (chassis numbers 1, 3, 6, 8, 9, 10, 11, 12, 16, 17 and 18) ended up in the US. Hansen, Grable, Byers, Haga, Stoddard, Galloway, Goth, Hutchinson and Brockman account for nine of those so it would seem likely that 9 and 11 were the Stoddard and Galloway cars.
However, the invoice dates show eight T190s gone to Haas by 10 March - i.e. in time for the opening race at Riverside on 19 April. If Goth's, ordered from Hayes just before Riverside, was indeed F1/12 then Hutchison's must have been F1/16 or F1/17 as Brockman got F1/18. That leaves the other of F1/16 and F1/17 plus the imported F1/10 as the unexplained cars: possibly being a replacement for Stoddard at R8 or even a late-season car for Bobby Brown. Another possibility is that Brockman's Lime Rock 1971 "190/F1/18" was a replacement car following Hiss's crash.
Note that the Lola that Mark Donohue ran in the final three races (R11, R12, R13) was the first production T192.
Chassis
History
Current owner
Lola T190
'the Stoddard car'
Spence

Stoddard

US 1970 (12 races). Presumably the same car entered for Stoddard by Northwest America Racing at R1 Riverside 25 Apr 1971 and crashed in the race. Not seen again until won a SCCA National at Seattle 13 Aug 1972. Subsequent history unknown.
Unknown
Lola T190
'the Galloway car'
Richie

Galloway

US 1970 (6 races) then crashed in practice at R8 St Jovite 1 Aug and wrecked. Replaced by the ex-Hansen T190/F1/1. This car may have been repaired to become Bobby Brown's 1971 Tasman car.

Wrecked
Lola T190
'the Hutchison car'
Gus

Hutchison

US 1970 (debut R7 Elkhart Lake 18 Jul; 5 races + 2 DNS). Advertised by Champ Carr in Autoweek 13 Feb 1971. Subsequent history unknown.
Unknown
The 1971 mystery cars
In January 1971, two T190s head off for Tasman. One is presumably Galloway's ex-Hansen car but we can't be sure about the other. Grable, Byers, Peterson (ex-Goth) and Brockman retain their cars and Hutchison's is advertised in February so that only appears to leave the Haga and Stoddard cars missing at that point plus the mysterious F1/10 that turns up with Dunkel in May 1971.
Disappearing later into 1971 are the cars of Galloway (advertised by Hayes 7 Aug 1971), Byers (advertised 12 Jun 1971) and the car Champlin ran for Hutchison (advertised 13 Feb 1971).
The Questor GP, the first race of 1971, saw a number of T190s, most notably the pair of cars run by Charlie Hayes for Bobby Unser and Ron Grable. Grable's car wasn't his usual one, as that appears again later in the season still in 1970 specification.
During the 1971 US season, Grable and Brockman drive their 1970 cars, Ed Felter appears in the ex-Hayes/Grable car, and Ronnie Bucknum and Mike Hiss both drive the Brockman T190 for the Priester team. There seems to have been a limited market for second-hand T190s.
Chassis
History
Current owner
Lola T190
'the Brown car'
Bobby

Brown

Tasman 1971. Wrecked in testing before first race. Not seen again and probably donated parts to the rebuild of teammate Galloway's T190.
Wrecked
Lola T190/192"
'the Hayes/Grable car'

Uprated with T192 bodywork by Charlie Hayes and run for Ron Grable Questor GP (evidently not Grable's usual car as that appeared again in 1971). To Ed Felter US 1971 (first three West Coast races only), SCCA Nationals (won at Laguna Seca 20 Jun), USAC Seattle 7 Aug; Jack Peterson for Felter US 1972 (four races); advertised by Petersen and Felter Oct 1972.

Sold to Tony Russell 'in the fall of '74" and fitted with an engine built by Russell. Cal Club (CSCC) Formula A champion in 1975, second in 1976 and champion again in 1977. Also second in SoPac Division in 1975 but did not attend the Run-Offs due to lack of funds. Sold in 1978 to someone in Yorba Linda, almost certainly Mac McClendon who was then buying up Lola T190/192s to donate components for his series of new Lola T70s. Russell was later called by Bud Bennett (Wixom, Michigan) who had acquired the T190 from McClendon. The tub then passed as part of a batch of six such tubs to Eric Haga in Nov 2010.

Tub with Eric Haga (US) 2011
The car driven by Jack Eiteljorg US 1971 (#12 at R6 Edmonton only) is believed to have been his regular T192.
The 1972 mystery cars
If the market for T190s had been a bit thin in 1971, it effectively vanished in 1972. Two new combinations appeared on the entry list for the opening race but neither made the start. Oddly enough, Don Dierking chose this moment to buy another T190 from the UK. At the end of the season, Arizona B-Prod driver Don Roberts also appeared in a T190.
Of the other cars, Ed Felter was still running his updated ex-Hayes car but all the other T190s had vanished.
Chassis
History
Current owner
Lola T190
'the Cal Rayborn car'

Calvin Rayborn (Spring Valley, CA) drove a T190 in practice at R1 Laguna Seca 1972. He did not start and does not appear on entry lists again. Some two years later, in January 1974, Rayborn took the T190 to New Zealand for the Tasman series. Unfortunately, he was killed in a motorcycle accident before the event and the T190, again, remained unraced. It was sold to Red Dawson but he didn't race it either and it was the end of 1974 before it finally raced, having been sold, or leased, to Gary Devon. The car appeared in New Zealand Gold Star events but did not take part in the 1975 Tasman. Robert Ryan reports that the car was crashed in 1976 and was sold, or virtually given away, to Graham Addison who used most of the components for his 6-litre Chev-powered Valiant Charger Sports Sedan. The T190 tub became a bird bath. Robert adds:

It won everything, till MANZ, the New Zealand body banned it as they wanted to switch to the US Trans Am style cars (Corvettes, Mustangs etc) Graham became so annoyed he put the car in a shipping container, welded it up and then left it on his property, only recently opening the container, to find the car was in very good condition.

In 2004, the sedan was being restored in New Zealand for Historic racing.

Scrapped
Lola T190
'the Dick Losk car'
Dick

Losk

(Bellevue, WA) entered a Lola T190 at R1 Laguna Seca 1972. He is not shown in the practice sheets and did not start. He then appears on the R2 Edmonton 1972 practice sheets in a Lola T192 with a slow time of 1m 36.1s but is not listed as a finisher. So this car must have existed but may have been either a T190 or a T192. Most likely is that it was an upgraded T190.
Unknown
Lola T190
'the Don Roberts car'
Don

Roberts

(Phoenix, AZ) raced a Lola T190 in late 1972 and 1973. He was second to Warren Flickinger's newer T300 in a National at Phoenix on 1 Oct 1972 and won, again at Phoenix, on 23 Sep 1973. Formula Magazine (Vol 1 No 6 p21) identified his car as a Lola T190. Pylon Press, the Arizona SCCA Region newsletter for April 2004 adds that Roberts won the Clifton (Arizona) Hillclimb in the T190 in 1973.
Unknown
The later mystery cars
A couple of mystery cars appeared in US vintage racing in the 1990s.
Chassis
History
Current owner
Lola T190
'the Coburn car'

An 'R Coburn', presumably Ron Coburn (Wixon, MI), drove a #96 '69 Lola 190' at HSR Mid-Ohio Aug 1993. Nothing more known.
Unknown
Lola T190
'the Bennett car'

Kirt Bennett drove a #0 1970 T190 at the 1993 SVRA Vintage Grand Prix at Mid-Ohio. Nothing more known.
Ian Webb remembers buying a written off T190 from Belgium. The suspension ended up on a Lola T70 Mk3B.
A note on chassis number identification
As the chassis numbers used here come from a variety of sources, the table below shows the reasoning behind each identification.
Driver

Chassis

Source

Hansen
190/F1/1
Invoiced to Haas 9 Dec 1969. Not presently clear on Hansen link.
Norinder
190/F1/2
Invoiced to Norinder 12 Dec 1969
Donohue
190/F1/3

Invoiced to Haas 12 Dec 1969. Not presently clear on Penske link. Autoweek (11 April 1970) says that Don Williams bought Donohue's Sebring 1969 Lola T190 for Ron Grable. Chuck Haines' paperwork says that he bought this car from Vic & Walt, a VW shop (Acron, Ohio) in Feb 1980. The car is black, in straight T190 spec with the name Don Baker Jr on the side and bears the chassis plate 190/F1/3. Reinhold Jung contacted Baker who said he bought it from Joe Hunt of Joe Hunt Magneto, in California. Reinhold then contacted Tommy Hunt, the son of the late Joe:

He explained to me that his Father , shortly before his death, purchased a stock pile of parts from some Race car rental company, in Orange County California. They went out of business in the mid to early 70's. He mentioned that there were two Lola T190s in the purchase. He also can remember that the Chassis numbers were intact on both vehicles. Tommy also stated that one of the vehicles was a burnt orange in color (this is the color that is over the green paint on my body). He told me that his father purchased this large stock pile of parts and vehicles (the two Lola's, a couple of formula V's, suspension parts and Hewland transmissions) from this company. When his father passed away the cars were sold of and the majority of parts went to a Thomson Restorations. He was not able to give me anymore information.

This car is identified as the Grable car by some evidence of green/yellow paint on the tub sides but is much more positively identified by 190/F1/3 by the chassis plate. It can only therefore be the Hansen car or the Penske car.

Bonnier
190/F1/4
Invoiced to Bonnier 15 Dec 1969. The Motoring News report on the Jan 1971 Argentine GP (28 Jan 1971 p10) gives full details on this car: 'Bonnier appeared with a yellow Lola T190 which turned out to be the car he had raced at Sebring late in 1969 and subsequently sold to French hillclimber Daniel Rouveyran, who crashed it first time out. Rebuilt on a new T190 chassis it now belongs to a young German named Heiler who had loaned it to Bonnier for the occasion.'
McNicol
190/F1/5
Invoiced to McNicol 16 Dec 1969. The information about this car moving to Poul Christie via Paul Hayward Halfpenny was provided by Shayne Windelburn.
Hailwood
190/F1/6
Listed as "test car" in Lola records. As such, almost certainly Hailwood's semi-works Epstein-Cuthbert car. A car with this number then heads to the US for Dow Byers where it is identified at the Questor GP as "T190/6". Presumably this car was a rebuild of Hailwood's car retaining, if nothing else, the chassis plate and replacing the 190/F1/15 which we could conclude had been intended for Byers before being taken over for Hailwood.
Nunn
190/F1/7
Invoiced to Henley Forklift 5 Jul 1970
Haga
190/F1/8
Invoiced to Haas 5 Jan 1970. Haga has told Chuck Haines that he had T190/F1/8. It was sold by Charlie Hayes or Carl Haas to Jim Matuska of Competition Development. Haga told Chuck that the car was blue/orange, was flown into Seattle, was #8 and was chassis 190/8. Jim Gustafson recalls selling his car to Richard Votava which is the first name in a log book which is still with the car in Haines' possession.
190/F1/9
Invoiced to Haas 22 Jan 1970
Dunkel
190/F1/10
Undated invoiced to "Lucas", presumably Charlie Lucas. Dunkel's car is 190/10 at Lime Rock and at ARRC according to Erwin.
190/F1/11
Invoiced to Haas 9 Mar 1970 or 9 May 1970
Goth
190/F1/12
Invoiced to Haas undated. This identification is somewhat tentative. Chuck Haines bought a crashed Lola T190 from Crocky Peterson. Haines can't be certain, but he believes this is one of the cars he sold to H.H. 'Mac' McClendon (Yorba Linda, CA) in 1979. On that bill of sale, the T190 is given as 190/F1/12. The Peterson identification then comes from an "ex-Goth" reference in Autoweek 17 Oct 1970 p27
Gardner
190/F1/14
Listed as "test car" in Lola records. Autosport 24 Aug 1972 noted that Chris Featherstone "has bought the Lola T190/2, which Malcolm Guthrie drove in the Tasman series and which was the revised car that Frank Gardner drove in the 1970 Rothmans series". Featherstone's car identified by Autosport as 190/F1/14 at Rothmans 50,000.
Hailwood
190/F1/15

Invoiced to Haas 8 May 1970. Believed to have been the car destined for Dow Byers but grabbed off the production line to replace Hailwood's crashed semi-works 190/F1/6. In early 2007, Phil Henny met up with old friend Don Dierking and passed on this history of Don's T190.

Lola chassis # T 190/6 was purchased in London England from Jackie Epstein. [Don] had 2 engines sent from the US and purchased a trans from Len Terry. He stayed with Kaye Griffith in Chennon. Never raced in England, the car was shipped back to LA. He raced it at Riverside Memorial Day in 1972 in a National race and in Ontario Calif. He sold the T190 to Dr Frank Morgan in Woodland Hills Calif.

190/F1/16
Invoiced to Haas. The month on the invoice date is unclear but the invoice number suggests it is a lot earlier than 190/F1/17 or 190/F1/18.
190/F1/17
Invoiced to Haas 21 May 1970
Brockman
190/F1/18
Invoiced to Haas 26 Jun 1970. Brockmans's car according to Tom Erwin's notebook for Lime Rock 1971. Identified as the Priester car by Brockman's adverts: advertised by Brockman 1 May 1971 and (as "ex-Bucknum") 23 Oct 1971. So we know from these that Brockman's Lime Rock 1971 car was 190/F1/18 and that it was ex-Bucknam but it is possible that 190/F1/18 was a replacement tub in his 1970 car, as wrecked by Hiss, and that the "ex-Bucknam" attribution was carried over from the wrecked car. The replacement could have been an unwanted T190 left at Haas. So it is still possible that Bucknam's 1970 car was a different chassis.
Sources
Sources used for this page include Autosport's 1970 F5000 Seasonal Survey (28 Jan 1971 pp22-26), Motoring News's report on the 1971 Questor GP (1 Apr 1971) and Formula 1 Register Fact Book: Formula 5000 1968-1971.
These histories last updated on 25 November, 2012 .