Lotus 38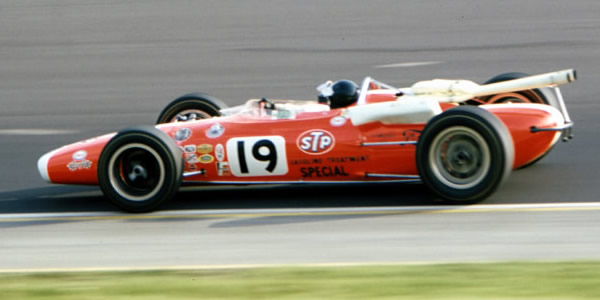 The 1965 Lotus 38 finally won the Indy 500 for Colin Chapman and Jim Clark after Clark had finished second in 1963 in the Lotus 29 and had retired after leading from pole in 1964 in the Lotus 34. A total of eight 38s were built and, due the failure of the 1966 Lotus 42, Team Lotus continued to use them until 1967. Two cars were consumed after accidents into the creation of AJ Foyt's Coyotes, two are currently on public display in US museums, one is with Chuck Haines and one is owned by Jim Jaeger. The other car is in a private collection in the US.
It is interesting to note that well-known motor racing magpie Chuck Haines has owned three of the Lotus 38s, chassis 38/4, 38/5 and 38/7. He had reaquired 38/5 in 2009. Much thanks to Frank Eggers for his photographs of his and Middleton Caruthers' 38s, and to Ron Nelson for his 1966 picture shown here.
Chassis
History
Current owner
Lotus 38
1

Built 1965 (first chassis built) for Team Lotus. For Jim Clark at the 1965 Indy 500 (#82 qualified 2nd and won race). Retained by Ford. Used as a promotions car until 1977 and then to the Henry Ford Museum (Greenfield Village, Detroit, MI). Brought to England in 2009 for Goodwood and then fully restored by Classic Team Lotus in 2010. Still in the Henry Ford Museum in July 2014. On display at the Indianapolis Motor Speedway Museum in May 2015.

Henry Ford Museum (USA) 2015
Lotus 38
2

Built 1965 (third chassis built) for Team Lotus. Crashed by Roger McCluskey while testing at Trenton April 1965 and rebuilt on new tub (fourth chassis built) in time for Indy 500. For Bobby Johns at the 1965 Indy 500 (#83 qualified 22nd, finished 7th).

Purchased by Ford and used as a show car standing in as 'Indy winner' show car. Sold at some point to AJ Foyt and believed to be the car that was modified by Eddie Kuzma and entered at the 1966 Indy 500 as the Lotus-Kuzma. According to Lotus 38 historian Noel Chiappa, the top skin of the car had been replaced by a Coyote-style top skin but it was otherwise unchanged. For George Snider at the 1966 Indy 500 (#82 qualified 3rd, crashed in race). Parts of this car and of Foyt's car damaged in the same race used to built a new car for 1967. This is believed to be the #82 car destroyed in Bob Christie's accident during Indy qualifying in 1967.

Wrecked
Lotus 38
3

Built 1965 (second chassis built) for AAR. For Dan Gurney at the 1965 Indy 500 (#17 qualified 3rd, retired after 42 laps); for Roger McCluskey at Milwaukee 7 Jun (6th), Langhorne 21 Jun (crashed) and Trenton 19 Jul (returned); for Gurney at Milwaukee 15 Aug (3rd) and 23 Aug (retired); for McCluskey at Trenton 27 Sep (4th).

Raced by AAR in 1966: for Joe Leonard at Phoenix 21 Mar (retired), for Lloyd Ruby at Trenton 25 Apr (retired). Unused spare car at Indy 1967. Later for Ruby at Indianapolis Raceway Park 25 Jul (retired), Langhorne 8 Aug (retired), Milwaukee 28 Aug (9th), Trenton 26 Sep (retired) and Fuji 10 Oct (12th).

Sold to Gordon van Liew and entered by Vita Fresh Orange Juice for Larry Dickson in 1967. Some modifications performed by Eddie Kuzma. Raced in three late-season races by George Snider, Arnie Knepper and Ronnie Bucknum.

According to Doug Nye, this car was later sold to Ansted/Foyt then to Dick Smothers and on loan to the Briggs Cunningham Automotive Museum (then at 250 East Baker, Costa Mesa, CA). The museum closed at the end of 1986 and the whole collection was sold to Miles Collier, owner of the Collier Automotive Museum (Naples, FL) but the Lotus 38, as it was not owned by the collection, instead passed to Harrah's Auto Collection. This collection was founded by Bill Harrah, founder of Harrah's Casinos, but after Harrah died in 1978 the collection was acquired by the Holiday Corporation and some cars were sold off. The remaining 200 cars from the collection were donated to the National Automobile Museum (Reno, NV) which opened in 1989 and the Lotus, although reportedly still a separate property, moved with them. Still on display in October 2014 when it was still in the same white #39 Smothers Bros livery.

National Automobile Museum (US) 2014
Lotus 38
4

Built 1965 (fifth chassis built) from spares with symmetrical suspension and using some parts from the original 38/2.

Used by Jim Clark at St Ursanne and Ollon-Villars 1965. For Jim Clark at the 1966 Indy 500 (#19 qualified 2nd, finished second). Sold to AJ Foyt and wrecked in practice at Milwaukee a week later. Returned to the UK and rebuilt; returned to Foyt August 1966 but no further results known. Likely to have been the basis of one of the Coyotes used from August 1966 onwards and/or at the 1967 Indy 500.

Several years later, a Coyote was raced in F5000 by Crockey Peterson. The origins of this Coyote are not known but this car has been identified as Lotus 38/4. Later sold to Chuck Haines (St Louis, MO) and then to collector James L. Jaeger (Cincinnati, OH). Run at the Goodwood Festival of Speed in 1997, 1998 and 2000. On display in the Speedway Museum March 2009. Ran again at Goodwood 2011. Repainted in 2015 into Jim Clark's 1966 colours and on display in the Indy Museum but it's not clear whether Jaeger still owns the car. On display again at the Indianapolis Motor Speedway Museum in May 2015, where the history board said it was still owned by Jaeger.

Jim Jaeger (USA) 2015
Lotus 38
5

Built 1966 by Abbey Panels for Dean Van Lines. For Mario Andretti at the 1966 Indy 500 (#64 practiced but not raced).

To Gene White 1967: for Lloyd Ruby to drive at Langhorne 19 Jun 1967 (won) but Ruby used the Mongoose elsewhere in 1967. The Lotus was Ruby's backup car, usually numbered #95, but was raced here because Ruby's regular car was at Mosport for the rain-delayed race.

This car then went to Paul Wells who, judging by the modification to the car, used it in minor F5000 events. It was bought by Chuck Haines (St Louis, MO) who sold it on to "a partnership of" Steve Forrestal and John Mecom. Doug Nye reports that it then went to the same anonymous US owner that owns 38/3. In 2008, Chuck Haines reacquired 38/5 and was restoring it. It was still advertised on Chuck's site in June 2015.

Chuck Haines (USA) 2015
Lotus 38
6

Built 1966 by Abbey Panels for AJ Foyt. For Foyt at the 1966 Indy 500. It was originally his #45 backup car during qualifying but after his #2 Coyote was wrecked, he brought out the Lotus 38 qualified 18th. The Lotus was repainted and renumbered #2 for the race but was involved in the start-line accident and wrecked. It is believed that the car was written off and its surviving components consumed in the Coyotes being built.

Written-off
Lotus 38
7

Built 1966 by Abbey Panels for Team Lotus. For Al Unser at the 1966 Indy 500 (#18 qualified 23rd, crashed in race). Rebuilt on new chassis and retained for 1967. For Jim Clark at the 1967 Indy 500 (#31 qualified 16th, retired).

This car, with 38/8, was part of a lawsuit in early 1968 after Chapman sold them to one party after Lotus's American Mid-West dealer Jim Spencer had already taken a cheque for them from somebody else. Spencer's client won the case and the two 38s ended up with a doctor in Indianapolis who sold 38/7 to Middleton M. Caruthers (St. Louis, MO). Caruthers entered it for Wib Spalding (Granite City, IL) at Hanford 14 Apr 1969 (DNS, clutch), Langhorne 16 Jun 1969 (DNQ) and Continental Divide 7 Jul 1969 (retired, clutch). Eggers, who was part of the team, heard that was sold to Bill Lough (Winfield, MO). According to Doug Nye, this car passed from Lough to Chuck Haines (St Louis, MO) then via dealer Steve Forrestal to a Japanese collector. Believed retained 2002.

Then unknown until seen at the Autosport Show at the NEC in January 2015 on the Classic Team Lotus stand when it had been restored into Clark's 1965 #82 livery. A sign with the car indicated it was owned by Nick Fennell.

Nick Fennell (UK) 2015
Lotus 38
8

Built mid-1966 for Team Lotus with symmetrical suspension. Believed to have been Jim Clark's car at Fuji 10 Oct 1966 (DNS). As #80 backup car at the 1967 Indy 500 used in practice by Graham Hill but not raced.

This car, as recounted under 38/7 above, ended up with with a doctor in Indianapolis. He sold the back-up car, 38/8, to Frank Eggers (St Charles, MO) for Formula A (later Formula 5000) events in 1968 and 1969. Also entered by Royal American Competition Ent Ltd for John Martin (Bristol, WI) at three races in April-June 1970 then for Eggers at Elkhart Lake July 1970. Eggers recalled that he "traded this car to someone in Texas for a Trans-Am Firebird". This would presuably be the Jerry Crew (Dallas, TX) who advertised a Lotus 38 ("has to be good for something!") in August 1974. According to Doug Nye, this car then went to Jim Haynes (of Lime Rock), to Sam Foster and then to a private collection in Virginia some time before 1990. Retained June 2013.

Private collection (US) 2013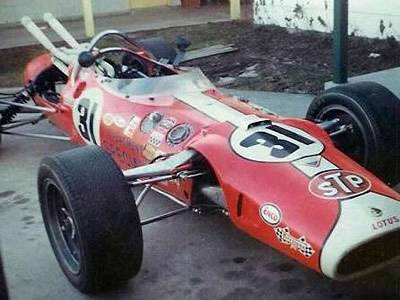 The primary source for these histories is Andrew Ferguson's excellent book "Team Lotus: The Indianapolis Years", completed by Doug Nye after Ferguson's death. Significant additional information was provided by Doug Nye, Michael Ferner, Noel Chiappa and Frank Eggers, who owned 38/8 in period. Thanks also to Brian Brown for additional information and to Golden Gate Lotus Club, Dave Trapp and Ian Blackwell for the use of their photographs.
Please e-mail Allen at allen@oldracingcars.com if you can add anything.
These histories last updated on 5 June, 2015 .