Lotus 38 car-by-car histories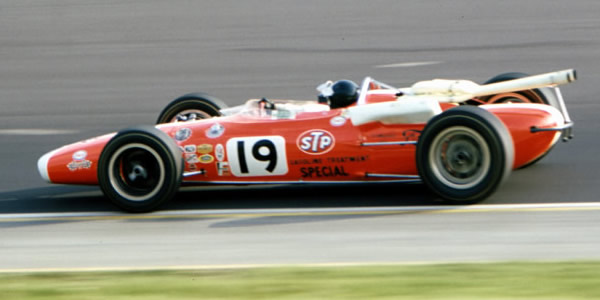 The 1965 Lotus 38 finally won the Indy 500 for Colin Chapman and Jim Clark after Clark had finished second in 1963 in the Lotus 29 and had retired after leading from pole in 1964 in the Lotus 34.
A total of eight 38s were built and, due the failure of the 1966 Lotus 42, Team Lotus continued to use them until 1967. Two cars were consumed after accidents into the creation of AJ Foyt's Coyotes, two are currently on public display in US museums, one is with Chuck Haines, one is owned by Robert G. Hunt and one by Brad Jaeger.
It is interesting to note that well-known motor racing magpie Chuck Haines has owned four of the Lotus 38s: chassis 38/4, 38/5, 38/7 and most recently 38/8. Much thanks to Frank Eggers for his photographs of his and Middleton Caruthers' 38s, and to Ron Nelson for his 1966 picture shown here.
Please e-mail Allen at allen@oldracingcars.com if you can add anything.
Chassis
History
Current owner
Acknowledgements
The primary source for these histories is Andrew Ferguson's excellent book "Team Lotus: The Indianapolis Years", completed by Doug Nye after Ferguson's death. Significant additional information was provided by Doug Nye, Michael Ferner, Noel Chiappa and Frank Eggers, who owned 38/8 in period, and by Ian Blackwell who keeps tabs on the cars today. Thanks also to Brian Brown for additional information and to Golden Gate Lotus Club, Ron Nelson, Frank Eggers, Dave Trapp and Ian Blackwell for the use of their photographs.
These histories last updated on .