McLaren M18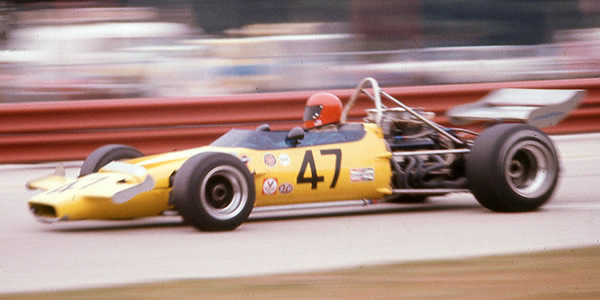 The McLaren M10 range was a hard act to follow but, even so, the M18 was a huge disappointment for McLaren and Trojan. It started well, with Brian Redman taking a win and two second places in the first three UK races but as the season wore on it often seemed the old M10Bs were quicker. But at least it wasn't as bad as the M22.
Eoin Young's book does not says how many M18s were built but records from a parts supplier show that coil/shock units were supplied for M18 500-01 to 500-08. As well as these eight, it looks like another two were built up from spare tubs later. Three of these were destroyed leaving seven to find. So far, six have been traced, leaving just the Wietzes car to be found.
My thanks to Marcus Pye, Ted Walker, Jaime Gard, Don O'Sullivan, Duncan Fox and Chris Townsend for helping me assemble this puzzle and to Ted and Duncan again and also Al Moore, Jeremy Jackson and Stuart Dent for permission to use their pictures. The basic racing histories quoted below were originally derived from "The Formula 1 Register Fact Book: Formula 5000 1968-1971" (Paul Sheldon, 1994) and "The Formula 1 Register Fact Book: Formula 5000 1972-1981" (Paul Sheldon, 1994) but have been revised as new information has come to light. Further information has come from Graham Vercoe's "Historic Racing Cars of New Zealand".
All and any further help would be gratefully received. Please e-mail Allen at allen@oldracingcars.com if you can add anything.
Chassis
History
Current owner
McLaren M18
500-01
Built by McLaren, not Trojan, for 1971 season. Sid Taylor UK 1971: raced by Brian Redman (R1-R5 incl two seconds and a win in first three races; R9-R13; and R16, which Redman won), Peter Gethin (R6-R7), Derek Bell (R8, R15). Taken over by McLaren team at R17 Brands Hatch ("Rothmans World Championship Victory Race) for Reine Wisell who crashed.
The car was then returned to McLaren and updated as the M22 prototype. Raced in the 1972 Tasman series by David Hobbs where it was first called "M22" and then "M18B". It then returned to Europe to act as the basis of the "real" M22 built for VDS in time for the UK season. Racing Team VDS for Teddy Pilette UK 1972 until May when it was replaced by the first Trojan-built production M22. Advertised by Trojan Racing Ltd May 1972.
There is some uncertainty about the movements of the M18/M22 after May 1972 as some reports describe Pilette's car as the M18/M22, not the newer M22, at the end of 1972 and again at the start of 1973.
It would seem that this car was then sold to Don O'Sullivan (Western Australia) and his mechanic Jamie Gard and shipped to Australia in time for the November 1973 Australian GP where Howie Sangster drove it for the O'Sullivan team.
The 'M22' had been bought with the intention of stripping it to build a 5-litre sports car but it appears to have survived intact and was sold to Chris Milton for the 1975 Tasman series. He raced it again in the 1976 Australian Internationals and again at Winton In November that year.
To Alan Newton (Melbourne, Australia) and raced in the 1978 Australian Internationals (Sandown Park and Surfers only). Retained by Newton 2012.
Alan Newton (Australia) 2012
McLaren M18
500-02
Built for 1971 season. Team Trojan UK 1971: raced by Graham McRae (from R2 - crashed). Destroyed (see Autosport 20 May 1971 p3).
Destroyed 1971
McLaren M18
500-03
Unknown
McLaren M18
500-04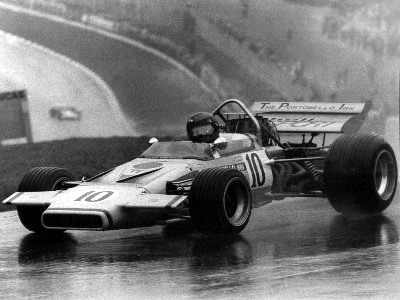 Built for 1971 season. Barry Newman UK 1971: raced by Tim Schenken (R2, R7), Howden Ganley (R3 - crashed, R6), Jean-Pierre Jassaud (R5, R10). Speed International Racing UK 1972: raced by Ray Calcutt (R1, R4-R5, R8-R10), Tony Lanfranchi (R12, R14) - Sheridan Thynne UK 1973: raced by Tony Trimmer (from R5), then Jac Nelleman (R15), Arie Luyendijk (R16, R18) and Bernard Bird (R17). Returned later in 1974 run by Trimmer but driven by Boy Hayje (R8 Zandvoort) and John Stevens (R14 Brands Hatch, at least one Brands Hatch libre race and a DNS at R18 Brands Hatch). In all three recorded races, Stevens crashed the car. Retained by Ganley "for many years, in a rough state until sold to CJ 'John' Hewett (Saul, Gloucestershire), Spring 2001". Raced by Hewett at the Loton Park Hill Climb May 2013, at Shelsley Walsh June 2014, and at Prescott October 2015.
John Hewett (UK) 2015
McLaren M18
500-05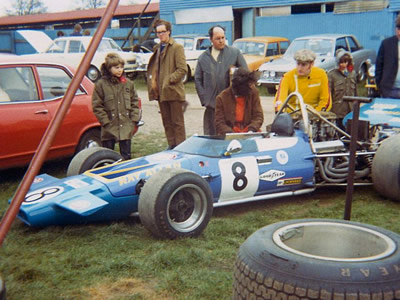 Built for 1971 season. Team Trojan UK 1971: raced by Ulf Norinder (R5-R8). Speed International Racing UK 1972: raced by Ray Allen (R1, R3-R6, R8-R12, R14), David Prophet (R2), Gijs van Lennep (R13). Not seen in 1973. To Shell as a show car - Jon Bradburn (Wolverhampton, UK) by 1984 - Gerry Walton 1984: raced for many years in HSCC racing before crashing it at Oulton Park. Repaired but then damaged when a lorry reversed into it! Subsequently sold to Martin Cowell (Hereford, UK) 1995 or 1996.
Entered by Cowell at Shelsley Walsh August 2005. Still owned by Cowell in September 2016.
Martin Cowell (UK) 2016
McLaren M18
500-06
Built for 1971 season. Evan Noyes US 1971 (from Mid-Ohio, 5 Jul; crashed at last race of season). Rebuilt with new tub and raced in New Zealand Tasman races 1972. Rented by Noyes to Allan Lader. Lader US 1972 (four races, debut at R2 Edmonton 4 Jun 1972, second; then crashed badly at R3 Watkins Glen and rebuilt on a new monocoque. Crashed again at R4 Elkhart Lake. Crashed again in practice at R6 Road Atlanta but raced once more, at R7 Lime Rock.
This series of accidents resulted in two cars, one built from one of the original monocoques (see "500-06(A)") and one from a new monocoque together with all the surviving components bought directly from Lader's team (see "500-06(B)").
McLaren M18
500-06(A)
Wes McNay and Henry Alexander owned an M18 monocoque in 1990, when it received a Verification Statement from Peter Agg's Trojan identifying it as chassis 500-06. At the time, it was only a tub with some spares, and the route it took from Lader to McNay has not been explained. When the car was sold to New Zealand, it was found to have the livery from when Lader raced it in 1972 and damage to the front left corner so this is presumably the discarded tub from the Watkins Glen accident. If so, this would be the second of four tubs to have been used in 500-06 during its life.
Nothing more known until December 2009 when a "restoration project" was advertised on racecarsdirect.com by Mike Walters (UK). The still unrepaired tub was sold to Paul & Chris Radisich in 2010 and reskinned on the left side. At this stage the project consited of the monocoque, two original nose cones, two original rear wheels, and an assortment of new components. Advertised for sale in July 2013.
Paul & Chris Radisich (New Zealand) 2013
McLaren M18
500-06(B)
New Zealand McLaren expert Duncan Fox has spoken at length with Gary Pederson (New Zealand) and Pederson reports that he purchased the entire crashed but disassembled (ex-Lader) car complete with a brand new Trojan tub from Evan Noyes. They left all the damaged unusable components in the US (including the crashed tub) rather than pay duty which was 68% in those days. Pederson built up the car in time for the 1974 Tasman series. Crashed at Adelaide (24 Feb) and not raced again. It was described as either a McLaren M18/22 or a McLaren M18C, but was called "M18 03" by Pederson as it was the third car he had built. Then unknown until reported to be owned by Peter Benbrook (Auckland, New Zealand) in 1991. Duncan Fox reported in August 2013 that Benbrook still had the car.
Peter Benbrook (New Zealand) 2013
McLaren M18
'the Roger Ealand car'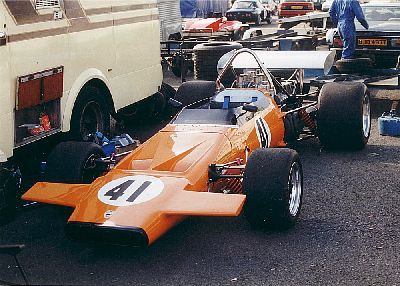 "Unused M18 F5000 monocoque" advertised by Ian Webb in Feb 1984. Subsequently with other M18 parts to Paul Lanzante; later built up (believed to be by Tony Steele) for Roger Ealand (Maidenhead, Berks, but now back in Australia - then orange); then sold to David Coplowe in white livery, then to Frank Lyons (Ireland, but lives Felsted, Essex) painted red with dark green stripe about 1999.
Raced by Judy Lyons in the 2003/04 F5000 Tasman Cup Revival Series and in the HSCC Derek Bell Trophy race at Brands Hatch 22-24 July 2005. Raced again by Judy at Derek Bell Trophy race at the HSCC International Trophy meeting at Silverstone May 2009. Later in the season, Judy moved over to the family's Eagle 74A.
Frank Lyons (UK) 2009
The mystery cars
The following M18s are not yet fully explained.
Chassis
History
Current owner
McLaren M18
'the Eppie Wietzes car'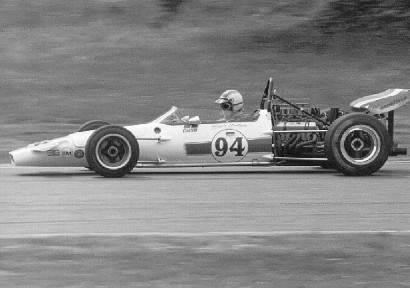 Eppie Wietzes US 1971 (at R1, 5th). Advertised by Wietzes as late as 2 Dec 1972. Sold to Bill Jongbloed (Santa Ana, CA). Subsequent history unknown but may be the Dwight Zillig car, .
Unknown
McLaren M18
'the Lothar Motschenbacher car'
May be 500-07. Originally built for Graham McRae to replace the car crashed at UK R2. Unraced as Trojan "released" McRae and sold to Lothar Motschenbacher US 1971 (from Edmonton 1 Aug). Again in US 1972 but not seen after Road Atlanta 20 Aug 1972. "Crashed nastily in the rain at Atlanta" (Autocourse 1972-73 US review p151). It is possible that this car was destroyed in the fire that destroyed Motschenbacher's garage on Thanksgiving Day, late November 1972. Duncan Fox has been working hard to determine the fate of this car and is now satisfied that the tub was dumped although some parts from the car may survive somewhere. Some parts were reported to be in Los Angeles in 2002.
Destroyed 1972
McLaren M18
'the Don O'Sullivan car'
May be 500-08. Don O'Sullivan (Australia). Bought new from McLaren to replace O'Sullivan's M10A crashed at Teretonga. First seen at Mallala 11 Oct 1971 with Repco-Holden V8. Raced at 21 Nov 1971 Australian GP. Entered in the 1972 Australian Tasman rounds but DNA. Next seen at Surfers Paradise 27 Aug 1972 (raced by O'Sullivan) then at Symmons Plain 24 Sep (DNA but described as McLaren M22) and Adelaide 8 Oct. Raced by Howie Sangster for O'Sullivan from Warwick Farm 5 Nov 1972 (DNS). Not entered in 1973 Tasman series. O'Sullivan then bought an ex-Teddy Pilette M22 from VDS and the M18 is not seen again. Jaime Gard recalls it being reduced to a bare tub to contribute parts to the Gardos F5000 and then sold with the McLaren M22. However, M18 bulkheads have been found in the Gardos so it would appear than the M18 was completely consumed.
No longer exists
McLaren M18
'the Dwight Zillig car'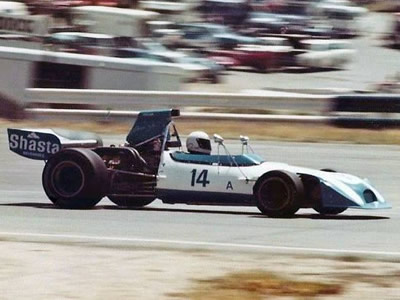 Dwight Zillig (Novato, CA) raced a McLaren M18 in SCCA events in northern California between 1975 and 1977. He entered a white #14 Shasta Beverages McLaren at Sears Point in September 1975, and this is presumably the same car he races through these three seasons. His known races at present include Laguna Seca 27 June 1976, Sears Point 24 April 1977 and Laguna Seca 25 June 1977. Nothing more known.
Unknown
A new car, still at Trojan, was advertised by Kirk F. White (Ardmore, PA) in Autoweek 24 Jun 1972. Could this be the source of the new tub used by Lader after his Watkins Glen accident?
Some sources show Tom Jones racing a McLaren M18 in the US in 1974; this is thought to be his McLaren M22.
Sources include "The Formula 1 Register Fact Book: Formula 5000 1968-1971" (Paul Sheldon, 1994), "The Formula 1 Register Fact Book: Formula 5000 1972-1981" (Paul Sheldon, 1994) and Graham Vercoe's two books "Historic Racing Cars of New Zealand" (1991) and "The Golden Era of New Zealand Motor Racing" (1993).
These histories last updated on 21 May, 2016 .