Rennmax BN3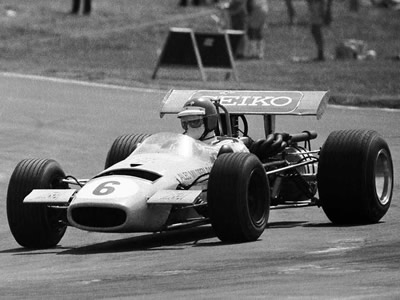 In 1968, Denny Hulme entered the ex-Winkelmann/Rindt F2 Brabham BT23 [5] in the 1968 Tasman series. At the very first race, Pukekohe's NZ GP, he crashed the car heavily and the wreck was acquired by Feo Stanton and Ian Rorison of Rorstan Racing. They sent it to Bob Britton but, instead of repairing it, Britton built a jig and sent a new frame back to Rorstan. This car was built up with a 2.5-litre Climax V8 as the Rorstan Mk 1.
The old wrecked BT23 frame went on the roof, but that's another story.
After the Rorstan and a car built for Alec Mildren's team which was always known as the Mildren, it would appear that five more cars were built with the name Rennmax, mostly in 1969 but with one straggler appearing at the start of 1971. The Rorstan was later wrecked but the Mildren and all the other five are known to still exist.
Thanks to Ray Bell, Bryan Miller, Gary Neilsen, Matt Ruggles, Vaughan Stibbard and others for their help constructing these histories. All and any help would be gratefully received. Please e-mail Allen at allen@oldracingcars.com if you can add anything.
Car
History
Current
owner
Rorstan Mk 1

Rorstan Racing: fitted with 2.5-litre Climax V8 and raced in the NZ rounds of the 1969 Tasman series by Jim Palmer (two DNS) and Dennis Marwood (two early retirements). For Bryan Faloon in the 1969/70, 1970/71 and 1971/72 NZ seasons. Fitted with a 2-litre Porsche flat-8 engine for the 1971 Tasman races and renamed as the Stanton-Porsche for the 1972 series. Crashed at the 1972 New Zealand GP and Faloon was killed. The remains of the car were later sold to Alan Hamilton for the Porsche engine and the remainder of the car was sold to someone in Victoria. Nothing more known.

Wrecked
Mildren

Alec Mildren: fitted with 1.6-litre four-valve Alfa engine and driven by Max Stewart Tasman 1969. Then Stewart in 1969 Gold Star with 1600cc Waggott FVA; Stewart Australian Tasman races 1970 with Waggott; Australian Gold Star 1970; Australian Tasman races 1971, Singapore GP 12 Apr 1971 (Alfa GTaM), Australian Gold Star 1971 (entered by Waggott or Stewart by end of GS)); for Tony Stewart (1972 Australian Tasman rounds); for Max Stewart again at the 1972 Japanese GP; driven by Alan Grice Australian Gold Star 1972 - Max Stewart (4th in the Singapore GP on 22 Apr 1973 as a "Rennmax" with England twin-cam engine). Subsequent history unknown but reported in 2008 to be with Max Pearson (Queensland, Australia). Raced by Pearson in the Sydney Motorsport Park HSRCA Winter meeting in June 2013

Max Pearson (Australia) 2013
Rennmax
'the Goodwin car'
"BN3/169"

Ken Goodwin: and built and utilising Palliser wheels and uprights. First recorded outing Warwick Farm 13 Jul 1969; initially 997cc Ford, then next time with a 1600cc twin cam; Australian Gold Star 1970 (raced at Oran Park 28 Jun 1970 with a Cosworth FVA (?) and at the Sam Hordern Trophy at Warwick Farm on 6 Sep 1970 with a 1500cc Ford); Singapore GP 12 Apr 1971 (twin-cam 1600cc). Then entered by Goodwin for Bob Muir Gold Star 1971 with a 2-litre Waggott engine. For Goodwin at the Sam Hordern Trophy at Warwick Farm 5 Sep 1971 (Waggott 1.6). Inactive for some time until bought by Terry Hook 1973 for the new Van Heusen ANF2 series. The number '169' may have been invented by Barry Lake around this time to identify the car. This car ended up with Ray Hanger and was sold by him to Vaughan Stibbard some time in the mid 1990s. Retained May 2012.

Vaughan Stibbard (Australia) 2012
Rennmax "BN2"
'the Anderson car'

Geoff Anderson (Queensland): delivered 28 June 1969. Completed by Anderson with a 1600cc twin cam and utilising Palliser wheels and uprights. Said to have been a 1968 chassis but not raced until the Surfers Paradise Tasman race 8 Feb 1970 (but not mentioned in results). Australian Gold Star 1970 (first recorded outing Warwick Farm 3 May 1970; noted as Yellow). Also raced at Lakeside 7 Jun 1970. To Ross Switzer (Queensland, Aus) circa 1972 then via David Goode (as agent) to Paul Raper, then to John Allison Nov 1983. Allison crashed the car at Amaroo Park and died as a result of his injuries. The car then was purchased by Laurie Knight (Wagga, Aus) and he and Gary Neilsen (Victoria) rebuilt the car to its original Palliser specifications. Sold to Chad Wheeler (Ipswich, Queensland) 2001; raced in Australian historics 2003 to 2006. Appeared at Speed on Tweed in August 2010. For sale in December 2010 and unknown since then.

Chad Wheeler (Australia) 2010
Rennmax BN3
'the Crawford car'

Gordon Crawford (Australia): sold by Rennmax 20 Jul 1969 as "Brabham type racing car". Carries frame no BF151. Period CAMS logbookwas issued with the car describes the car as a "Brabham BT23C" and car is same chassis spec as Heasman, Muir and Goodwin cars. Fitted with 1600cc pushrod Ford engine. By 1978 with a Russell Green - Alan Tucker (maybe in partnership with Reg Darwell) - Bruce Kennedy 14 Sep 1993 - Wayne Wilson 3 Jun 1996. Raced by Wilson as a "BN2" in Australian historic events from 1999 (Winton 30 May 1999) onwards. Raced in the Phillip Island Classic in March 2008. Sold in 2013 to Ryan Sorensen (Sydney) and raced for the first time at the Sydney Retro Speedfest in May 2014.

Ryan Sorensen (Australia) 2014
Rennmax "BN2"
'the Muir car'

Bobby Muir: Australian Gold Star 1969 (first recorded outing 7 Sep 1969; initially 2.5-litre Climax and always referred to as a BN2); Australian Gold Star 1970 (Climax 2.5 and then a 2-litre Waggott at the Sam Horden Trophy at Warwick Farm on 6 Sep 1970 and at Sandown Park a week later. To Peter Larner for 1971. Subsequent history unknown but owned since the mid/late 1990s by Barry Singleton (Queensland, Aus). Retained 2008.

Barry Singleton (Australia) 2008
Rennmax BN3
'the Heasman car'

Doug Heasman: completed Oct 1969 but not picked picked up until early 1970. Australian F2 1971 (first recorded outing 14 Feb 1971 - support race to Warwick Farm Tasman race; initially 1598cc Ford twin-cam and Red/Gold). First owner K.and D. Heasman (Doug's parents) 10 Sep 1970 - Doug Heasman 18 May 1971 (borrowed by Kevin Bartlett for the Singapore and Kuala Lumpur GPs in April 1972) - Chris Farrell 18 Oct 1972 - Brian Morrow 27 Jul 1973 - Burwood Auto Electrics [Brian Morrow] 8 Aug 1975 - John O'Callaghan 17 Apr 1979 (raced by Matt Ruggles) - Bob Holden Motors 23 Dec 1981 - Trevor Scheumack 12 Jan 1983. Matt Ruggles continued to drive the car and it was also driven by his brother Ben in the mid-1980s. Crashed heavily by Ben Ruggles during practice at Amaroo Park in 1985 or 1986 after a F/Vee obstructed his line and the car was totalled. Some parts used by Scheumack in a special called the TS01 but the bulk of the wrecked car was sold to John Allison and Alan Tucker 15 Mar 1986.

After Allison's death while driving 'the Anderson car', this still unrepaired ex-Heasman car was acquired by Laurie Knight (Wagga, Aus) and Gary Neilsen (Victoria) and rebuilt using a new chassis using Bob Britton's original chassis jig. The original bent chassis was given to Britton in exchange for the loan. Neilsen completed the restoration in 1988 in time for Historic 88 at Oran Park, and then campaigned successfully for the next 12 years. Still with Neilsen in November 2014.

Gary Neilsen (Australia) 2014