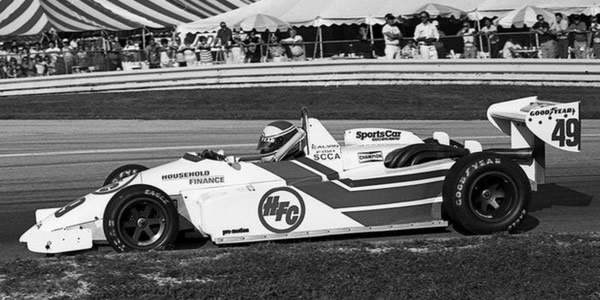 ECAR Formula Atlantic 1987
After three seasons of low-key recovery, Formula Atlantic re-emerged as a significant American category in 1987. After his strong performance in 1986, British ex-F3 driver Calvin Fish continued in the ECAR championship and acquired backing from championship sponsor HFC, allowing him a proper testing programme. Also staying from the top runners of 1986 were Floridian veteran Steve Shelton and Michael Greenfield, son of Can-Am racer Peter Greenfield, and these three dominated the season. Steve Shelton was generally acknoweldged as the quickest driver in either ECAR or WCAR, winning four pole positions, three fastest laps and three new laps records but he only won one race. In mid-season, Shelton got to drive the new Swift DB4 at Watkins Glen but the prototype's suspension broke and Shelton retired. With the points system rewarding reliability, Fish took over the championship lead and held it to the end of the year. HFC sponsored him for a move up to ARS in 1988.
The 1987 Ralt was not well received and most teams gave up on the new sidepods and fitted 1986 sidepods. This weakness was good timing for the introduction of the new Swift DB4, designed by Dave Bruns, and the slender new car was immediately competitive. After several years of gentle evolution of the RT4 package, Ralt anounced that the RT4/88 would be based on the newer RT21/RT31 F2/F3 design.
The races
12 Apr 1987 > Road Atlanta
06 Jun 1987 > Mosport Park
05 Jul 1987 > Watkins Glen
18 Jul 1987 > Brainerd
01 Aug 1987 > Lime Rock
29 Aug 1987 > Road America
06 Sep 1987 > Mid-Ohio
11 Oct 1987 > Road Atlanta
01 Nov 1987 > Tamiami Park
08 Nov 1987 > St Petersburg
1987 ECAR HFC Pro Series Atlantic Championship table
1
Calvin Fish
Ralt RT4/87 - Ford BDD Jennings
149 pts
3 wins
2
Steve Shelton
Ralt RT4/85 - Ford BDD Jennings
Swift DB4 - Ford BDD Jennings
116 pts
1 win
3
Michael Greenfield
Ralt RT4/87 - Ford BDD Jennings
Swift DB4 - Ford BDD Jennings
91 pts
2 wins
4
Eric Lang
Ralt RT4/87 - Ford BDD Mong
Ralt RT4/87 - Ford BDD Robertson
88 pts
5
John Thompson
Ralt RT4/87 - Ford BDD Jennings
63 pts
6
Thomas Knapp
Ralt RT4/87 - Ford BDD Robertson
56 pts
7
James King
Ralt RT4/86 - Ford BDD Jennings
54 pts
8
Scott Harrington
Ralt RT4/86 - Ford BDD Jennings
54 pts
9
John Timken
Ralt RT4/86 - Ford BDD Jennings
40 pts
10
James Oppermann
Ralt RT4/83 - Ford BDD Jennings
36 pts
Points table from Sports Car Jan 1988 p52.
In 1987, three different categories were competing to be the main route to CART. Of these, Formula Atlantic remained the most junior, with Autosport's Dan Layton estimating that a budget needed to be successful in Formula Atlantic was about half that needed for Formula Super Vee or ARS. Nonetheless, the number of competitive cars was increasing: 62% of starters in 1987 were in one or two year old cars, compared with 48% in 1986 and just 12% in 1985.