McLaren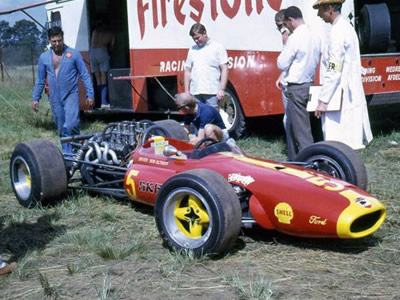 Alongside Eagle and Lola, McLaren were one of the dominant forces in the early history of Formula 5000. Their first F5000 car, the M10A, won the opening series in Europe, in 1969, and they repeated in 1970 with Peter Gethin again, this time in a M10B. M10Bs also won the 1970 and 1971 US championships with John Cannon and David Hobbs and took the 1971 Tasman series with Graham McRae. McLaren's success was due in part to their F1-based monocoque design which was more advanced that Lola's spaceframe cars, and also because Eagle decided to pull out after 1969.
Unfortunately, this early dominance was dented by Lola's highly successful monocoque T300 which appeared towards the end of 1971 and then lost as the McLaren M18 proved no quicker than the M10B. The M22 that followed was even worse and McLaren pulled out of racing car production after 1972.
From the earliest days of Bruce McLaren Racing Cars, production McLarens were built by Trojan in Croydon and they were responsible for nearly 50 F5000 cars over those four seasons. Trojan continued with their own design, the T101, in 1973.
All and any help would be gratefully received. Please email Allen if you can add anything.
| Type | Years | Number built | Notes |
| --- | --- | --- | --- |
| M3A | 1966 | 3 | Built prior to F5000 as a Libre car but later used in F5000. Spaceframe. Wheelbase 96"; maximum track 52"; length 142"; weight (with 5-litre Oldsmobile) 1100lbs. The three cars went to Harry Zweifel for Swiss hilllcimbs, to Patsy Burt for UK hillclimbs and to MGM to be used as a camera car for their film Grand Prix. |
| M10A | 1969 | 17-20 | Built by Trojan and loosely based on the F1 M7 series. Full monocoque. Wheelbase 98"; maximum track 60.5"; length 157.5"; overall width 77"; weight 1285lbs. This "up-and-over" monocoque was then the basis of the McLaren M7C. FULL CAR-BY-CAR LIST AVAILABLE |
| M10B | 1970 | 21-22 | Built by Trojan as an uprated M10A. As per the M10A but with a Hewland DG300 instead of the M10A's LG600. Lighter than the M10A. Advertised price £4,850. FULL CAR-BY-CAR LIST AVAILABLE |
| M18 | 1971 | 8 | Full monocoque. Wheelbase 100"; maximum track 60". FULL CAR-BY-CAR LIST AVAILABLE |
| M22 | 1972 | 3 | Highly unsuccessful evolution of the M18. FULL CAR-BY-CAR LIST AVAILABLE |
| M25 | 1975 | 1 | Based on the F1 M23. Full details available. |
As well as these cars, a number of F1 cars were converted to F5000, including one McLaren M7A, two McLaren M14As, two McLaren M19s and a McLaren M23. Also a M4B built for hill climbs with a Rover V8 engine made an appearance in F5000.
In the US in 1968, two McLaren Mk 2 Group 7 sports cars (known by the factory as McLaren M1B) were converted to single-seater specification by Joe Starkey for himself and Bud Morley. Morley was surprisingly competitive in his M1B [30-05], managing third place in the final race of the 1968 season, once he'd replaced the original Ford V8 with a full 5-litre Chev V8. His car continued to be raced by Glenn Brown in and around Seattle through 1971. It was converted back to Can-Am form in 1981 by Bill Moir (Salinas, CA) after which it was owned by Joe Hooker until bought by Paul Goldman (US) in 2004. Another McLaren M1A, the ex-George Wintersteen, ex-John Cordts chassis 20-10, became a F5000 car as the Ferret in Canada. A further car looking very similar to the Morley/Starkey pair was entered by Michael Davis (Indianapolis, IN) at three 'Pro' events in 1972 and 1973.
Also an Indy McLaren once appeared in F5000 when the rules allowed it: John Martin's McLaren M16B [2].
Sources include Bruce McLaren - The Man and his Racing Team (Eoin S. Young), Competition Press & Autoweek (29 Jun 1968 p23). Thanks also to the many experts inhabiting the Nostalgia Forums at Autosport's TNF and at TrackForum for sorting out the McLaren M16B and to Paul Goldman for background on his M1B.
Total number built: approximately 53.