Lotus 68, 70 and 70B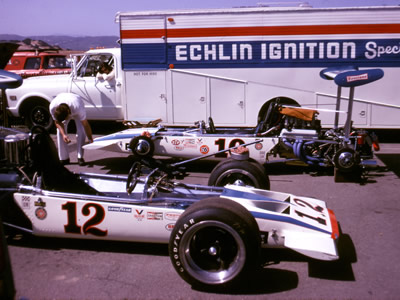 Old Lotuses, mainly of F1 or Indy origins, were plentiful in the early days of FA and F5000 but the first purpose-built design did not appear until the very end of the 1969 season. Colin Chapman commissioned the car in June with designer Martin Wade and Lotus Components originally targetting the Riverside FA event in September.
The prototype car, dubbed the Lotus 68 at first, followed the prevailing Lotus "wedge" design and was fitted with a Shelby-tuned 302ci Ford Boss V8 engine. Customer cars were expected to use Chevrolet engines.
The car was tested in England and missed its intended debut, instead being sold to Koshland Competition for Mario Andretti to race at the Sebring FA race on 28 December. Andretti led the first heat comfortably but the engine blew after just 12 laps. Not a bad performance, and enough to sell a few cars in 1970 and, in 70B form, in 1971.
All and any help would be gratefully received, especially anyone who is in touch with - or crewed for - Max Mizejewski (Santa Ana, CA), Mark Dillon (Minneapolis, MN), Mike Rounds (South Richfield, MN), Ed Hinchcliff (Ypsilanti, MI), Tim Duke (Lewisville, TX), Tony Nawrocki (Sardinia, NY), Bruce Davis or Jerald Dulski. Please e-mail Allen at allen@oldracingcars.com if you can help.
Chassis
History
Current owner
Lotus 68/70
01
Koshland Racing (Ford) for Mario Andretti US 1969: Sebring 28 Dec 1969 -

Falconer & Dunn

(Culver City, CA): driven by George

Follmer

US 1970 (F&D Boss Ford engine) at Elkhart Lake (3rd) and St Jovite (1st) 1970 [then said to have been sold to Ron

Grable

for USAC racing but it appears Follmer continues racing the car until the end of 1970, entered by Brian O'Neil] - Bruce

Eglington

(South Pasadena, CA): US 1971; US 1972 (one race only); US 1973 (one race only) - Butch

Henneger

August 1973: US 1973 (R7 Road Atlanta 19 Aug 1973) - Rodney

Green

(Aurora, CO) US 1974 (first two races only) ... later to veteran racer Ron

Hunter

(Denver, CO) who died in June 1987 - Ken

Johnson

(restored by Rodney Green) - Rodney

Green

(Kiowa, CO). Believed retained 2001.
Rodney Green (US) 2001
Lotus 70
02

Lotus Components Ltd for Alan Rollinson (Vegatune Chevy) UK 1970: two races (Oulton Park and Brands Hatch - crashed and heavily damaged). Rebuilt (or a new car using the same chassis number) with Ford V8: for Dave Walker at R19 Oulton Park 19 Sep 1970; for Alan Rollinson at R20 Brands Hatch 26 Sep 1970; then to US for David Oxton at Sebring 25 Oct 1970 (4th); Team Lotus entry for Dave Walker (5th) at Australian Grand Prix (Warwick Farm) 22 Nov 1970; Lotus Racing Ltd (the new name of Lotus Components Ltd) entry (crew Brian Burness and Joe Cavaglieri) for Oxton at Levin Tasman Jan 1971 (4th). Then acquired by STP as their March 701 was not competitive: raced by Chris Amon at NZ GP (9th), Wigram (DNS, engine), Warwick Farm (2nd) and Sandown (4th); then by John Cannon at Surfers (7th). Subsequent history unknown. Presumably the car advertised by Lotus Cars Ltd (Wymondham, Norfolk) Autoweek 12 Aug 1972 "as raced by STP '71 Tasman series ... all ex-Compton California". Then likely to be the car advertised by Lotus Racing East (Millerton, NY) "1971 Lotus type 70 ... as new condition ... including 2 Ford engines ... in storage in California" on 23 Oct 1972.

Then presumably the car advertised by Max Mizejewski (Santa Ana, CA): "Ex-Amon Tasman" in Autoweek 9 Dec 1972. Mizejewski ran Motor Racing Equipment (MRE) in Santa Ana in the early 1970s, a well-known dealership of cars and parts. Mizejewski closed the company down in January 1974 but continued to race and to trade.

Subsequent history unknown but see the Dunlop car below.

Unknown
Lotus 70
03
Smothers-Wintersteen Racing/Echlin Ignition (PA) for George

Wintersteen

(#12 Chevy): US 1970 (debut at Riverside, April 1970), advertised 7 Nov 1970; unused 1971, 1972; advertised by Wintersteen (Rosemont, PA) 23 Sep 1972 ... Mark

Dillon

of Minneapolis, MN (entrant: Dillon Racing) R6 Road America 1973 Q39 nptr (see the "Steve" and "The Book" adverts below) - Mike

Rounds

(South Richfield, MN): raced at Uncola National July 1975 and later advertised Autoweek 11 Oct 1975 "Bartz, Webers, Carillo". Raced by Rounds at 1977 Road America June Sprints. Subsequent history unknown.
Unknown
Lotus 70
04
Bill

Brack

(Chevy V8) US 1970, US 1971, US 1972 (up to R5 Donnybrook 29 Jul 1972) - Tope Racing Enterprises (Troy, MI) for Ed

Hinchcliff

(Ypsilanti, MI) US 1973: one race only at R5 Watkins Glen 17 Jun 1973 (DNS Heat 2). Subsequent history unknown but see the Adam Enterprises advert below. Next seen when bought in Idaho or Montana as 'a beat up regional FA car' by Bruce

Trenery

of famed California dealer Fantasy Junction (early/mid 1980's). Bruce was told that it was from Canada and was the Brack car. Sold to Dennis

Greenwood

(early/mid 1980's) who Autocrossed it then to John McDonald (CA). Reported to be for sale in Northern California January 2002. McDonald died early 2005 and the 70 was bought from John McDonald's estate by James

Faulknor

(Petaluma, CA) Apri 2005. With RM Auctions for sale at their Monterey auction Aug 2005. Bill Brack has identified the car for RM Auctions.
James Faulknor (US) 2005
Lotus 70
05
Smothers-Wintersteen Racing/Echlin Ignition (PA) for Dick

Smothers

(#10 Chevy): US 1970 (debut at Riverside, April 1970), advertised 7 Nov 1970); sold between Nov 70 and Mar 71 ... Tim

Duke

(Lewisville, TX) 2nd ARRC 1972; advertised 5 May 1973 ... Next seen when raced at Lime Rock 1990 by Barry

Prehodka

(Ridgefield, CT). Advertised 1992 by Marc

Evans

of New England Classics (Stratford, CT) on behalf of Prehodka. Bought by Richard

Drewett

(UK): retained 2003. Reported to have been sold to the Barber Museum (Birmingham, AL) by January 2006.
Barber Museum (US) 2006
Lotus 70
06
Jock

Russell

(Ford V8) UK 1970 (debut Mallory Park May 1970), UK 1971, UK 1972 (first rounds only); retained by Russell for many years - Peter

Denty

(date unknown): restored and raced in UK by Peter's son, James Denty. Retained 2003.

Peter Denty (UK) 2003
Lotus 70B
A refinement of the Lotus 70 built for the 1971 season but only the first car was finished by Lotus Components. The other two were sold for 1972 in kit form. This ended Lotus's interest in F5000.
Chassis
History
Current owner
Lotus 70B
01
First seen at the London Racing Car Show. Intended for Bill

Brack

but when his sponsorship deal fell through, the car was refitted with a Ford and sold to Bruce

Burness

for Follmer to drive in the Questor GP at Ontario. George

Follmer

US 1971 (debut Questor GP March 1971) - Pete

Brock

of BRE (El Segundo, CA) for John

Morton

US 1972 (from R4 Road America 16 Jul 1972, R5, R6). Adv by Brock 21 Sep 1974 "Crashed at Road Atlanta - extensive damage". In 2002, Brock commented:

'The Lotus 70B with John Morton aboard indeed crashed at Atlanta in a freak rainstorm that flooded the track instantly leaving the entire field, on slicks, to spin off helplessly. John wasn't going more than 20 MPH when he hit the water and lost it. There was nothing he could do and the car was totaled. We were just lucky we didn't lose John. I'd put every dime I had into the car and had nothing left to repair it with. The crew was very angry and frustrated with me, as they'd put their hearts into it for months and we were on the verge of winning (in only our second race!). I sold off the remaining bits and have no idea where what was left ended up.'

Destroyed
Lotus 70B
02

Jefferson Racing Enterprises (from Lotus in kit form) for Bob West, one of a small number of African American drivers in road racing at that time: US 1972 (Boss Ford): R6 Road Atlanta 20 Aug 1972 (Q24) and R8 Riverside 24 Sep 1972 (Q19). Crashed on the second lap at Riverside, hitting Lunger's Lola and damaging the front left suspension and tub. Advertised by Roland Jefferson (Los Angeles, CA) Autoweek 28 Oct 1972: "damaged at Riverside". To Bruce Russell (Estacada, OR): racing history unknown except for a SCCA Regional at Riverside 26 May 1974. Advertised by Russell "70B ... Boss 302" on 16 Oct 1976. Sold to Dave Edgar (Eugene, OR) late 1970s.

To Dave Swigler (Florida) 1988: raced at the Walter Mitty event in April 1988 and then regularly to the end of the 1993 season after which it was unused for five seasons. Raced again by Swigler from 1999 up to Mitty 02 in July 2002. Retained by Swigler until sold, together with Swigler's Shadow and Surtees F1 cars, to Harin De Silva and sold on by him to David Arrowsmith (Christchurch, New Zealand) in July 2011. Raced in the 2011-12 Tasman Revival series in NZ and David is planning to compete again in the 2013-14 season. Retained June 2013.

David Arrowsmith (New Zealand) 2013
Lotus 70B
03

Kerry & Charlie

Agapiou

(from Lotus in partial kit form) fitted with Bartz Ford V8: financed by Roy

Woods

for George

Follmer

US 1972 (from R4 Road America 16 Jul 1972 to end of season). The brothers had previously run Follmer in Can-Am in a Lola and then in the Ford G7A. The Lotus was still at Woods' garage September 1973. In or around 1992,

G&G Motorsport

(Indianapolis, IN) advertised "1970 Lotus 70B, Chassis #03, Bartz/spares, restored to original AGAPIOU livery with race #16 (photo has #58), ex George Follmer." This may have been advertised on behalf of the Agapiou brothers as the car was reported to still be owned by Kerry Agapiou January 2002.

Kerry Agapiou (US) 2002
The mystery cars
Chassis
History
Current owner
Lotus 70
'the Dunlop car'
Bob

Dunlop

(Sunnyvale, CA) bought an all-black Ford-engined Lotus 70 in Southern California some time about 1973 or 1974 and retained it until the mid-1990s. It came with two Ford engines and was in good condition. Nothing more is known about this car but it would appear most likely to be 70/02 or 70B/02 both Ford-engined and both last seen late in 1972. The condition suggests 70/02. Dunlop raced the Lotus in the Runoffs (the CSPRRC) in 1978 (DNF).
Unknown
Lotus 70
'the Davis car'
Bruce

Davis

ran a #44 Lotus in the 'F51' series at Nelson Ledges in 1978. From a photograph in Road Racers Magazine Dec 1978 p45, this appears to be a Lotus 70 with a roll cage. Nothing more known.
Unknown
Lotus 70
'the Dulski car'
Jerald

Dulski

(Plymouth, MN) drove a Lotus 70 in Can-Am at Elkhart Lake and at Mosport in 1983. Nothing more known.
Unknown
Lotus 70
'the Cowman car'

Dango

has been racing a Lotus 70 in historic racing in Europe for some years. He bought the car, which bears chassis number "70-F5/001" and he understands is ex-Brack, from Roger

Cowman

in 1993. It would appear to be the ex-Brack 70B/01 but this car was thought to have ceased to exist after Morton's crash. Sold to Olav

Glasius

(Holland) 2005.
Olav Glasius (NL) 2005
Other adverts for Lotus 70s were placed by Lotus Racing East (Millerton, NY) "1971 Lotus type 70 ... as new condition ... including 2 Ford engines ... in storage in California" on 23 Oct 1972, "Gary" (Los Angeles) "complete with spare engine" on 24 Feb 1973, "Steve" (Minneapolis, MN) 16 Mar 1974, Adam Enterprises (Brighton, MI) "Lotus F5000 New, Bartz Lucas injected 305, second car in spares" also on 12 Oct 1974, Brian Stack (Palo Alto, CA) on 1 Mar 1975, "The Book - Motor Racing Equipment (St Paul, MN) on 22 Mar 1975 and Bobby Howlings' AMCO Motorsport (Manchester, England) late 1988/early 1989. Robert Thompson advertised a "Lotus Formula/A", presumably a 70, on 8 Nov 1975.
The Lotus70-ish Chinook
Also relevant here is a Chinook that looks a lot like a Lotus 70. This car was reputedly a USAC-legal car and had a full-length slab-sided monocoque reminiscent of the Lola T190/192 design. It had suspension based broadly on a Lotus 38 but symmetrical and was powered by a 289 ci Ford V8. It is thought to be the Ford-engined Chinook Mk 12 that was reported in 1971 to have been built for George Eaton to use in USAC's planned road racing championship but was abandoned when the series didn't go ahead. In July 1971, Eaton was expected to appear with this car in a F5000 race at Mid-Ohio but his plans changed and the Fejers bought a second-hand Colt Indycar instead. In 1972, this car was owned by Denny Reed (New York State) and he loaned it to Wayne "Bing" Sherer (Buffalo, NY) and Ralph Locurcio who entered it for a SCCA National at Mid Ohio for Sherer to drive. It was damaged in the race and a planned entry for the Lime Rock Continental Championship race on 4 Sep 1972 did not go ahead. The car was then sold to Tony Nawrocki (Sardinia, NY) and this is believed to be the "Lotus 70" that he raced at the 1974 Runoffs. He advertised it "GT40 Cobra power ... 2nd NE Div" on 12 Oct 1974 (and maybe again at the end of 1975). However, the SCCA NEDiv Formula A points table for 1974 lists him driving a Chinook. The car then disappears for more than a decade until it was bought by Mike Knittel (Chittenango, NY) in November 1986 from an unknown seller in Buffalo, NY. It was then fitted with a Ford Boss 302 engine. Knittel restored the car over the next two years but it is unclear when some of the car's features, notably the side radiators, were added. Knittel's first known race in the car was at HSR Mid-Ohio July 1994. The Chinook is a regular at Watkins Glen vintage racing, appearing in Knittel's hands at the Jul 2001, Sep 2002, Sep 2004, Oct 2004, Jun 2005, Sep 2005, Sep 2009 and Jun 2010 events. Knittel raced the car at Road America in July 2011.
These histories last updated on 11 May, 2015 .
Sources
James Bennett has researched these cars in detail and has been able to trace almost the complete racing record of each car. He has also made good progress finding the cars: six of the nine are now known, there are clues on a seventh and one of the others may have been wrecked. Added to the results of James' research are the research and recollections of Wolfgang Klopfer, Gerr Measures, Pete Brock, David McKinney, Helmut Dango, Jim Crawford, Edwin Lindsay, Michael Oliver, Bruce Trenery and James Faulknor. Wolfgang Klopfer has located advertisements in the classified columns of Autoweek between 1970 and 1976 and Gerr Measures has added other advertisements from the late 1980's and early 1990's.
Thanks also to "RoadsterGB" for passing on Pete Brock's comments on the end of 70B/1; to Ted Walker, Alan Cox, Jeremy Jackson, Mark Manroe, Norbert Vogel and others for the photographs used; and to 70B/2 owner David Arrowsmith for his updates.
A note on chassis number identification
The chassis numbers above are not the numbers that necessarily appeared on the cars at the time but are derived from Lotus build records. The actual numbers on the build sheets are shown below. They do not agree completely with numbers used in Paul Sheldon's Formula 1 Register Fact Books. The identification of the Wintersteen and Smothers cars came from James Bennett, based to some extent on the Smothers bodywork still being with Richard Drewett's car when he bought it.
| Number | Lotus build sheet | Formula 1 Register |
| --- | --- | --- |
| 68/70-01 | None | Not given |
| 70-02 | MK70/C5/F1/2 | 70-02 |
| 70-03 | 70/F1/CA3 | Not given |
| 70-04 | 70-C5-F1-4 | Not given |
| 70-05 | 70-CA-S-5 | Not given |
| 70-06 | 70-F5-F1-6 | 70-04 |
| 70B-01 | 7170/F5/F1 | Not given |
| 70B-02 | 7170/F5/F2 | Not given |
| 70B-03 | 7170/F5/F3 | Not given |